A day ago,Mobile data and analysis providersApp AnnieThe published list shows that on Christmas Day,TikTok ranks first in the global iOS App Store and Google Play app downloads, and the top threeInstagram and Facebook.
Shopee is the eighth highest ranked shopping application in the world. This is mainly driven by markets in India, Latin America and Southeast Asia.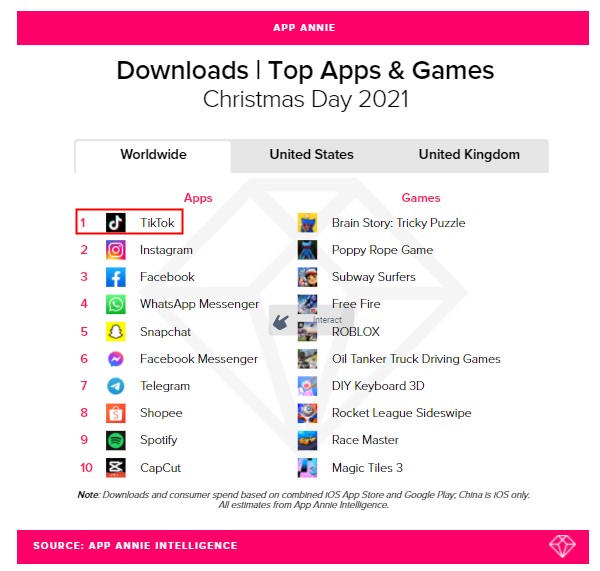 The number one download in the United States isOculus。 This is because many Americans received Oculus virtual reality (VR) earphones that day. YouTube came in second, and TikTok came in third.
In the UK, the number oneNHS App。App AnnieIndicates that this is because the consumer is trying to visitCOVIDPass to obtain vaccination or test results. The second is TikTok.
App Annie also compiled an expenditure list.In terms of application spending, on Christmas Day, consumersTikTok spends the most money, mostly on live shopping. This has promoted TikTok to become the first in the global expenditure list of non game applications.Similarly, in the US and UK, althoughTikTok did not rank first, but also ranked in the top five.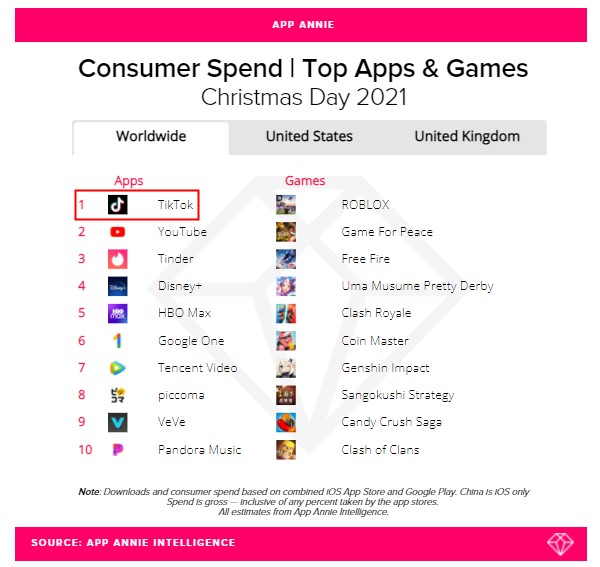 It can be seen from these lists that whether in social networking or e-commerce,TikTok's influence cannot be underestimated.
Not only on Christmas Day, but throughout the year,TikTok also achieved good results.
According to the network security companyAccording to Cloudflare's survey data, in 2021, the number of clicks of Tik Tok has surpassed that of Google, the US search engine, and become the most popular website in the world.
Not only that, butTik Tok is banned in India, but it is still the world's largest social networking platform. Cloudflare data shows that TikTok ranks first in the most popular social media ranking in 2021.
A study by The Harris Poll and Sprout Social found that currently 73% of enterprises sell through social media, which is expected to rise to 79% in the next three years.
It can be said that although social e-commerce has not yet become the mainstream, it is a very valuable tool for brand communication. The seller might as well study it carefullyTikTok, in order to seek the opportunity to sell.