Recently, Amazon Europe announced that the UK government will provideOne itemNew export supportservice,YesAnswer via phone or onlineSellers andExport related issues.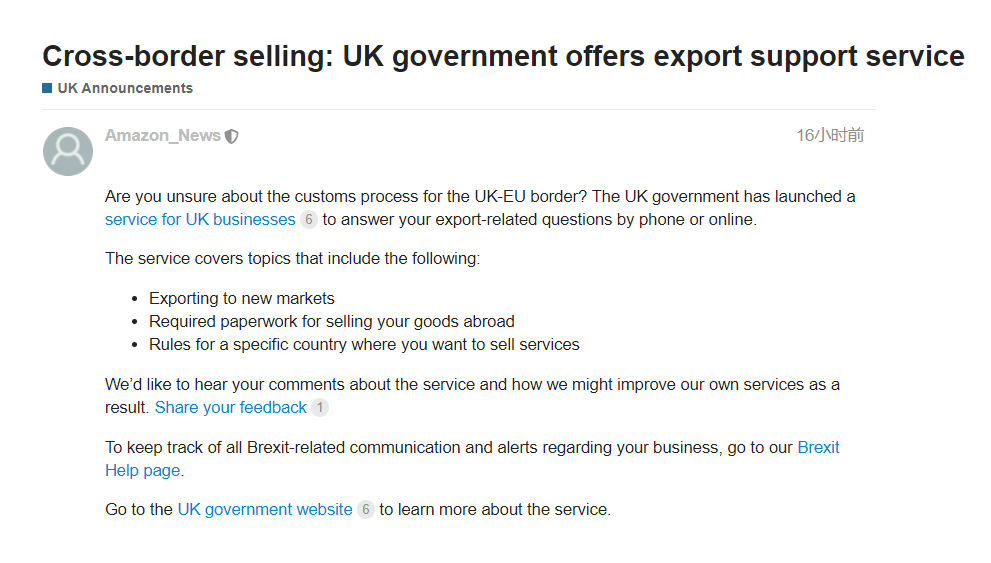 The services covered by this serviceThe main content includes the following aspects:
reachNew marketsThe conditions for conducting sales;
The paperwork required for selling goods abroad;
RequiredSpecific countries for sales services/Regionalcorrelationrule.
Sellers can accessLearn more about this service on the UK government websitecorrelationInformation.
Originally, this was supposed to be a service that seemed helpful to sellers, but under this announcement, sellers did not seem to buy into it.
A seller directly stated:You must be joking with me,governmentallNoclearHow does this work,It's just likeThe blind are guiding the blind.
sellerJR_Wristbands believes that no matter how well intentioned the UK government is in launching this service, there are still too many factors that cannot meet everyone's requirements. becausegovernmentandNot understandingAmazonHow does the FBA system operate,The system existsMany vulnerabilities,Will have a negative impact on the operations of cross-border sellers.
'JR_Wristbands' also means that,Regardless of useFBA orFBM,They allThere are many challenges and there is no unified approachsolvemethod.Even if sellersComply with allShipping regulations,It's also becauseThe consignee and customs made mistakesandCausing productlossIssues such as rising shipping costs.
'JR_Wristbands' is not suitable for the' required 'in this support serviceSpecific countries for sales services/Regionalcorrelationrule"The content also expressed doubts.He believes that the UKThe government will only provide content applicable to the UKsellerProvide suggestions,butUnable to solvesalesDestination country/RegionalcorrelationQuestion.
In addition, Amazon also expressed in the announcement that it hopes sellers can actively provide improvement suggestions for Amazon's services.
Some sellers expressed hope that Amazon canChange unrealistic return policies. Due to a series of reasons such as Amazon returns, claims, and delayed shipments, it has brought great risks to their business activities. Due to the high risk of loss, he is no longer able to access the Amazon platformAny EU country selling products.
I hope Amazon can listen to the opinions of sellers and provide better service support for cross-border sellers.