Mars Pet Health, a leading enterprise in the pet industry(According to a report released by Mars Petcare, the number of pets in Russia reached 63.5 million in 2020. Among them, there are 40.8 million cats and 22.6 million dogs. It can be said that in Russia, cats and dogs are the "hot dogs" in the pet industry. Looking globally, this is also the case.
For this reason, many sellers have laid out pet products related to cats and dogs. However, with more sellers, there will naturally be competition, and the more people there are, the more intense the competition becomes. In this situation, some sellers may take a different approach and sell other pet products, such as pet bird products.
When it comes to bird farming, Chinese people definitely have a place. Decades ago, walking birds in parks was a trend, and now many bird enthusiasts also keep a few. In addition to Chinese people, foreigners also feel the joy of raising birds. According to statistical agenciesAccording to Statista's data, in 2017, the number of birds used as pets by households in the United States reached 20.6 million.
However, will foreigners use these common bird cages? Basically not, there are also a small number of Chinese culture enthusiasts. So, in order for sellers to venture into this field, they also need to understand the hobbies and habits of foreigners.
Search on AmazonThe products displayed in 'birdcage' mainly include the following:

It can be found that raising cats and dogs requires travel attire, and raising birds is no exception. The fourth item in the picture is a pet bird travel attire. However, it should be noted that,This is a patented pet bird backpack with a registered patent number ofUS D903205S.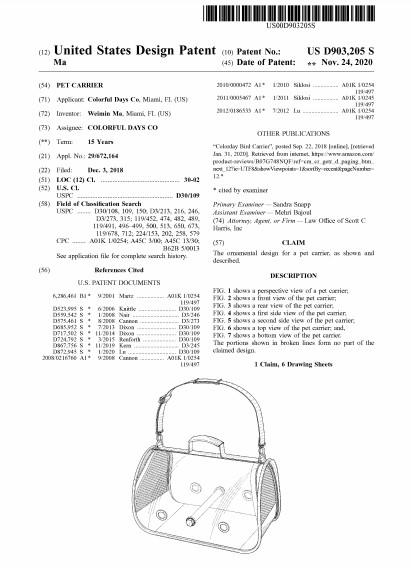 It is understood that the company to which the product belongsColorful Days Co has entrusted law firm DeWitty and Associates to file a tort lawsuit, case number 21-cv-3112,Currently, some sellers have received a freeze notice.Related sellers should pay attention and it is best to investigate their own products to see if any of the above products have appeared.
The issue of infringement is one of the most common problems faced by Amazon sellers. Regardless of the category, sellers must conduct market research and the underlying infringement risks to avoid unnecessary losses.