U.S.AThe Justice Department accused three men of using AmazonControlDVD and Blu ray disc pricing.
According to court documents in Knoxville, Tennessee, the three men——Morris Sutton, Emmanuel Hourizadeh and Raymond NouvahianAccused of conspiring with others to improve and maintain their sales on AmazonDVD and Blu ray disc prices.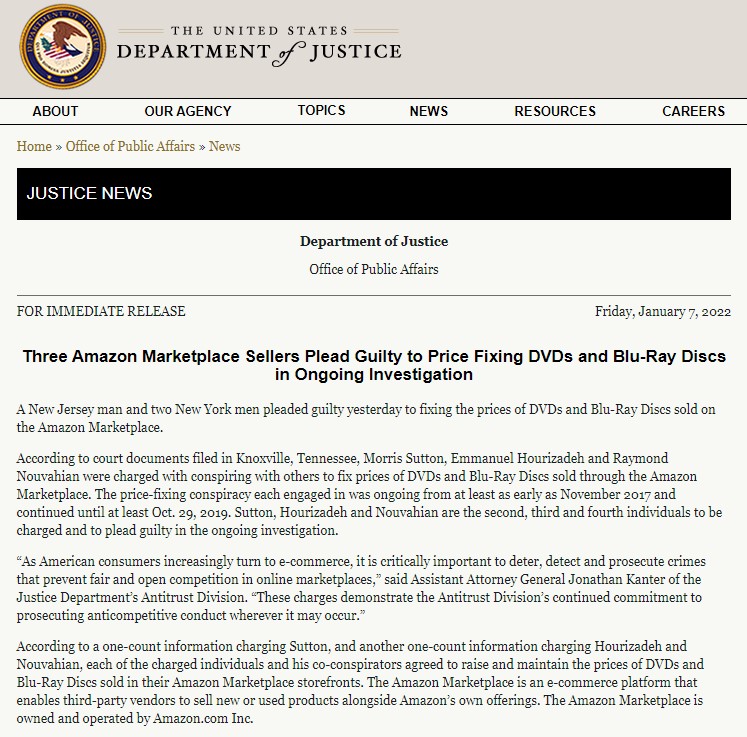 It is understood that this price manipulation conspiracy is at least fromFrom November 2017 to October 29, 2019.They communicated orally, via e-mail, SMS, telephone and other means, and reached an agreement to suppress and eliminate sales in Amazon by manipulating pricingCompetition between DVD disc and Blu ray disc. During this period, they made at least 1.1 million dollars.
In fact, it is not the first time that such pricing manipulation has occurred in the United States. As early asIn 2015, an Amazon seller's manipulation of poster prices was investigated.
Compared with the latest case, the seller of the poster price manipulation case at that time was more skillfulAdvanced. They wrote computer code instructing algorithmic software to coordinate changes in their respective prices. This case is also the first criminal prosecution of e-commerce conspiracy in the United States.
Such price manipulation violates the criminal anti-monopoly law under the Sherman Act of the United States, and the persons involved can be sentenced at most10 years' imprisonment and an individual criminal fine of $1 million.If any of the amounts is higher than the statutory maximum fine, the maximum fine may increase to twice the income of the offender or twice the loss suffered by the victim.
A person from the antitrust department of the US Department of Justice said:"As more and more American consumers turn to online shopping, it is essential to prevent, investigate and prosecute criminal activities that hinder fair and open competition in the online market. The antitrust department will continue to be committed to prosecuting any possible anti competitive behavior."