United StatesThe Ministry of Justice accuses three men of using AmazonHandlingDVD and Blu ray pricing.
According to court documents in Knoxville, Tennessee, these three men——Morris Sutton, Emmanuel Hourizadeh, and Raymond NouvahianAccused of conspiring with others to increase and maintain their sales on AmazonDVD and Blu ray prices.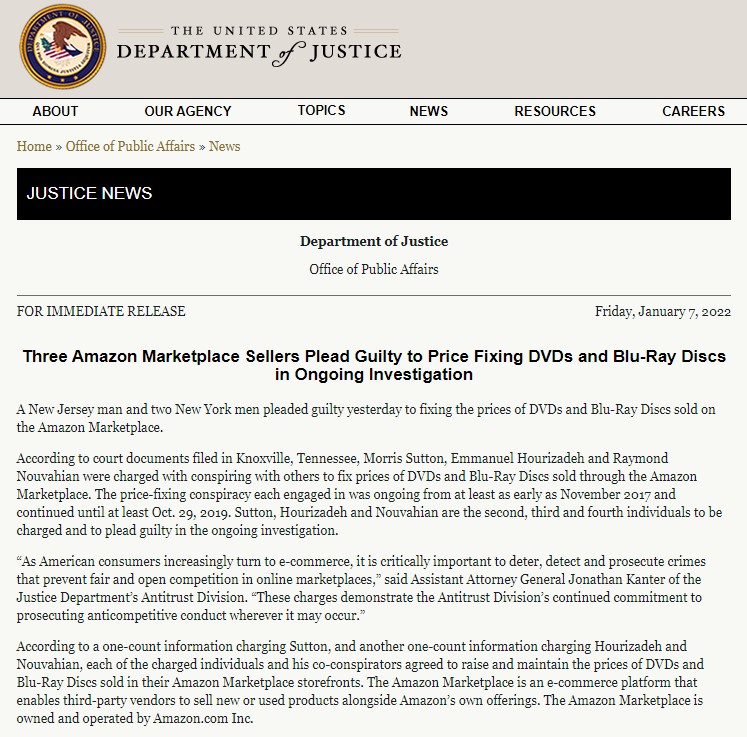 It is understood that this price manipulation conspiracy at least originated fromStarting from November 2017 and continuing until October 29, 2019.They communicated through verbal, email, text messages, phone calls, and reached an agreement to suppress and eliminate sales on Amazon by manipulating pricingThe competition between DVD and Blu ray discs. During this period, they earned at least 1.1 million dollars.
In fact, this kind of pricing manipulation has not happened for the first time in the United States. As early asIn 2015, a case of Amazon sellers manipulating poster prices was discovered.
Compared to the latest case, the seller's modus operandi in the poster price manipulation case at that time was more advancedAdvanced. They wrote computer code that instructed algorithmic software to coordinate changes in their respective prices. This case is also the first criminal prosecution specifically targeting e-commerce conspiracy in the United States.
Price manipulation like this violates the criminal antitrust laws under the Sherman Act in the United States, and the individuals involved can be sentenced to up to10 years in prison and a personal criminal fine of $1 million.If any of the amounts is higher than the statutory maximum fine, the maximum fine may increase to twice the income earned by the offender or twice the losses suffered by the victim.
According to relevant personnel from the antitrust department of the US Department of Justice:As more and more American consumers turn to online shopping, it is crucial to prevent, investigate, and prosecute criminal activities that hinder fair and open competition in the online market. The antitrust department will continue to work to prosecute any potential anti-competitive behavior