They used toMorning coffee(Coffee)Refreshing, eveningWith the help ofAlcohol(Alcohol)relaxSleep aid. butWhenSleep problems areMore and more young people begin to chooseMelatonin(Melatonin)And other health food to help sleep.
According to the data of Tmall Global, in the past six monthsTwo million young people, Shangtian Cat International, have purchased imported coffee and sleep aid health food at the same time."Morning C night M"It has become a more healthy way for young people.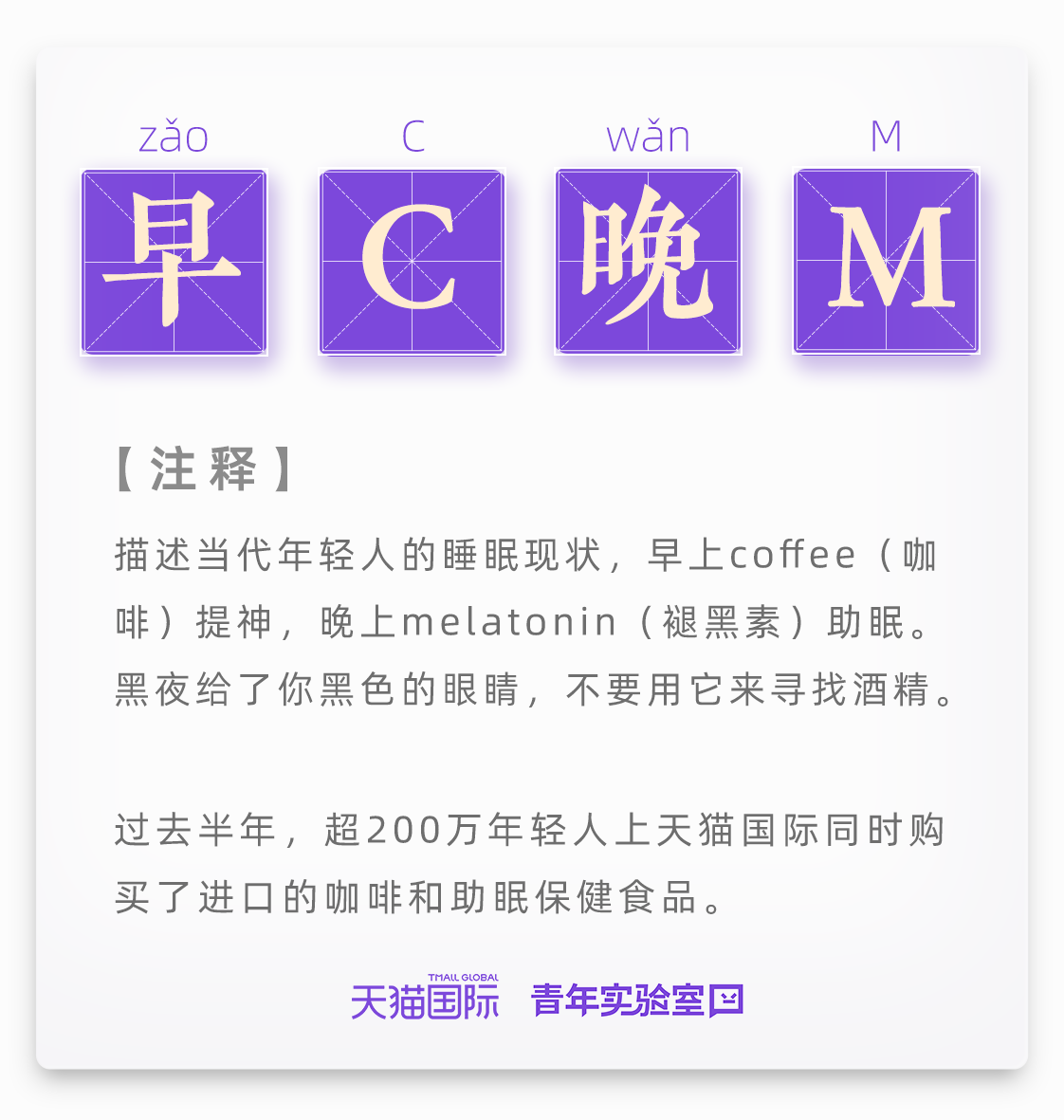 (This group of young people began to work on Tmall"Morning C night M")
Brands and businesses have also seized this trend and launched onlineList of "Morning C and Night M", and launch more portable and convenient melatonin suitable for young people(Melatonin)Commodities such as sleeping water, melatonin soft candyOral drops of essence, instant sleeping tablets, etcLike snacks, it is convenient and ready to eat products.
At present, on Tmall Global,The sales of melatonin category ranked firstVitafusion SleepWell Melatonin Soft Candy and Norwegian Brand NoromegaMelatonin sleeping tablets, IrelandZenflore sleeping probiotics, an Australian brand containing saffron essenceSaffronia Heart Sugar、Swisse Sleeping Valerian Tablets are very popular.
Public data shows that,At present, China has more than300 million people have sleep disorders,Among themThe sleep problems of the post-90s and post-90s young people are the most prominent.China Sleep Index ReportSaid,62%ofthe post-90s generationConsumers have boughtMelatonin soft candy, etcrisingSleeping aid products, super200 billion yuanmarketThe sleep economy of scale has risen.
"Since the beginning of this year, the sales of imported sleep aid health food have shownThe trend of double-digit growth and younger purchasing users is becoming more and more obvious. "Introduction to relevant principals of Tmall Global healthcare industryThe platform has been committed to incubating new categories to meet new consumer segmentation needs and bring new business opportunities to businesses.
(UnileverOLLY Melatonin Soft Candy)
Sleeping Care MarketThe rapid development ofFast cancellationproductgroupFollow up of.Nestle brandsPure Encapsulations launchedSouth African drunk eggplant capsule for regulating sleep and mood,last yearMaySettle inTmall Global,One month sales growth exceedstwo00%; OLLY Melatonin Soft Candy of UnileverLess than a year after its settlement, it became a melatonin categoryTop 2 brand。
According to the data, there wereone00A number of new overseas brands have exploited the sleeping nutrition market through cross-border e-commerce Tmall Global. In the next year, it is expected that more new brands will come in, and now they will hatchone0Ten million brands are sold.