Amazon's rectification of violations continues, and a number of accounts are quietly hanging up.
Recently, Amazon sellers involved in illegal behaviors such as swiping orders and buying and selling accounts paid a heavy price. Being caught because of order swiping, with annual sales of sellers160 million accounts were closed; Many sellers received warning emails from Amazon due to review violations; Due to the account audit problem, the seller got up early and found that more than ten accounts had been hung up
stayAmazon control upgradeIn the context of,Many sellersOrders and profitsDouble doubleslide downwardIn order to recover the traffic, some peers tried to start with the promotion outside the station,But doOutside the station, there was no order, and was also punished by a black hearted service provider.
Seal number and order decline... Amazon sellers face different dilemmas. Near the end of the year, an epidemic broke out in Shenzhen, leading some cross-border companies to start working at home; What is more worrying is that a local logistics company employee confirmed that,50% flights cancelledShenzhen sellers have difficulties in shipping at the end of the year.
Amazon is paying bills again,Multiple sellers receive warnings
Amazon seems to have been rectifying and commenting on violations, sinceSince the end of April 2021, many sellers in the industry have been blocked their accounts due to illegal comments, including some top sellers with annual sales of more than 100 million yuan and category ranking. Now these accounts can hardly be unsealed, and the seller's shop funds are frozen.
Seeing that peers have suffered heavy losses due to comments on violations, many sellers in the industry have stopped illegal operations, and many sellers have notified service providers to stop their orders, reviews, home page likes and other behaviors. There are also some brave sellers who continue to commit crimes against the wind, but they will soon be caught by the platform. Recently, Amazon has caught another wave of sellers involved in review violations. According to their habitual style of settling accounts after autumn, not all of the sellers who have recently violated the rules were recruited this time.
Recently, another group of sellers were caught by Amazon because they swiped their bills. Among the arrested sellers, some of their accounts were directly blocked, and Amazon continued to block their accounts.

In the team whose accounts were closed due to swiping, one seller lost a lotIn 2021, the account with a sales volume of about 160 million yuan was closed, and now we are anxious to find a solution.
Compared with the direct account hanging, the other part of the sellers who were caught swiping the bill received the warning email from Amazon, and the number of sellers who received the email in recent days has gradually increased.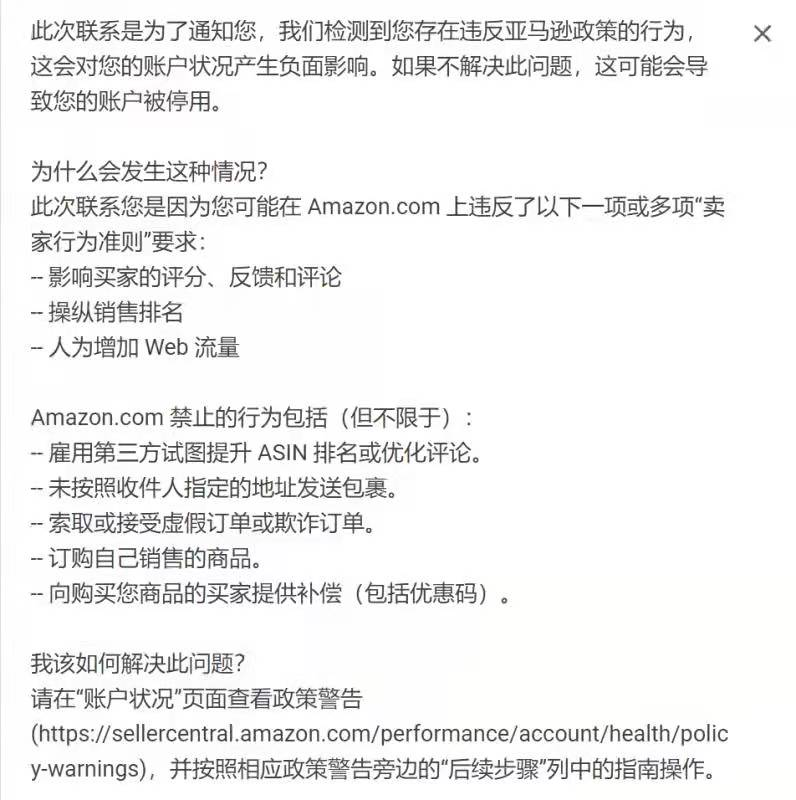 The email sent by Amazon to the seller mentioned that we have detected that you have violated Amazon's policies. If this problem is not solved, your account may be disabled. Violation of the policy includes influencing the buyer's rating, feedback and comments; Manipulate sales ranking; Artificial increaseWeb traffic.
A seller who received a warning email introduced that he had not commented on violations recently. After careful consideration, he gave direct comments on several products about a year and a half ago. As a result, we managedFor the first time, an account with high expectations in the past 4 years received a swipe warning from Amazon. At present, there are a lot of goods in the account, and the seller does not know whether to continue to deliver.
Another seller who received the warning email did an off-site clearance. According to his judgment, it should be against the artificial increase mentioned by AmazonPolicy for web traffic.
There are also sellers who have won the bidding, according to their own situation, guess that they should have violated the relevant provisions of the operation ranking. According to its analysis, off site paid discount code, no negative comments on the home page, click praise and buyQA and others are considered as manipulation of ranking. Sellers must be careful to avoid being caught by the platform.
According to relevant feedback, almost all sellers who have received warning emails recently have violated the rules. An American seller asked a foreign friend to help him with some ordersQA, as a result, an old account that has been operating for 3 years also received a warning email.
However, among the sellers who received the warning, some people directly called grievances. One of the sellers said that the company usually does not pay orders, does not operate outside the station, and operates in a pure white hat,two thousand and twenty-oneyearelevenReceived the first warning in January,nogoWhatever, the account is always in good condition,two thousand and twenty-twoyearIn JanuaryReceive the second warning letter of manipulation comments, call the support team,Be informed of AmazonPerformance team detected at the beginning of the monthownThere is a problem with the buyer's account of some orders,Let itGo to investigate whether hot selling links have been diverted。 Now the seller is at a loss for the investigation and doesn't know what to do next.
The seller who thinks he is innocent is not an exception. Another seller mentioned that an account that never swipes bills received a warning letter from Amazon, and he did not know where to violate the rules or how to appeal.
Now the sellers who have received the warning have started to worry. After experiencing the upsurge of Amazon's number blocking, now the sellers are suddenly nervous about the order cancellation warning. A seller said frankly,I have received this kind of warning before, but I feel nothing is the same. Now, people are terrified when they receive the warning of bill printing.
According to Amazon email, if the seller does not appeal, the account may be blocked. Therefore, some bidding sellers are preparing to appeal, and some peers have provided relevant experience. Since Amazon has detected that there may be violations, you can carefully check your products to see if there are violations, and determine which regulations have been violated. Because there are many sellers who have received warnings recently, you can wait and see first, and then determine the solution.
During the rectification of comments and violations, other compliance rectification of Amazon platform was also carried out at the same time, and some seller accounts were directly blocked.
Amazonsecond instanceScan number?A seller has more than ten accounts
When Amazon's second instance scanning was in progress, many sellers' accounts had been scanned in recent days, and some of the scanned accounts were directly blocked by the platform, and some of the accounts seemed to have no chance of being saved.
A seller introduced,Get up early in the morningfindI have hung up more than ten accounts, and my mentality has collapsed,These accountsyes , we haveNoneSales, somebeOn sale, all the failed accounts received the same violation email.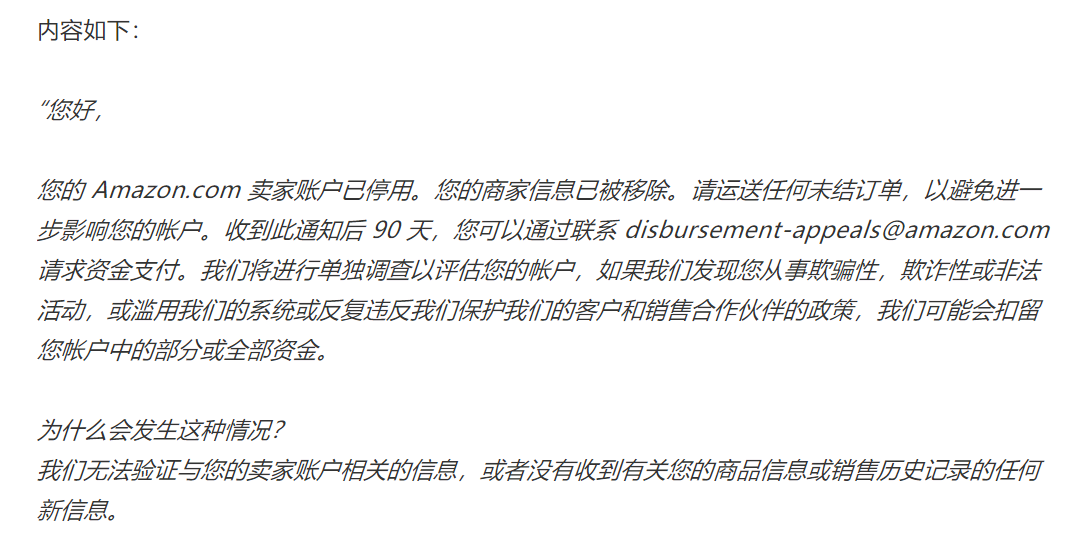 The general content of the email received by the seller is that your Amazon account has been disabled and the list has been deleted. We find that you engage in fraud, deception and illegal activities, or abuse our system, repeatedly violate our policies to protect customers and sales partners, and we may withhold some or all of the funds in your account.
The seller said that he had bought more than ten accounts that he had hung up and had recently registered. At the time of appeal, they provided broadband bills and business licenses, and asked the service provider to issue a broadband bill invoice, but they still failed.
Coincidentally, another seller's account was also subjected to the same audit, and was ruthlessly blocked by the platform.
A seller who knows the truth,I've met several times recentlyThis situation,The account has been stopped, and these have been stoppedAll new stores, mostlyRegistered from October to December, storesNo performance, no order。
According to experienced sellers, these successful sellers met the second instance of Amazon. Recently, Amazon robots are scanning their numbers. If these winning accounts are registered with their own information, there is no problem with their authenticity. The seller only needs to provide material certification as required, and they should be able to return to normal later.If the account is purchased,It may be a bit troublesome, because the account number purchased is probably registered with false information, if the service provider is unable to provide data,These accounts are equivalent to being sentenced to death, and there is no possibility of rescue.
In fact, Amazon scanning has been in progress, and a wave of sellers were attracted last month. One of the companiesMore than 20 accounts were suddenly disabled. These accounts were all newly registered in Amazon America, and there was no violation during the operation. The account has passed the address verification before, but no video verification has been triggered. The account has been promoted and advertised in compliance with the regulations, without any illegal operation, and the business license is completely normal. It has also been declared every quarter.
It is worth noting that before the account was blocked, no warning was received from the platform. When the account was blocked, an email was received from Amazon,The content of the email is exactly the same as the email received by the sellers of the bidding company recently.
From last month to the near future, in order to crack down on violations, Amazon has been scanning its account, and has targeted the new account with the gun. Without any violations, the new account is being further scrutinized. If audited, the purchased account will probably be permanently suspended.
Previously, there had been cases where the purchased accounts could not pass the platform review, but some service providers were still illegally registering accounts to sell, and sellers in the industry were still buying accounts. As a seller, using these purchased accounts is equivalent to burying a bomb for yourself, and the final consequences can only be borne by yourself.
With the upgrading of Amazon's control, it is more difficult to buy and sell accounts, swipe orders and other operations, and sellers need to act within Amazon's rules. So how to get more potential customers and improve sales? Some sellers put their hopes on promotion outside the station. However, compared with inside the station, there is greater uncertainty outside the station. Recently, one seller accidentally stepped on the pit.
flower390 won't issue a single order for promotion as a celebrity, only 30 yuan will be refunded
On December 20, a stranger doing off-site promotion added Andy's WeChat. Because of the need to do off-site promotion, Andy began to chat with the visitors.
Quotation of the other party:FB ordinary group/298 (more than 600000 fans), high quality celebrity/398 (900000 fans), big celebrity/568 (1.3 million fans), 10 yuan discount for more than two, 30 yuan warranty can be provided. Andy felt OK after hearing this, he took out a product and asked whether it could be promoted. The other party replied that it was OK and asked WeChat to pay. Andy transferred 298 yuan and told the promotion staff that now it is time to see how the effect is. There are still many products to do next. The other side promised: "Don't worry, try to push it for you."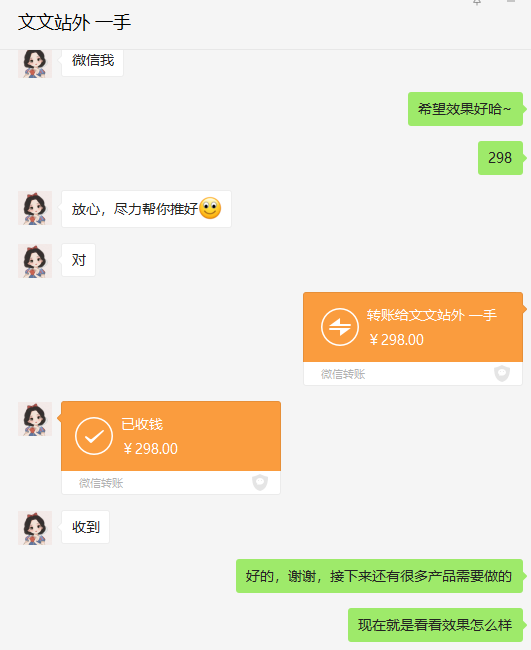 Embarrassed, this promotion only came out7 orders. The other side suggested that even if the retro effect might be the same, it would be better to change to a better celebrity. "There is a celebrity who has a good effect recently. Do you want to try our celebrity? There are many fans and strong purchasing power."
Andy was a little confused, and after a little thinking, he decided to cut the price: "Give me a discount, because my first effect was poor." The other side reluctantly agreed: "OK, 390 for you." Andy stressed to the other party that the effect would be better this time, otherwise it would not be good. The other side still said, "Don't worry, I'll try my best to push it."
But this promotion is directly linked0, none. The promoters said that they would help push more when the time comes, and it would be OK to change the product to push more. After some communication, Andy decided to refund the money. The other party said, "If there is no way to refund the money, the money has been arranged for the celebrity, and I will continue to help you." Faced with the customer's attitude of "wanting results", the promoter said that if a product has a good audience, it is good to order naturally.
Andy was angry. Finally, the promotion party said that he would return the retro money to Andy. After receiving the red envelope, Andy was speechless. "Finally, the good liar returned me 30 yuan. I thought about it. What can I do with 30 yuan? I can deliver 1KG of goods by Meisen. If it is a slow boat, I can pay the freight of 2KG of goods..."
Andy's experience has made many sellers laugh and cry. The sellers analyzed that Andy should not promote but did not ask the other party for links. Similar routines are also common. "I used to work at a service provider outside the station, and the price of the package was the same as yours. The first time I sent 0 orders, the second time I sent 1 order, and then said that the traffic would be better on the weekend. Let me change the product and then help me with the reissue. It was another 0 order, which wasted more than ten days. I sent it three times, and it seemed that the service was considerate, but actually it was useless!"
In fact, compared with the stability of promotion on the site, many sellers think that the effect outside the site is average. To promote, the seller can contact the appropriateFB group owner, with controllable cost, can also have a target.
At the end of the year, the sellers are busy with re inventory, making plans for the next year and preparing goods. A seller sighed that the accounting was overThe profit in 2021 is a bit lost. I have been busy for a year, making wedding clothes for logistics and charity for customers. By the end of the year, the epidemic has emerged in many places in China. In Shenzhen, a cross-border e-commerce highland, the COVID-19 is affecting local sellers.
Cumulative report of this round of epidemic in Shenzhen14 cases, the seller's shipment is under pressure
According to yesterday's announcement, Shenzhen added1 asymptomatic COVID-19 infection; As of 17:00 on the 13th, 14 cases had been reported in this round of epidemic, including 12 confirmed cases and 2 asymptomatic infections. With the development of the epidemic, some areas have been classified as closed control areas or control areas, and feedback from cross-border sellers about home is increasing:
"I know someone who works in Shenzhou Computer Building and is isolated at home"
"My Buji customer was isolated at home."
"There are three closely connected or sub closely connected residential areas, isolated at home"
"The company is surrounded by viruses, and we have worked from home since today..."
At present, Gangtou and other communities have completed the fifth round of nucleic acid testing, and some areas need to continue7 days. A property notice: "Bantian Street has been set up as an epidemic prevention area, and the whole staff will be checked every day from January 12 to 18. No entry is allowed without a negative nucleic acid test certificate on that day."
On January 11, it was reported that a 10 mixed 1 sample from Shenzhen Airport DHL Freight Company was tested positive by a third-party testing agency. Among them, 9 are truck drivers and 1 is outbound cargo operator; Eight of them live in Bao'an District, one in Luohu and one in Foshan.
The next day, Shenzhen announcedNew confirmed cases of COVID-19 were found on November 11, one of which was an employee of a logistics company in Bao'an District:
"Case 11: male, 42 years old, an employee of a logistics company in Bao'an District, living in Building 58, Hewei Village, Caopuxi Community, Qingshuihe Street, Luohu District, was diagnosed as a confirmed case of COVID-19 (ordinary type)."
The sellers have different opinions, and it is speculated that they are personnel of logistics companies in the industry. According to the latest news, according to the needs of epidemic prevention and controlFrom 21:00 on January 13, building 58 and building 64 of Hewei Village, Qingshuihe Street, Luohu District, Shenzhen City were adjusted to medium risk areas.
In addition to directly affecting the daily work of sellers, the epidemic has also affected local logistics and transportation, and it is now the peak time for goods preparation before the Spring Festival.
Yantian Port Area is the main channel for South China's foreign tradeIn the "May 21" epidemic in 2021, many cases in Shenzhen are related to the operation of international cargo ships in Yantian Port Area. The port transport capacity has declined seriously, heavy containers have been overstocked, major shipping companies have jumped from the port, freight rates have risen, and pressure on surrounding ports has increased sharply, which has caused a huge impact on global shipping and supply chain operations. It was not until June 24 that all berths of Yantian International Container Terminal, including the West Port operation area, resumed their normal operation.
After Shenzhen reported the current round of COVID-19 on January 7, some sellers prayed: "Yantian Port must be held anyway!" Yantian Port responded quickly and released"Epidemic prevention measures for towing drivers entering the wharf for operation",The driver is required to cooperate with a series of epidemic prevention measures, such as not getting off the train unnecessarily except for unlocking the box, handling necessary handover procedures and emergency situations; Cooperate with temperature measurement and health code inspection; Reduce the handover of paper documents, no arrival without appointment, etc.
On January 11, Shekou Container Terminal also issued a notice on the entry arrangement of export heavy containers, indicating that based on the current stage, SCT, CCT and MCT will receive ETA-3 days (i.e. within 3 days before the expected arrival date of the ship) from 0:00 on January 14, 2022 (i.e. today). For example, if the ETA time is 2022-01-17 00:00, the start time of receiving is 2022-01-14 00:00. At the same time, the driver is required to cooperate with the inspection of health code and journey code when entering the wharf for operation, and keep a safe social distance of 1.5 meters, and do not get off the vehicle unnecessarily.
Major ports have taken epidemic prevention measures in succession, or brought some pressure to the shipment tide before the Spring Festival.
Not only the port but also the airport flights are affected. According to flight standard data, as ofAt 22:30 on the evening of January 13, flights at Shenzhen Bao'an Airport had been cancelled in a large area. Of the cancelled flights, 455 were cancelled in advance due to airline companies and other reasons, and 51 were cancelled temporarily due to weather and other reasons.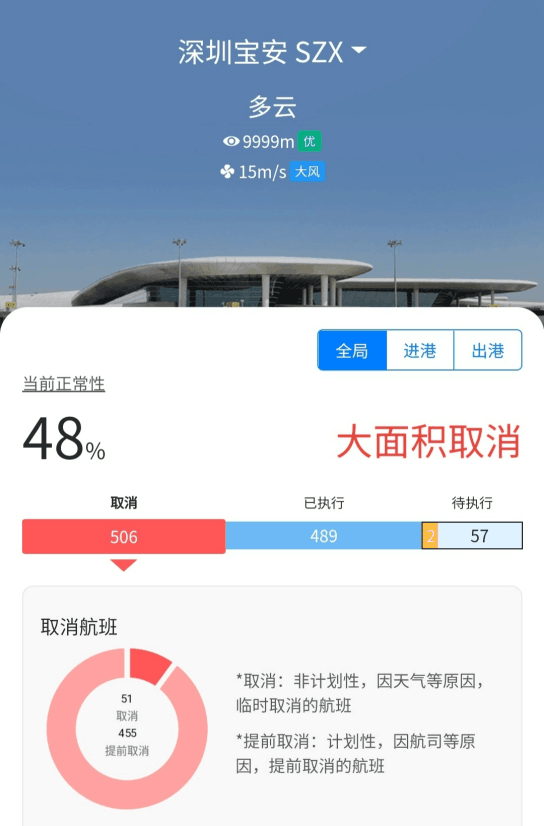 In the transport chain of cross-border export, the epidemic situation at the terminal, such as Europe and the United States, has spread widely. There is a serious shortage of local dock workers, low processing efficiency, and a serious backlog of goods. The waiting time for ships to dock and wait for unloading is constantly refreshing; Domestic epidemics have occurred from time to time, including Shenzhen Yantian Port and Ningbo Beilun Port.
The uncertainty of the seller's delivery has increased significantly. Even on the way, the goods may suffer from unwarranted disasters. Especially in the past year, maritime accidents occur frequently.
A week ago, Japan Shipping CompanyOne of ONE's super large container ships, named "Madrid Bridge", with a capacity of 13900 TEU, is suspected of encountering severe weather on its way to the East America. A serious container collapse accident occurred on the ship, resulting in the loss of at least 30 containers, and the ship's schedule is also expected to be delayed. The ship was once attached to Hong Kong and Shenzhen Yantian ports in China, with a large number of Chinese goods on board. Accidents such as containers falling into the sea and ships catching fire have occurred frequently in the past two years, and the sense of security of shipping sellers is decreasing.
In the past year, cross-border sellers have experienced continuous rectification of the platform, increased peer involvement, high logistics costs, and declining profits. The flood of epidemic also magnified the uncertainty of cross-border e-commerce in many ways. For most sellers, it is a required course to adapt to the environment, upgrade the operation strategy and stabilize their feet under the great changes in the comprehensive environment.