Sugar free beverages are on the rise, and the vitality forest has entered Amazon's best-selling list
In mid December, a series of sparkling water such as Yuanqi Forest Litchi Flavor entered the top ten on Amazon's best-selling list of American sparkling water, becoming the only domestic brand on the list.
Regarding this lychee flavored bubble water, Amazon buyers commented that:Compared to other sparkling water, Yuanqi Forest is not bitter at all, and we strongly recommend lychee flavor because it is like eating lychee!!! "In addition to lychee flavor, buyers also left some positive comments on other flavors, such as white peach flavor, white strawberry coconut flavor, etc.

When it comes to the Yuanqi Forest, it was established for a short period of time, only over five years, and has a shorter history of going to sea. However, this cannot prevent the expansion of its domestic and international territory.
At present, the Yuanqi Forest series products have covered the whole country and are exported to the United States, New Zealand, Singapore, and other countriesMore than 40 countries and regions.In mid May 2021, Yuanqi Forest launched multiple flavors of aluminum can bubble water products for the first time in the US market. In November, Yuanqi Forest officially entered the Wal Mart online mall in the United States.
Not long ago, Yuanqi ForestWon the Best Overseas Project Award in the 2021 Financial Network New Consumption · New Economy Selection.
In addition to its unique Asian flavor, what else does Yuanqi Forest rely on to catch the appetite of crooked nuts? That may be what it promotes0 sugar, 0 fat, 0 calories.
It is understood that Yuanqi Forest Bubble Water does not add sucrose and uses erythritol as a sugar substitute, with a sweetness ofaboutSucrose based65%. Relatively speaking, the products of Yuanqi Forest focus on low sugar and health.
High sugar drinks have always dominated the lives of Europeans and Americans. According to data from the National Center for Health Statistics in the United StatesFrom 1999 to 2000 to 2017 to 2018, the obesity rate in the United States increased from 30.5% to 42.4%. At the same time, the incidence of severe obesity has increased from 4.7% to 9.2%.
Some obesity or fitnesspersonageYou will be attracted to this beverage called Yuanqi Forest. In the Amazon review section, many buyers have expressed that if you want a weight loss drink, this may beOneA good choice.
In addition, with the enhancement of public health awareness, more and more people are aware of the negative effects of sugar on the body, and many ordinary consumers have become fans of sugar free beverages.
In Singapore, Yuanqi Forest has officially passed the certification of the Singapore Health Promotion AuthorityObtained the Singapore HCS Health Preferred Mark. This undoubtedly adds a layer of gold to its' low sugar business card '.
The vitality of the forest is roast because of the failure to stand firm overseas
However, for Yuanqi Forest, it is not easy to truly capture overseas markets.comeIn January, Yuanqi Forest Bubble Water had fallen behind the top ten on Amazon's best-selling list, but still remained in the top twenty.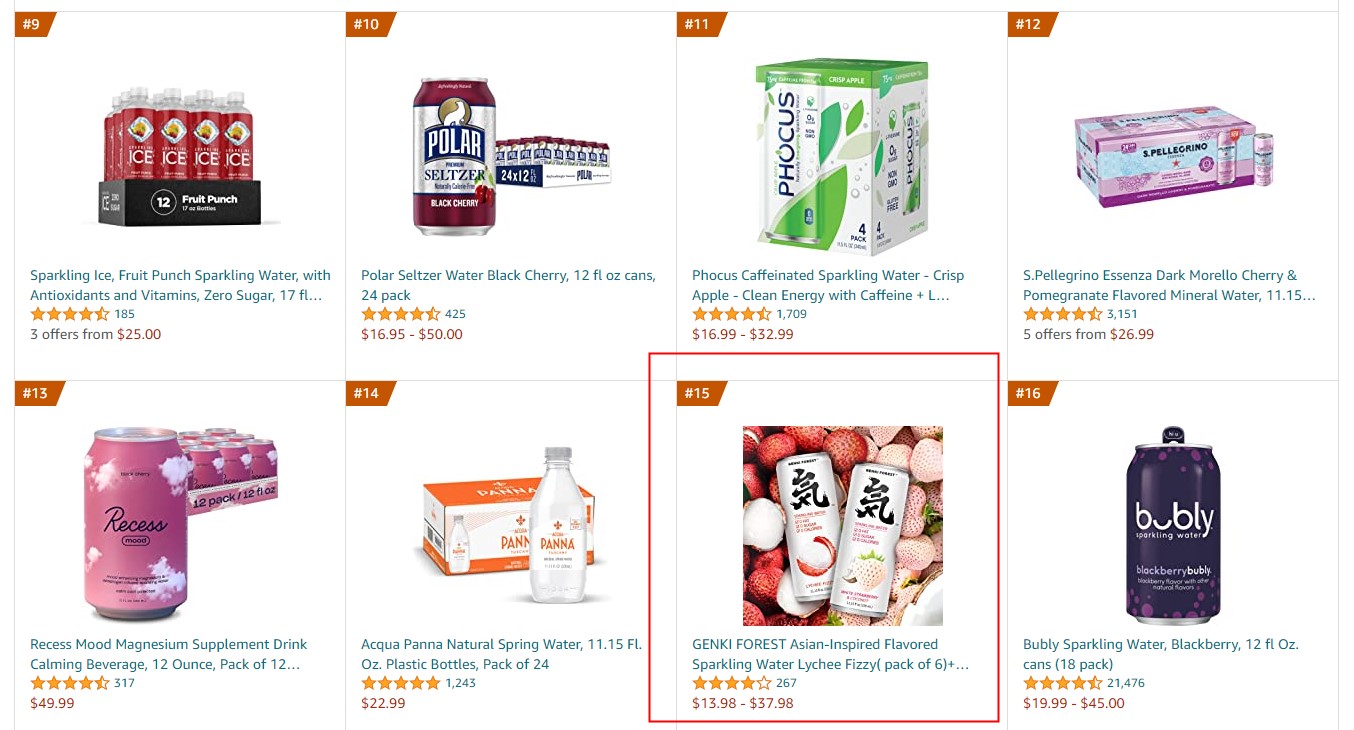 In the Amazon review section, it can be found that some buyers have stated that although Yuanqi Forest's sparkling water has a fresh taste and is a good weight loss drink, they also emphasize that its sweetener feels heavy. In addition, some buyers have reported that the delivery packages from Yuanqi Forest are not sturdy, and many of them have already been damaged.
And there's also, the vitality of the forestKeAnd EnglishGenki Forest gives people a feelingAll very goodJapanese style style, also mentioned in the comments section, buyers feel a bit deceived.
And the vitality of the forestThe gimmick of "0 sugar, 0 fat, and 0 calories" is also easy to overturn. Sugar substitutes have lower calories than regular sugar, but consuming a large amount of "sugar free" beverages can also lead to excessive calorie intake. In terms of food additives, foreign countriesofSystem, regulation, and raw material selectionetc.Both require the attention of Yuanqi Forest, which also leaves it uncertain whether it can pass foreign inspection standards.
Chinese Food Exports to the United States, FDA is Key
Food products that want to enter the US market also need to pass theThe "multiple levels" must be certified before sales can be allowed.Taking Amazon US as an example, there are three steps required for Chinese food to be exported to the United States:
1. Export commodity processing factories should register with the local entry-exit inspection and quarantine bureau
2. Apply for FDA certification
3. Handling customs clearance procedures
Among them, it is important to pay attention to the above procedures,The FDA can be divided into two parts: FDA testing and FDA registration.That is to say, products such as ordinary food and food grade contact materials only requireFDA testing services, i.e. FDA food grade testing; FDA certification involves testing related products, writing a 510K report, and then using this report to determine whether the product meets FDA requirements.
FDA is an abbreviation for the United States Food and Drug Administration, which is also aComposed of professionals such as doctors, lawyers, microbiologists, pharmacologists, chemists, and statisticiansofInstitutions,Government health regulation dedicated to protecting, promoting, and improving national health.adoptFDA certified foods, drugs, cosmetics, and medical devices are safe and effective for the human body.
If not in theForeign manufacturers registered with the FDA will be subject to administrative detention by US customs upon arrival at US ports.
According to the U.SAccording to the relevant provisions of Public Law 107-188, foreign food production and processing enterprises that must register with the FDA are as follows: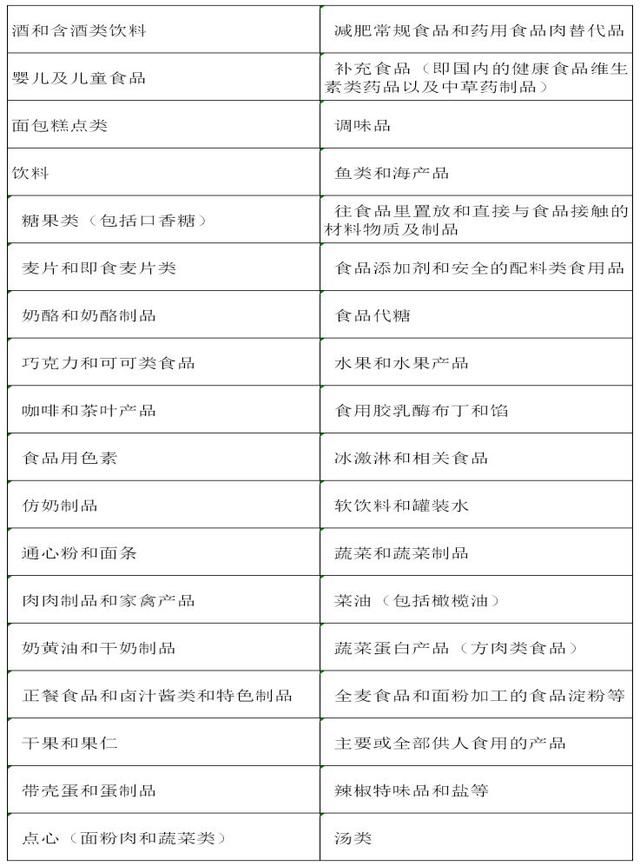 So when exporting beverages and food products, sellers must understand the local certification requirements for such products,To ensure that your products can be safely and smoothly placed on the shelves.
Chinese food exports to the sea
In recent years, an increasing number of domestic productsGoing out of the house ", making it known and loved by consumers around the world. In addition to beverages, Chinese snacks have also captured the hearts of "foreigners".
Food is just one example.The semi-annual report of 2021 shows that the overseas market continued to grow in the first half of the year, with revenue increasing by 30.39% year-on-year.Due to the impact of the epidemic, overseas consumers are paying more attention to Chinese snacks such as melon seeds.
Currently, there are distributors in countries such as Thailand, Malaysia, Indonesia, Vietnam, and the United States,And the exit is close50 countries and regions have sold over 2 billion packages in total.
From the comment section of overseas shopping websites, it can be seen that most of the people who purchase and evaluate come from non Chinese groups.rightForeigners who are unfamiliar with the concept of "eating melon seeds" will use their local language in a fun and thoughtful way to showcase the methods of eating melon seeds to overseas consumers.
Many food companies, such as Maotai, Wuliangye, Changyu, Yili, and Wangwang, have successively gone abroad and actively participated in international market competition, laying out their global market presence.
Among them, food safety, industry policies, and the taste and cultural habits of various countries are all issues faced by food exporting enterprises. And the safety issues during transportation, as well as the after-sales service of goods, are also aspects that enterprises should be concerned about.
So food and beverage brandsThe opportunities and challenges faced by 'going global' coexist. After all, to establish a foothold overseas, one still needs to truly "enter" the hearts of overseas consumers in order to truly succeed.