The "sugar free drink" has become popular, and the vitality forest has entered the Amazon bestseller list
In mid December, a series of sparkling water such as Yuanqi Forest lychee flavor broke into the top ten of Amazon's American sparkling water best seller list, becoming the only domestic brand on the list.
About this lychee flavor bubble water, Amazon buyer commented:"Compared with other bubble water, Yuanqi Forest is not bitter at all. We strongly recommend the taste of lychee, because it is like eating lychee!!" In addition to the lychee flavor, buyers also left some favorable comments on other flavors, such as white peach flavor, white strawberry coconut flavor, etc.

When it comes to Yuanqi Forest, it has been established for a short time, more than five years, and has a shorter history of sailing. However, this cannot prevent the expansion of its domestic and international territory.
At present, Yuanqi forest products have covered the whole country and are exported to the United States, New Zealand, Singapore, etcMore than 40 countries and regions.In the middle of May 2021, Yuanqi Forest will launch a variety of aluminum bubble aquatic products in the American market for the first time. In November, Yuanqi Forest officially settled in Wal Mart Online Mall.
Not long ago, Yuanqi ForestWon the Best Sailing Project Award in the New Consumption and New Economy Selection of Financial Network in 2021.
In addition to the unique Asian flavor, what else does Yuanqi Forest rely on to keep the appetite of crooked nuts? That may be its propaganda"0 sugar, 0 fat, 0 calorie".
It is understood that the bubble water in Yuanqi Forest does not add sucrose, and erythritol is used as sugar substituteaboutSaccharose65%。 Relatively speaking, the products of Yuanqi Forest mainly focus on low sugar and health.
High sugar drinks have always occupied the lives of Europeans and Americans. According to the National Center for Health StatisticsFrom 1999 to 2000 to 2017-2018, the obesity rate in the United States increased from 30.5% to 42.4%. At the same time, the prevalence of severe obesity increased from 4.7% to 9.2%.
Some obesity or fitnesspersonageWill be attracted by this drink of Yuanqi Forest. In the Amazon comment area, many buyers said that if they want a diet drink, this may beOneGood choice.
In addition, with the enhancement of public health awareness, more and more people are aware of the negative effects of sugar on the body, and many ordinary consumers have become the fans of sugar free drinks.
In Singapore, Yuanqi Forest was officially certified by the Singapore Health Promotion AuthorityAnd obtained the Singapore HCS Health Preferred Label. This undoubtedly plated its "low sugar business card" with gold.
The vitality of the forest is roast because of the failure to stand firm overseas
However, for Yuanqi Forest, it is not easy to truly occupy the overseas market.comeIn January, Yuanqi Forest Bubble Water fell behind the top ten Amazon bestsellers, but it is still in the top 20.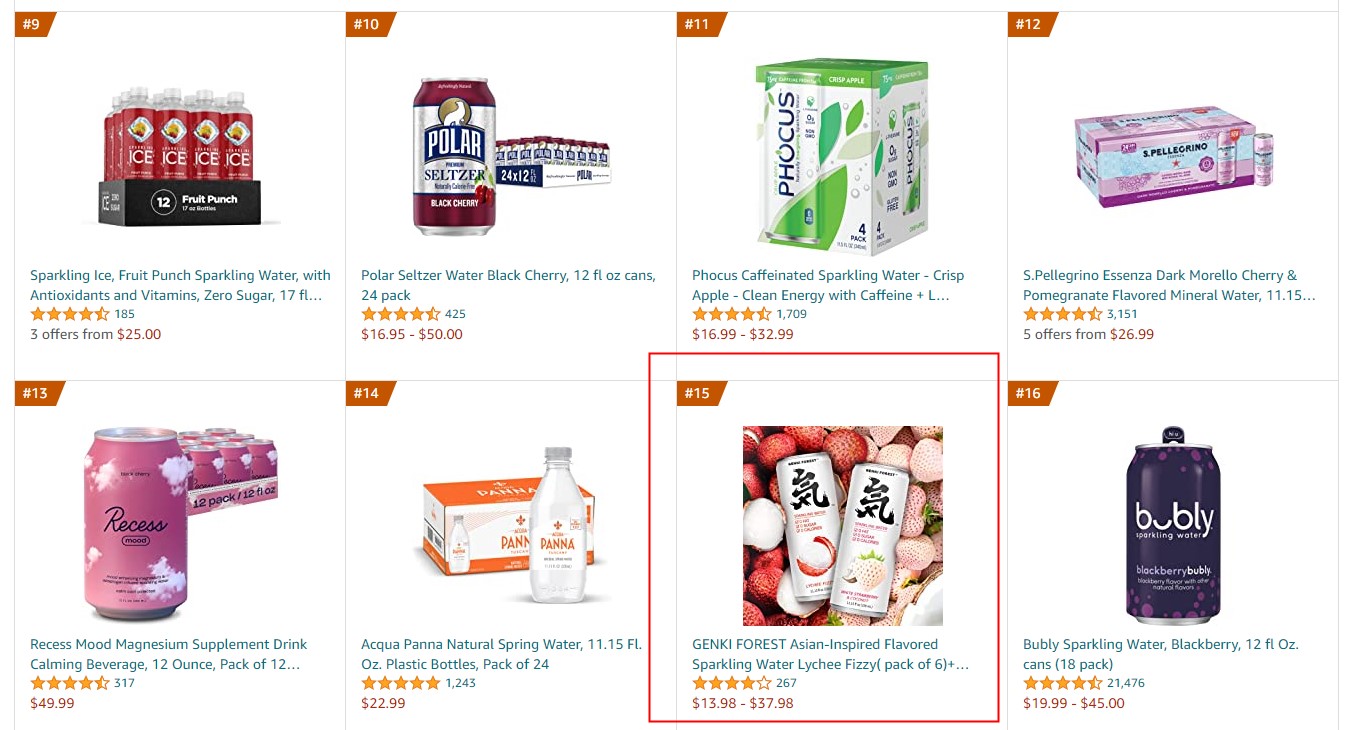 It can be found in the Amazon comment area that a buyer said that although the bubble water in Yuanqi Forest has a fresh taste and is a good weight loss drink, he also stressed that its sweetener feels very heavy. In addition, some buyers reported that the distribution packages of Yuanqi Forest were not solid, and many of them had been damaged.
There is also the"Keke"And English"Genki Forest", giving people a feelingEverything is very goodJapanese style, the comment area also mentioned this, the buyer felt a bit cheated.
And vigorous forest"0 sugar, 0 fat, 0 card" stunt is also easy to roll over. The calories of sugar substitutes are lower than ordinary sugar, but if you eat a lot of "sugar free" drinks, you will also eat too many calories. In terms of food additives, foreign countriesofSystem, supervision and raw material selectionetc.It needs the attention of Yuanqi Forest, which also makes it unknown whether it can pass the foreign inspection standards.
FDA is the key to China's food export to the United States
If food products want to enter the American market, they should also pass"Many hurdles" can only be sold after being certified。Take Amazon America as an example. To export Chinese food to the United States, there are three steps:
1. The export commodity processing factory shall file with the local entry-exit inspection and quarantine bureau
2. Apply for FDA certification
3. Go through customs clearance procedures
In the above procedures, it should be noted that,FDA can be divided into FDA testing and FDA registration.That is to say, ordinary food, food grade contact materials and other commodities only needFDA testing service, i.e. FDA food grade testing; The FDA certification is to test relevant products, and then write a 510K report, and then use this report to judge whether the products meet FDA requirements.
FDA is the abbreviation of the United States Food and Drug Administration, which is also aDoctors, lawyers, microbiologists, pharmacologists, chemists, statisticians and other professionalsofInstitutions,Government health control dedicated to protecting, promoting and improving national health。adoptFood, drugs, cosmetics and medical devices certified by FDA are safe and effective for human body.
If notForeign manufacturers registered by FDA will be "administratively detained" by US Customs after their products arrive at US ports.
According to the U.SAccording to relevant provisions of Public Law 107-188, foreign food production and processing enterprises that must register with FDA are as follows: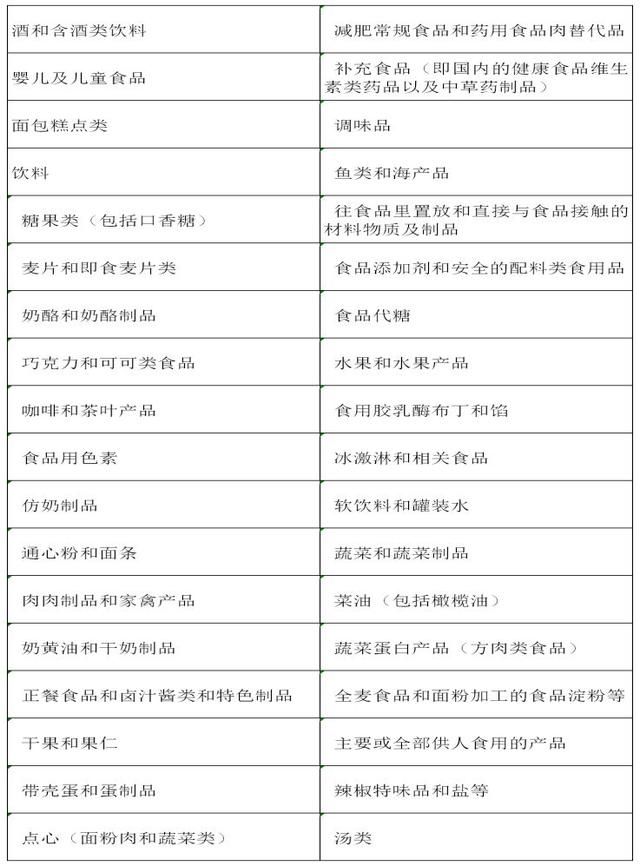 Therefore, when exporting beverage and food products, the seller must understand the local certification requirements for such products,To ensure that their goods can be safely and smoothly placed on the shelves.
Chinese food "prosperous"
In recent years, more and more domestic products"Go out of the home", let the world's consumers know and love. In addition to drinks, Chinese snacks have also won the hearts of "foreigners".
Chacha food is one example.According to the semi annual report of Chacha in 2021, the overseas market continued to grow in the first half of the year, with a year-on-year growth of 30.39% in revenue.Influenced by the epidemic, overseas consumers pay more attention to such appetizing snacks from China as melon seeds.
At present, there are dealers in Thailand, Malaysia, Indonesia, Vietnam, the United States and other countries,And the outlet is near50 countries and regions have sold more than 2 billion packages in total.
From the comment area of overseas shopping websites, most people who buy and evaluate are from non Chinese groups.yesForeigners who are unfamiliar with "melon seed eating" will specially use local language to show overseas consumers the method of melon seed eating in an interesting way.
Many food enterprises, such as Maotai, Wuliangye, Changyu, Yili, Wangwang, have gone abroad in succession to actively participate in the competition in the international market and layout the global market.
Among them, food safety, industrial policies, taste, culture and habits of various countries are all the problems faced by food shipping enterprises. And for the safety problems in the transportation process, after-sales service of goods, etc., are also aspects that enterprises should be concerned about.
So food and beverage brandsThe opportunities and challenges faced by "going global" coexist. After all, if you want to gain a firm foothold overseas, you still need to really "walk into" the hearts of overseas consumers to be truly successful.