According to foreign media reports, in New York State, a person named Devon·The pawnshop owner of Tribunella likes to buy stolen goods from some thieves and then sell them on eBay.
Tribunella will be thereIn advertisementssoundcallThese goods are all new, andPrice lower thanMarket price. Although the selling price is relatively low, the compensation paid to the thief is only a small part of the true retail value of the goods, which is still aBuy low and sell high business.
Not only that, but this boss'sThe 'business acumen' is quite proficient and likes to cater to market demand.In order to achieve this goal, Tribunella often advises thieves on which stores to go to (such asLloyd's, Home Depot, Target and Wal Mart)StealWhat type ofgoods.
Data display,stayFrom January 2017 to November 2019,Tribunella sold more than$3.2 millionStolen goods.
However, Tribunella's activities have not escaped the United States Department of JusticeFayan. According to the official website of the US Department of Justice, Tribunella is accused of transporting stolen goods in interstate trade. It is understood that thisThe highest sentence for charges10 years in prison and a fine of $250000.
Currently, Tribunella has acknowledged thisCrime of selling stolen goods.As part of the confession,Tribuneratakecoverconfiscate$200000 in cash4 luxury cars and required to pay $1.6 millionfine.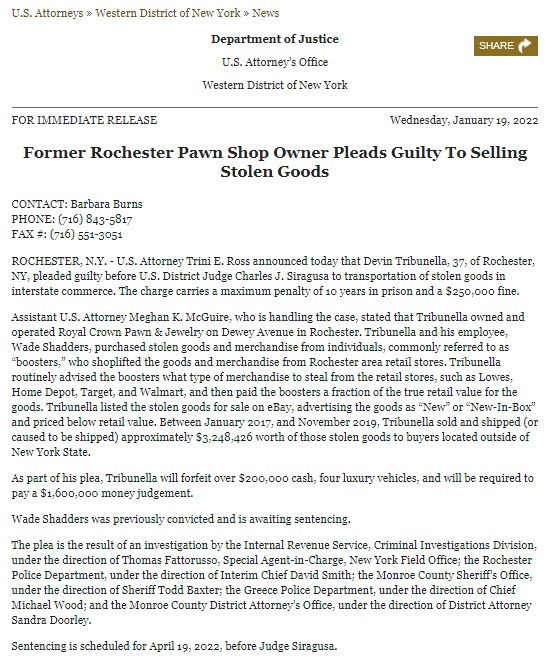 In fact, this kind of thing not only happensOn eBay, there is also Amazon. Last September, there was a news report that US investigator Dugan estimated that there would be 73 cases of selling stolen goods on Amazon in 2021, far higher than the 27 cases in 2020.
As online shopping in the United States reaches record levels, organized retail crime has spread. And American retailers are also fighting back vigorously. Last yearIn December, CEOs of nearly 22 retail companies in the United States strongly supported legislation targeting markets such as Amazon and eBay in a letter to congressional leaders. The bill requires internet giants to verify seller and buyer information.
And Amazon spokespersonAlex Haurek stated that the company does not tolerate the sale of stolen goods and works with law enforcement and retailers to prevent wrongdoing, including withholding funds, closing accounts, and referring to law enforcement. He said that the company spent $700 million last year to combat fraud on its platform.