Recently, pet e-commerce in the United StatesChewy has released six popular winter pet dog coat elements on its platform, covering the current seasonPopular colors, styles, fabrics, andDecoration, etc.
In popular colorsPrimary colorDominantRed, yellow, and blue inThe year 2021 was welcomed.Chewy representsThese colors are combined with traditional knitwear, geometric patterns such as stripes, etc., to increase the attractiveness of the product. Except for the primary color,Animal printingIt was also one of the popular trends last year. Sports hoodies and warm coats with animal prints are also favored by consumers.
In terms of clothing materials, the trend of retro style has madecorduroyProduct return. Corduroy is an AmericanThe main popular elements of the 1970s, combined with other decorative elements, infused pet jackets with a sense of fashion.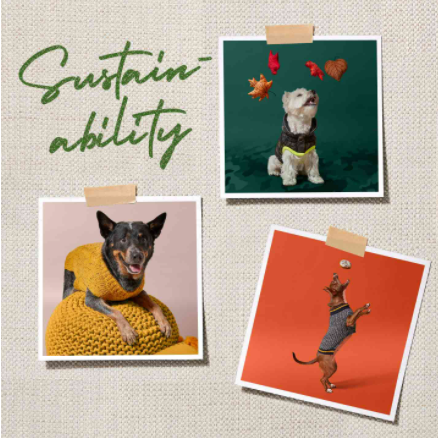 Image fromChewy official website
In terms of workmanship and materials,Chewy realizedWith the transformation of consumer consumption concepts,SustainabilityIt has become particularly important, as product consumables and environmental friendliness have become one of the selling points that consumers value.
Chewy stated that theyWhile utilizing natural resources, it also minimizes the negative impact on the environment to the greatest extent possible.Chewy also suggests that consumers try to purchase as much as possibleKnitwear and jackets made from recycled materials reduce resource waste.
In addition to the aforementioned trends, gold, copper, and silverMetallic coloras well asAcademic styleIt is also one of the popular elements of the season.Chewy means that ifPet owners who want to dress up their pet dog differently can choose to wear a Pai Overcome, cardigan, pearl, and plaid style dog jacket.
fromThe popular elements and suggestions for pet dogs released by Chewy show that pet products, especially pet clothing, are keeping up with the trend of the times, which also indicates that pet ownersIncreasing emphasis on product fashion and classics. Therefore, sellers who specialize in pet products can pay more attention to relevant trends and strengthen product innovation.
As a leading pet e-commerce platform in the United StatesChewy has always been popular among consumers, with net sales of $2.21 billion in the third quarter of 2021, a year-on-year increase of 24.1%. Its fourth quarter and full year performance is expected to see new growth.