36 Kr learned that Shoplazza Shopkeeper, an enterprise level technology company focusing on the business sales platform of overseas B2C independent stations, has recently completed financing. Yunjiu Capital and Sequoia China, as old shareholders, continue to increase their holdings. Qianhaimu Fund and Pioneer Asset have invested together, with a financing scale of more than 10 million dollars. Yibai Capital acted as the exclusive financial adviser for this round of financing.
36 Krypton has reported on this company, whose business direction can be simply summarized as SaaS website building system, overseas marketing and brand management.
Compared with the last report, Shoplazza Shopkeeper has made two achievements in the past two years. First, its SaaS system and brand marketing services in China have entered a new stage of stable development from the exploratory stage two years ago in terms of transaction scale, revenue and customer volume; The second is that most of its users are professional e-commerce enterprises or commercial organizations at the head and middle waist. Such customers have high requirements for products and have clear requirements to help product services iterate efficiently.
Shopify, which has been established for 12 years and listed on the New York Stock Exchange, has been benchmarking since its establishment. Today, three years later, 90% of the customers of "Shoplazza Shopkeepers" choose Shopify to "Shoplazza Shopkeepers". Through the positive evaluation and recommendation of customers on products and services, customer growth is formed.
At the same time of benchmarking, "Shoplazza shop maker" has also gone out of a differentiated development direction.
On the one hand, Shopify, as a Canadian enterprise, is unable to obtain the latest product demand from Chinese merchants according to market changes. In addition, Shopify has also been strict with Chinese merchants in recent years, making many merchants who invest in real gold and silver face the crisis of being closed down at any time. The Shoplazza Store Maker can not only help businesses solve risk problems through big data feedback, but also seamlessly communicate with businesses through domestic teams to ensure that the latest demand changes of Chinese businesses can be quickly resolved and responded to in a timely manner.
On the other hand, overseas SaaS service providers focus on doing business with local buyers and sellers. "Shoplazza shopkeepers" pay more attention to how to help merchants do a good job in China overseas cross-border business.
There are not many domestic enterprises doing offshore e-commerce platforms. Due to the difference of consumption habits in different regions, the product focus of each service provider is different. For example, Club Factory focuses on India, Jolly Chic focuses on the Middle East Gulf region, and Shoplazza shop makers focus on European and American markets to provide professional services for businesses going to Europe and the United States.
The underlying e-commerce logic in different regions and countries is vastly different, and the ceiling of the market is very high, which makes it possible to take a differentiated path. According to the data of Prospective Industry Research Institute, the scale of cross-border e-commerce transactions in China will reach 12.7 trillion yuan in 2020.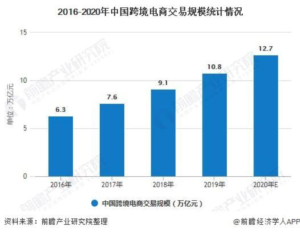 Statistics on the scale of cross-border e-commerce transactions in China
The reason why we can take this road of differentiation and occupy a place in the broad market stems from the product experience of "Shoplazza shopkeepers".
Li Junfeng believes that enterprise level SaaS pays more attention to whether it can really solve customers' problems, especially because many vertical industries in ToB have different business models. Even the same vertical industries also have business methods and means for different customers. He took the CRM market as an example. At present, 70% or 80% of the CRM products on the market have the same functions. Then the customer's choice is based on a specific function point that is suitable for their industry and consumers. It is best to directly solve their problems. The same is true for overseas e-commerce or cross-border e-commerce.
It is reported that this round of financing will be mainly used to increase investment in R&D and talents, build core competitiveness in product technology, and enhance professional barriers at the infrastructure level. Specifically, the first is to improve the efficiency of the transaction algorithm to help businesses improve the conversion rate. Including cloud transaction concurrency, transaction security and stability in Europe and the United States; The second is to improve the commodity recommendation algorithm and image recommendation algorithm related to operation.
Speaking of the future, Li Junfeng, CEO of Shoplazza, hopes that Shoplazza will become a company that helps customers achieve exponential sales growth by connecting and calculating information.