36 Krypton learned that the autopilot company "Qingzhou Zhihang" announced that it had obtained a new round of investment from Lenovo Venture Capital, and the investment amount was not disclosed. This round of financing is mainly used for technology research and development and commercialization.
Qingzhou Intelligent Navigation was established in Silicon Valley in 2019. Based on large-scale intelligent simulation system, self-learning decision-making planning framework, multi-sensor fusion and timing fusion scheme and other core technologies, it developed the L4 level automatic driving solution "Driven by QCraft" for complex urban traffic scenarios, which is currently tested and operated in Beijing, Shenzhen, Suzhou, Silicon Valley and other cities in the United States.
Yu Qian, CEO of Qingzhou Zhihang, and Hou Cong, Dafang and Wang Kun, the other three co founders, are all technical backbones and overseas doctors of Waymo, an autonomous driving company under Google, and have been engaged in the unmanned vehicle industry for nearly a decade. In April this year, the company announced that it would obtain tens of millions of dollars in seed round financing. The investors include IDG Capital, Yuanjing Capital and Tide Capital.
At present, Light Boat Intelligent Airlines is launching Robo Bus normal operation in many cities in China for subway connection and microcirculation connection, which is the first landing scenario of the "Driven by QCraft" scheme.
This year, Light Boat Intelligent Airlines plans to launch the first regularly operated urban open road Robo Bus project in Suzhou, deploy multiple Robo Bus urban microcirculation lines, and cover the area around Suzhou North Station and Dawan Metro Station of Suzhou Metro Line 2. The total length of the published route is more than 4km, and several stations are set along the route, connecting the core transportation hub, commercial office area, shopping center, residential area and other places of Suzhou High Speed Rail New City.
Microcycle of urban road traffic refers to the process in which traffic flows from the end of urban main roads, through the microcirculatory road system of branches, and then flows from the microcirculatory road system to other trunk roads. According to the traffic analysis report of major cities in China in the third quarter of 2018, the utilization rate of most expressways and trunk roads in Beijing is as high as 100%, and the average congestion rate is more than 60%, while the average congestion rate of secondary trunk roads or branch roads is only about 30%, which can achieve a good diversion effect.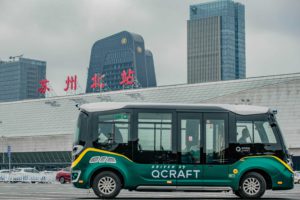 Qingzhou unmanned minibus (source: Qingzhou Zhihang)
Speaking of the reasons for giving priority to unmanned minibuses, Yu Qian, co-founder and CEO of Light Boat Intelligent Airlines, said that Robo Bus has four advantages: first, in the medium and low speed scenarios, passengers can control their expectations of speed and keep the speed between 20km/h and 50km/h; Second, fixed routes can be honed repeatedly on the same route to ensure driving safety, and traffic light priority and early warning can be achieved in combination with V2X; Third, multi person travel has social benefits and enjoys priority on public roads; Fourth, in terms of business model, users and customers are separated. The company that operates the minibus provides users with public travel services, and Qingzhou Zhihang provides products and support to the operating company, which can quickly realize the commercialized closed-loop.
Yu Qian also mentioned that the light boat unmanned minibus belongs to the micro cycle bus, which is positioned to solve the "last three kilometers" problem of urban travel. It uses 6-8.5m, 9-15 seat models, with flexible driving lines, and is suitable for narrow streets. In contrast, the car is used for unmanned taxi, which belongs to private travel and has small passenger capacity. Under the pressure of the current high cost, the area that can be supported is limited, and it is impossible for passengers to directly pay for the vehicle and operating costs. The ordinary bus adopts 12m, 32 seat models, which are suitable for long-distance lines. The number density is low, and the no-load rate is high, so it is difficult to go deep into narrow streets.
Speaking of market demand, Qingzhou Zhihang said that the domestic application of micro cycle public transport is ushering in an outbreak period. At present, Dongguan has opened nearly 20 micro cycle bus lines, with 140 micro buses in total. Among them, the microbus lines in Dongguan Songshan Lake area have provided travel services for more than 180000 citizens. Guangzhou has opened 4 convenient routes in the past 8 months, with more than 100 convenient vehicles. In addition to the public transport gaps in communities and streets, there is also a huge gap in the bus lines connecting subway and train stations. Take Fuzhou's subway shuttle line as an example. In the past year, in order to meet the transfer demand within 3-5 kilometers of each station along the subway, Fuzhou has opened 23 subway shuttle lines. The average daily passenger flow of micro bus lines is nearly 30000 person times, and the peak daily passenger flow is 50000 person times; The subway feeder line has also been used in Shenzhen. After the subway lines 6 and 10 were opened, 11 bus feeder lines have been opened in Shenzhen.
Although there are many advantages, Robo Bus also has its own technical challenges, especially the problem of somatosensory optimization.
Dafang, co-founder of Qingzhou Zhihang, was mainly responsible for key modules of sports planning in Waymo. He mentioned that the braking feeling of buses is more obvious than that of cars. On the one hand, because the bus suspension system needs to bear more weight, it is not the same as the car suspension structure. It is too rigid in design and cannot effectively absorb small and uneven acceleration and deceleration; On the other hand, the seats on the bus can not wrap the human body in a large area like the car seats. They are more open, and the same acceleration and deceleration can easily be converted into body shaking. However, based on the team's experience in decision-making and planning technology, the light boat unmanned minibus can now accurately respond and maximize stability.
In addition, Dafang said that the distance between several continuous traffic lights on Qinglonggang Road, Xiangcheng, Suzhou is very short, with the shortest distance of only 130-140 meters, while some yellow lights are obviously short in duration. In such a continuous series of intersections, in order to prevent passengers from feeling uncomfortable due to frequent braking, the light boat unmanned minibus can not only predict in advance in terms of perception and planning, but also obtain the phase and time information of traffic signal lights at each intersection of continuous straight sections in advance through the collaborative application of vehicles and roads under the 5G network. When the Robo Bus is approaching the first intersection of the green wave section, the unmanned driving system of Qingzhou Zhihang will combine its own path and traffic light information to obtain the best speed, avoid stopping due to temporary light changes, and reduce the waiting time when passing the intersection.
In response to this investment, He Zhiqiang, senior vice president of Lenovo Group and president of Lenovo Venture Capital Group, said that Qingzhou Zhihang had identified the "micro cycle" needs of intelligent cities, realized from technology research and development to scenario based applications in a short time, and brought good social benefits and business model closed-loop. With the continuous deepening of domestic urban traffic networking and intellectualization, the application of unmanned driving in related fields will usher in explosive growth, and the unmanned driving solutions that can be mass produced by Light Boat Intelligent Airlines will be widely used in China.
————
I'm Wang Yijin, a 36 krypton journalist. For business communication, we can add WeChat catherine yijin. Please note company+name+title+purpose.