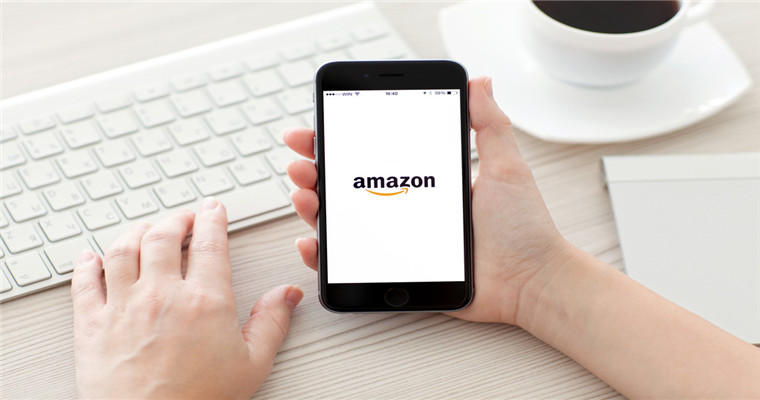 Amazon Brand Analytics is a tool provided by Amazon itself for sellers to monitor business performance, sales trend, product performance, traffic and conversion rate.
Blueocean Yiguan has learned that, in theory, all sellers and suppliers can use Brand Analytics as long as they are brand owners, but they must completeAmazon Brand Filing。
To getReports from Brand AnalyticsYou need to log in to Seller Central or Vendor Central first. For example, Vendor Central can click "Reports" and then select "Analytics" to enter the brand analysis overview page. Select the required report and click it to see the relevant data.
What reports does the Brand Analytics tool provide?
1. Snapshot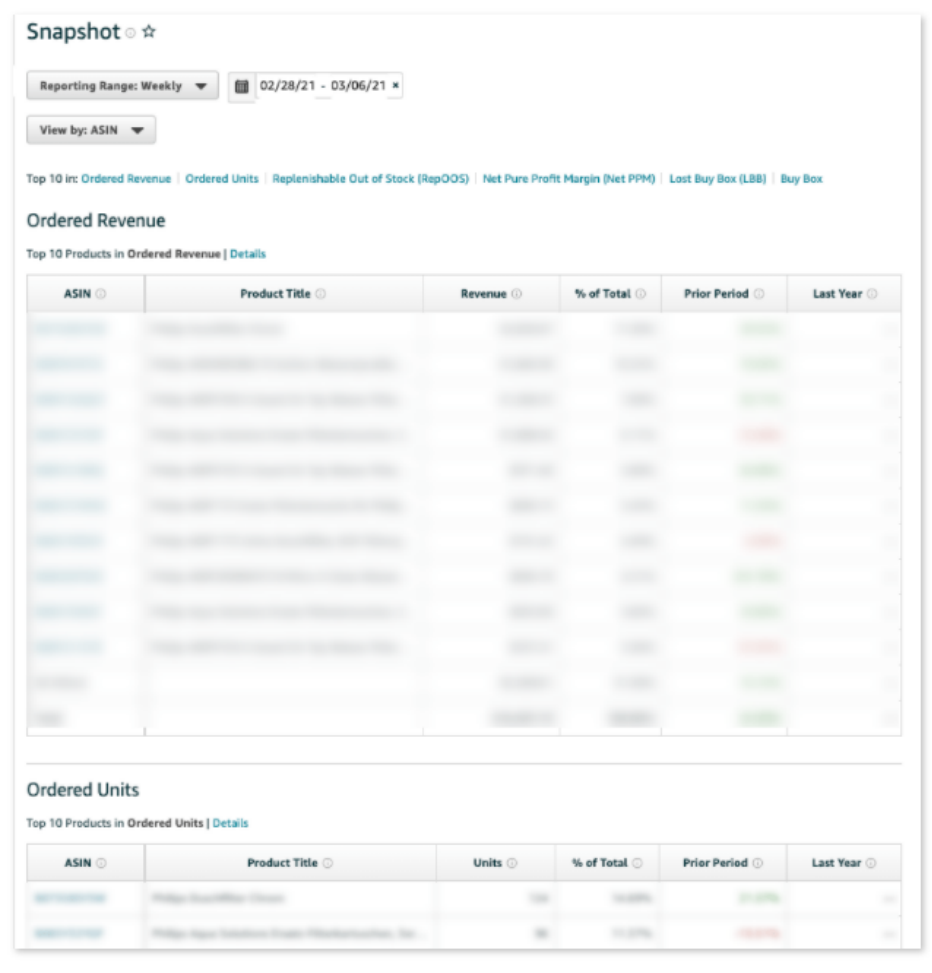 The snapshot page is a summary of other reports.
In addition, we can see the top 10 products in terms of revenue and sales, the top 10 products that are out of stock even if they are repurchased, the top 10 products with the highest profit margin, and the products that Amazon most often loses shopping carts.
2. Sales Diagnostics Report
This report can help sellers track revenue, sales, and other indicators of product ASINs, such as rated sales price, conversion rate, etc.
The results can be grouped by ASIN, main category or sub category.
In addition, you can select different views by selecting Distributor View or Sales View.
There is no doubt that this sales diagnosis report is one of the most important reports of Brand Analytics.
3. Sales Performance Trends
It is similar to the sales diagnosis report above, but it shows the change of sales over time.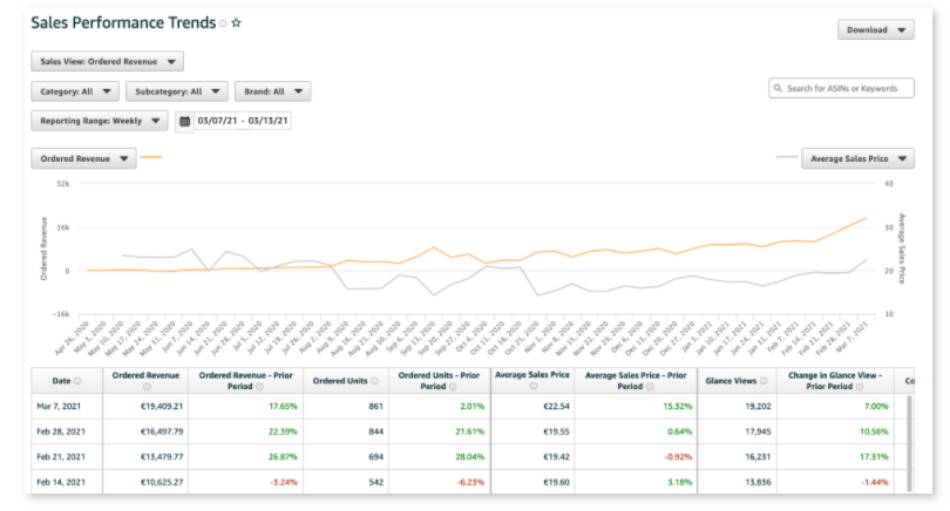 4. Geographic Sales Insights
If you want to know which region's sales are growing, which region's sales are declining, or what are the emerging trends, you can look at this report.
Data can be deleted and selected according to geographical location.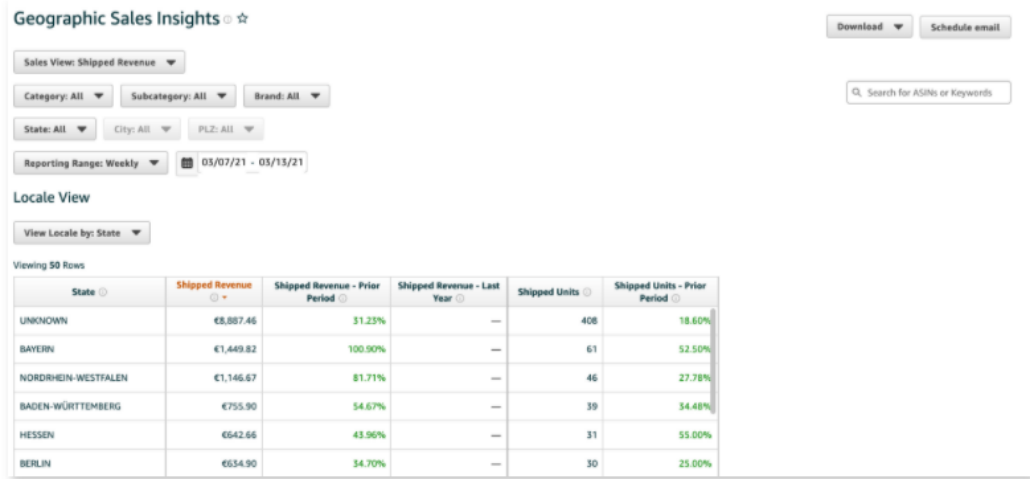 5. Net PPM
In the Net PPM report, sellers can see which products make the brand profitable.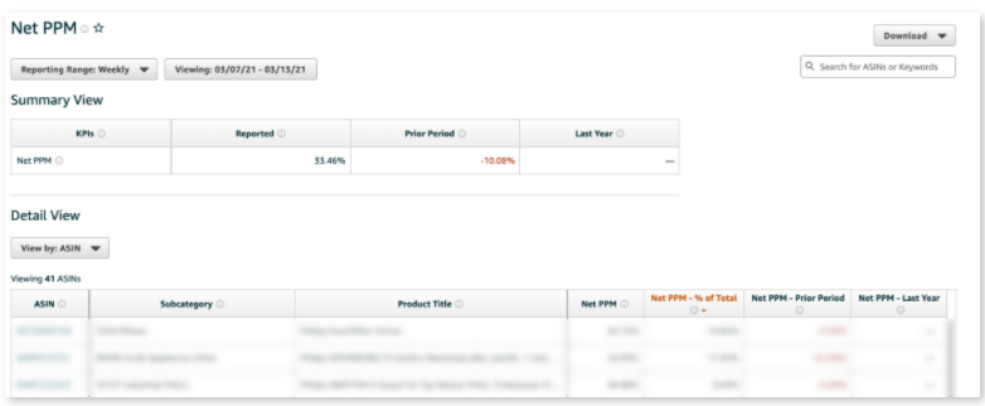 6. Pre-orders
This report can closely monitor the pre purchase performance of products and is an effective method to manage the release of new products.
7. Traffic Diagnosis
The traffic diagnosis report is very useful for monitoring the development and change of traffic.
It provides two important indicators at the product, category or sub category level, namely:
a. Changes in page views compared with the previous period and year
b. Changes in sales compared with the previous period and year
With the help of this report, the seller can determine what measures to take to increase the exposure or improve the conversion rate.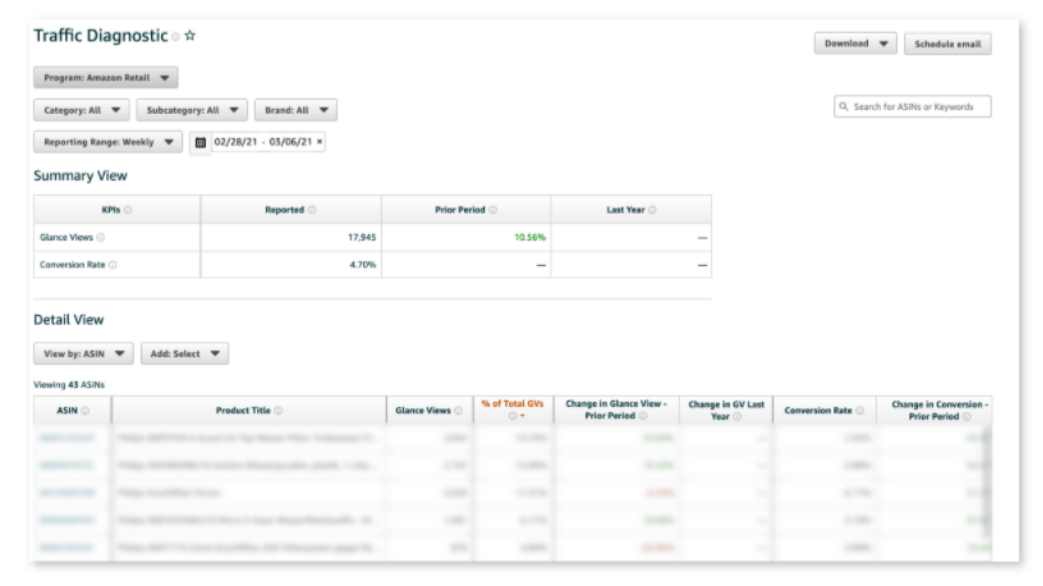 8. Real-time sales
Enter the product ASIN code to see the real-time sales in the past 24 hours.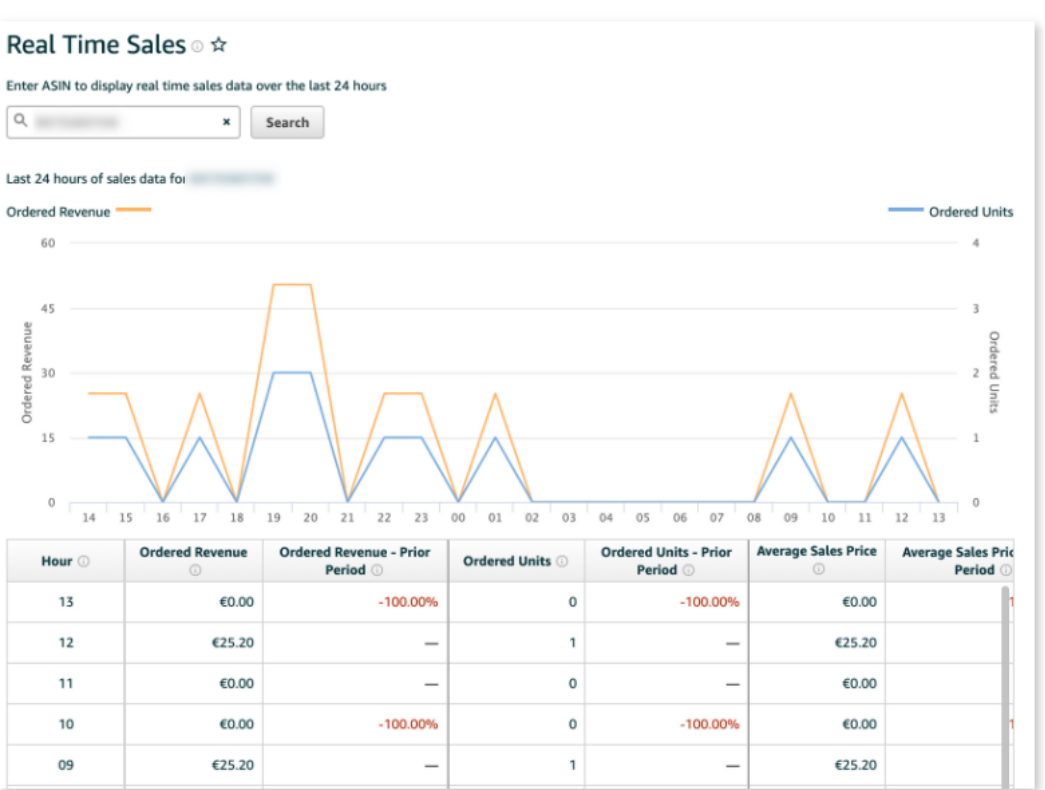 9. Forecasting and Inventory Planning
This report is used for supply chain side planning to reduce the risk of inventory shortage.
It will show which products have been sold out, and let the seller predict how many goods will be replenished to meet consumer demand.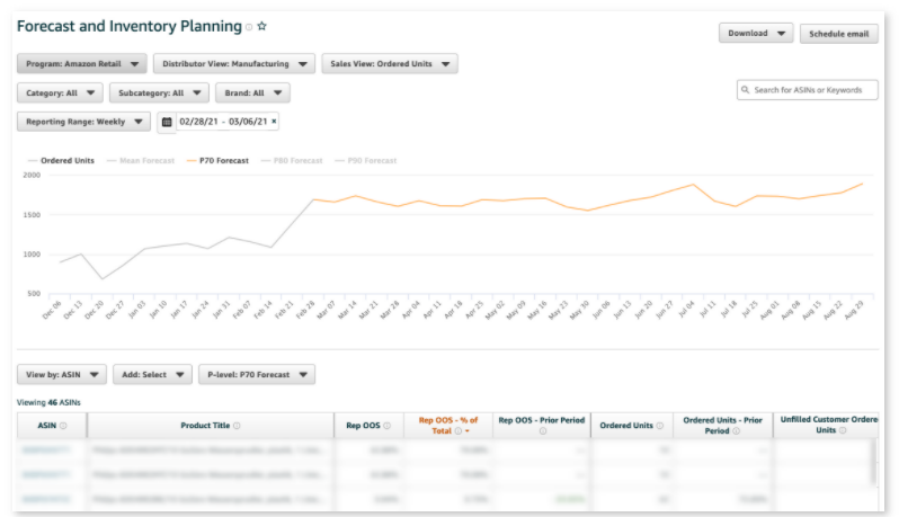 10. Inventory condition
As its name suggests, it helps sellers monitor inventory.
In this process, the inventory will be updated every week. Important data include the inventory in the sales market and the inventory available for sale for more than 90 days.

11. Amazon Search Terms
Identify the most important search terms and use them to optimize the listing details page and other copywriting content.
Blue Ocean Yiguan has learned that the report can display the most important search words in the whole, as well as the most important search words in specific categories. It can be ranked according to the number (frequency) of keyword searches in a specific period of time, so that sellers can better evaluate the importance of search words.
In a word, the seller can see the three products with the highest hits corresponding to each search term, as well as the specific hits and conversion rates.

12. Repeat purchase behavior
This report allows sellers to know how many orders they have received for each brand or product, as well as the number of buyers.
By comparing the number of orders with the number of buyers, we can find out which products or brands are ordered by the same buyer in a specific period of time.
This data is also helpful in planning marketing activities. For products with high repurchase rate, sellers should consider investing more advertising funds.

13. Market basket analysis
Determine which products are most often purchased together to identify portfolio opportunities, cross selling opportunities, or extended product lines.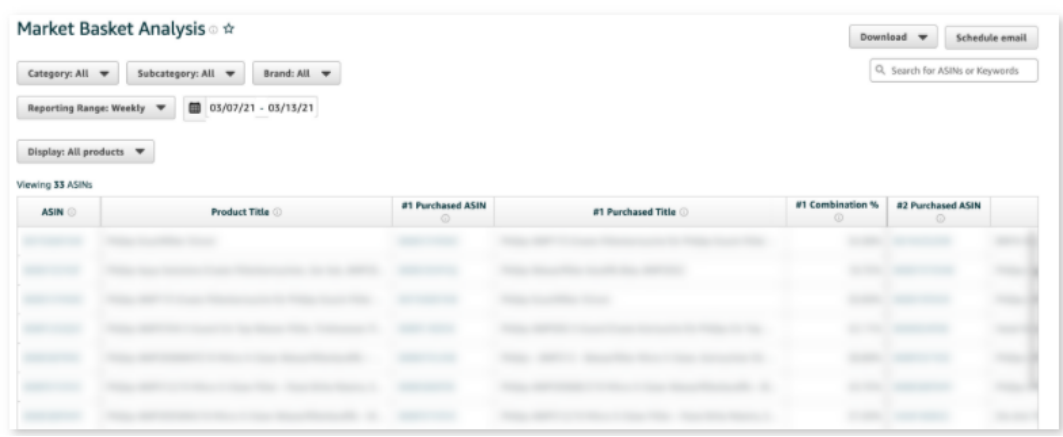 14. Item comparison and alternative purchase behavior
This report is an analysis of consumer comparison and alternative purchase behavior.
What products will consumers compare before buying? What product did they choose after giving up the seller's product? The answers to these questions may be found in this report.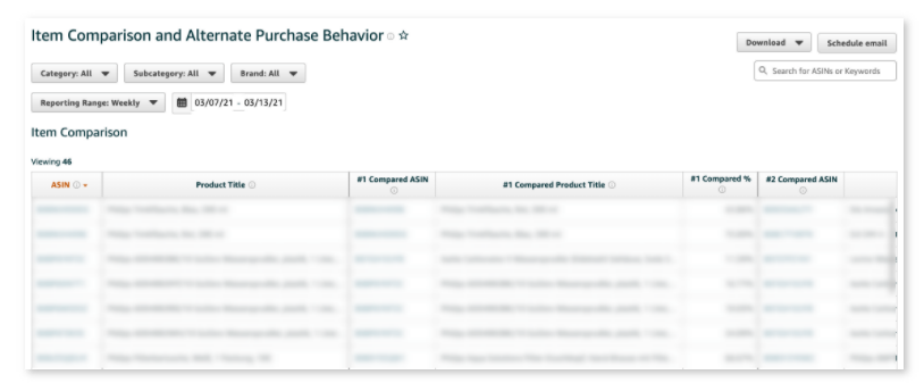 15. Customer reviews
Use this report to monitor consumer reviews and ratings.
It will display the number of reviews and average ratings of the product. However, the seller cannot see the number of star ratings, only the content of reviews.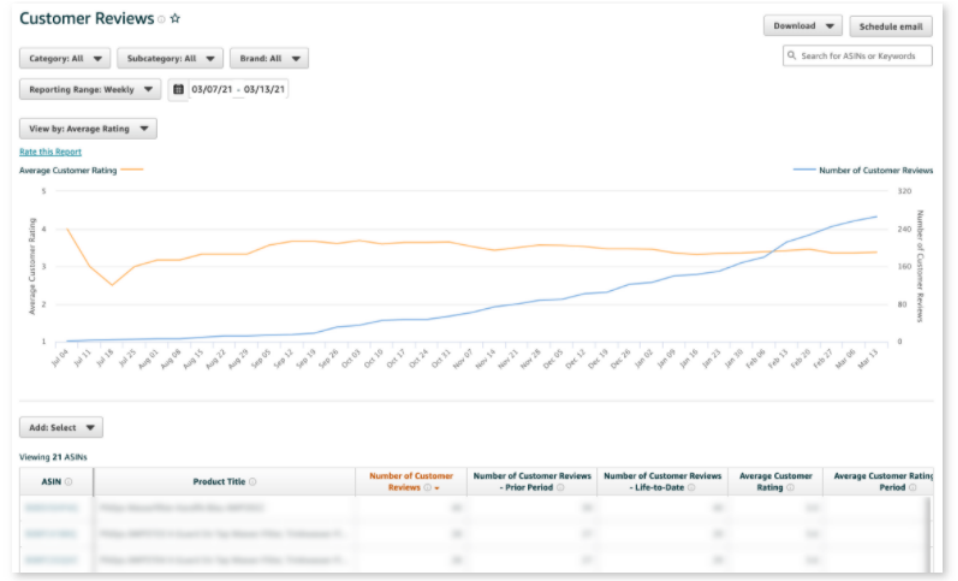 (New media of cross-border e-commerce - Domainnews Riley Huang)Coupang, Wayfair, Wal Mart, Mercado Libre and other platforms settled, brand copywriting planning, whole network promotion, e-commerce training and incubationPlease contact us for other services. No unauthorizedRewriting, reprinting, copying, clipping and editingIn whole or in part.