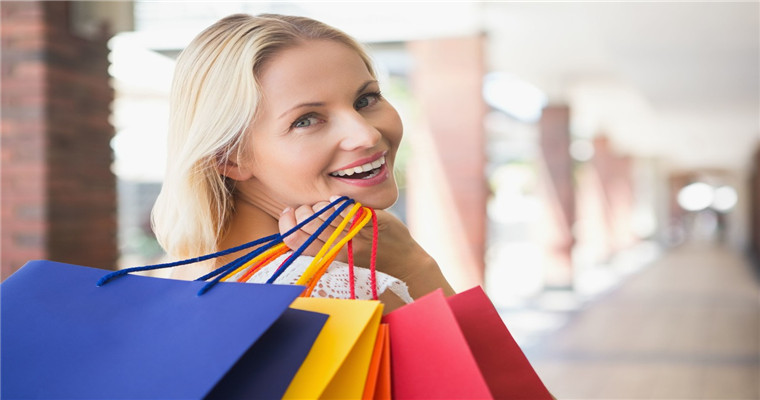 After receiving the product, the customer selectsreturn goodsThere are many reasons. Many reasons for returnE-commerce sellerThe impact oflogisticsAdditional costs of transportation and purchase, as well as lost profits.
Blue Ocean Yiguan has learned that,Sometimes products are returned simply because customers are no longer interested. Some customers will order multiple items on impulse and decide to return the products they do not want to keep after receiving the order.
according toNosto19% of people will order multiple variants of the same product, such as different colors or sizes, and then select the product that best suits themreturn goods。
IThe most frequently returned e-commerce products in 2020
In the United States only,The most frequently returned product in 2020 is clothing, accounting for 21%.Other products often returned are as follows:
1. Shoes (12%);
2. Consumer electronic products (8%);
3. Bags and accessories (6%);
4. Books, music, movies and games (5%);
fiveCosmeticsAnd body care products (5%).
This shows that,Compared with clothing, many consumers treat health and entertainment products more cautiously.Compared with medical devices or video game machines,clothingFashion accessories and electrical appliances are more likely to be taken for granted, especially those products purchased for young people.
This is why those who care about their health, as well as game players, will spend more time to choose appropriate products for themselves. They rarely make a hasty decision and will carefully decide whether to buy something.
let me put it another way,The return risk of buying clothes is much higher than that of buying health products.Even if the buyer has to return the clothes, this is not a big problem, because many buyers do not think that the long waiting time is a big problem. andThe higher the necessity of products, the lower the chance of return, such as health and entertainment products.  
IIHow do shoppers tend to return goods?
according toNostoShoppers will return the data in the following ways:
1. Post office (73%);
2.Courier collection(62%);
3. In retail stores (61%);
4. Collection point (47%);
5. Locker locker (28%).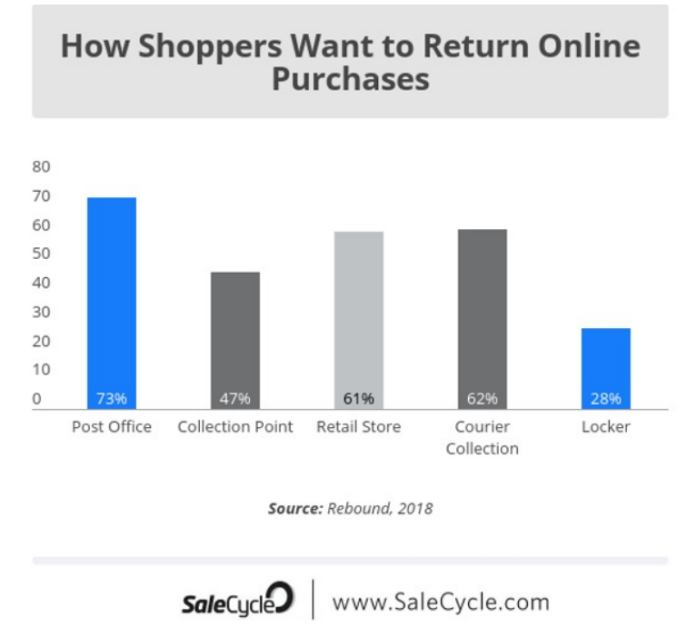 IIIAffect productsreturn goodsThe first factor of
Customer satisfaction is beyond the seller's control. The seller cannot prevent online shoppers from ordering multiple variants of the same product and then deciding to return one or more, depending on the number of orders they place.
The following figure shows the main reasons for customer returns.Product quality is the main factor behind product return:More than 80% of returns are due to productscoverDamage, customercannot butreturn goods.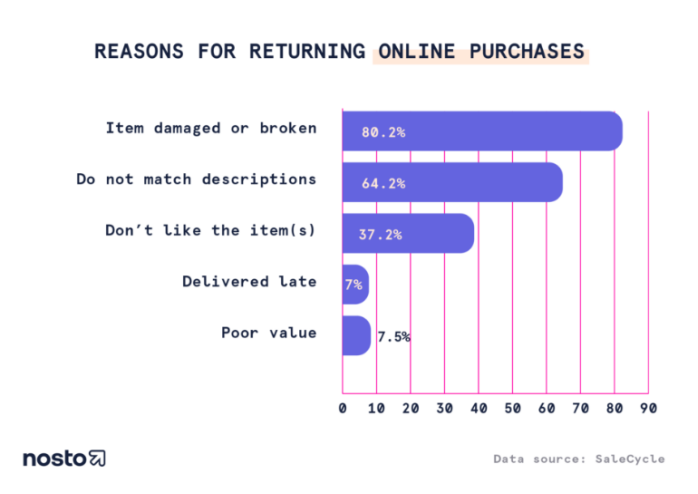 According to Blue Ocean Yiguan,For some shoppers, returning online orders in physical stores is the first choice. There may be many reasons for this, including:
oneThey don't want to spend moneyreturn goods(58%);
2. In physical storesMore easilyreturn goods(53%);
3. Physical storesConvenient location(41%);
4. BuyerWould like an immediate refund(38%)
5. BuyerWould like to changegoods(34%);
6. BuyerRegular visitphysical store(30%);
7. BuyerWant to choose a refund or credit card(25%)。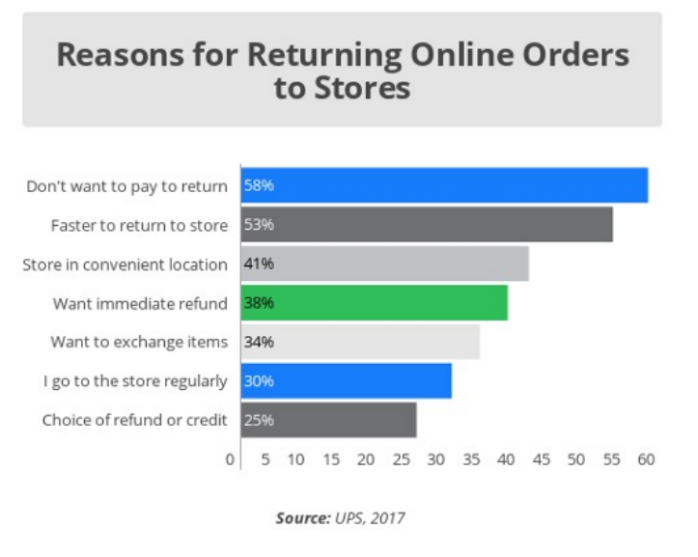 IVCost behind the product return process
oneLabor cost:Including warehousing, transportation and re stocking.
twoCost of damaged goods:If a product is too damaged to be sold again, the company needs tohandleThis is an additional cost.
threeCost of defective products:When a product fails orBe bruisedThe customer will naturally ask for a refund or replacement of the product.
4. ResaleCost of products:Returned products may need to be repackaged, remanufactured or refurbished, and also need to be repackagedPut on shelves。
(Polly ZhangNew media of cross-border e-commerce - Blue Ocean Yiguan website domain news) connects with high-quality resources of cross-border e-commerce.Wal Mart, Coupang、Wayfair 、Mercado Libre and other platforms settled,Brand copywriting planning, network wide promotion, e-commerce training, incubation and other services, please contact us. No unauthorizedRewriting, reprinting, copying, clipping and editingIn whole or in part.