In the Christmas product market, some orders from B2B exporters are flowing to Amazon, AliExpress and eBay sellers.
A company in Yiwu sells Christmas decorations on platforms such as QuickConnect and Amazon.
In November, the sales volume of a single store of AliExpress alone exceeded 3 million yuan.
Mr. Tang, the seller of Christmas markets in Europe and the United States, has seen a 15-20% increase in store orders this year, and many products have been sold out,
The snowman decorations on the Christmas tree are the most popular.
Of course, the relationship between traditional foreign trade merchants and e-commerce sellers is not a competitive one, but more a cooperative one.
A Christmas product factory owner in Yiwu received a payment this year
A single order of 2 million yuan.
The order was placed by a buyer who "made an independent station through Facebook".
In order to get busy with this order, the factory owner delayed other small orders and prioritized production.
In the Christmas order season, its factory can add hundreds of thousands of yuan of orders every day, and employs more than 100 temporary workers to work overtime. Even so, it often fails to deliver goods in time.
Some ordinary and small Christmas products can take a large order after they are perfect and specialized.
Guangdong Yinghao Company has been doing business in Christmas, Easter and other holiday ornaments. In the Christmas Ball, we have done our best and become a reputable supplier for many European and American purchasers. The annual export of the Christmas Ball alone has reached 50 million dollars.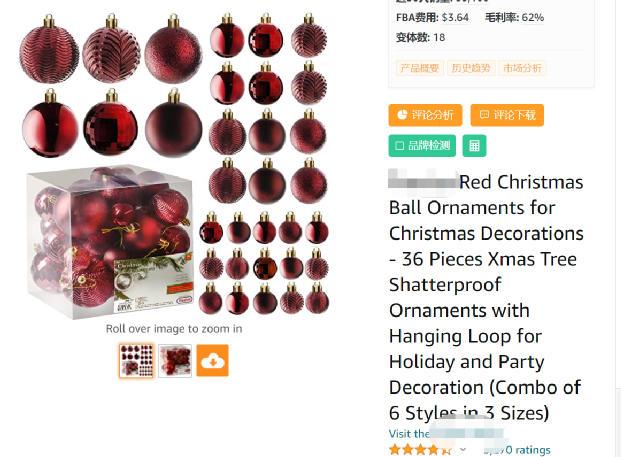 (The Christmas ball sold on Amazon is not the product of Yinghao)
Faced with all kinds of wonderful stories about Christmas products, some Amazon sellers who have never made seasonal products were so excited that they even had some unrealistic ideas, thinking that
"Compared with regular products, the sales of Christmas products will be more comfortable and the promotion investment will be less".
However, such sellers have learned a lot.
A seller made Christmas tools last year. At the beginning
"The traffic is very strong, and the orders will be sold as soon as they are put on the shelves, and the goods will be replenished desperately"
。
However, after Christmas, "it would be good if there was one order a day". Due to the over optimistic expectation when purchasing goods, a large number of goods were prepared. As a result, thousands of stocks were in the warehouse after Christmas last year, waiting for the Christmas clearance this year.
"We will not do it after clearing this year," said the seller.
Some old sellers of Christmas products have also suffered various accidents this year.
The FBA inventory sent out by a seller on October 8 has arrived in the warehouse before Christmas, but it has not been put on the market until December 23. But Christmas has passed and the sales node has been missed. Now it can only be sold next year.
Liu Xingning, a seller in Shenzhen, said that Christmas products are typical seasonal products, and it is difficult to grasp the relationship between their sales and stock. " I have made Christmas products for several years. This year, I will clear the inventory of last year,
Almost every year, the inventory of previous years has been cleared,
"He said.
This year's holiday shopping season started earlier and ended earlier than previous years.
It is reported that,
Around December 21, the sales of Amazon sellers dropped significantly, especially Christmas products
Of course, considering that Christmas products (gifts and decorations) need to be purchased in advance, it is too late for online shopping in the days near Christmas, and there is really no demand for online sales.
Some sellers started to clear the Christmas product inventory as early as mid November or the end of November, fearing that they could not clear it in December. Now even the inventory is so "volume".
The cycle is short, 580 sellers are sued, what's the difficulty of Christmas product e-commerce?
Although the market for Christmas products is very large, it is hard to refuse. Chinese sellers also have supply chain support in China, but it is not easy for cross-border e-commerce sellers to make Christmas products.
First, Christmas products are seasonal products. The peak of popularity should be from the beginning of November to the middle of December, especially from the middle of November to the end of November,
The real selling time is only one or two months
, which is shorter than the supplier's sales cycle.
In the week before Christmas, the order volume will decline significantly. Once the holiday is over, the heat and sales will basically return to zero. The remaining inventory will either be discarded or left for the next year.
Secondly, the problem of commodity infringement is serious, 580 sellers have been sued together.
Any popular product,
It is easy for sellers to tread on the "trademark, patent, copyright"
This is especially true of Christmas products.
Related product rights protection cases also occur from time to time, such as the Christmas pendant Naughty Santa,
In April this year, 580 sellers' products were sued, affecting Amazon, AliExpress and eBay platforms.
There are many design patents for products like "Christmas tree" alone.
The defendant's information has been published, including which platform, the seller's name, the store ID, the store URL link, the defendant's product ID, and the product UL link.
Among them,
Amazon sellers have 193 products
There are 186 AliExpress, 137 eBay platforms and 57 Wishs.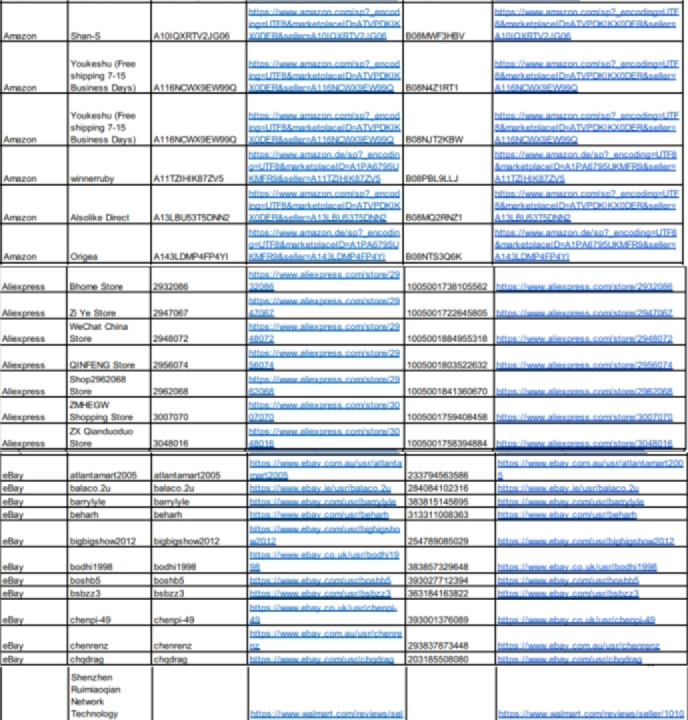 (Partial list of defendant sellers)
Lanhaiyiguan has learned that Christmas products often have a large number of intellectual property rights protection such as appearance patents. The Christmas tree alone has been applied for a large number of appearance patents. If the seller is not careful, he may step on the thunder.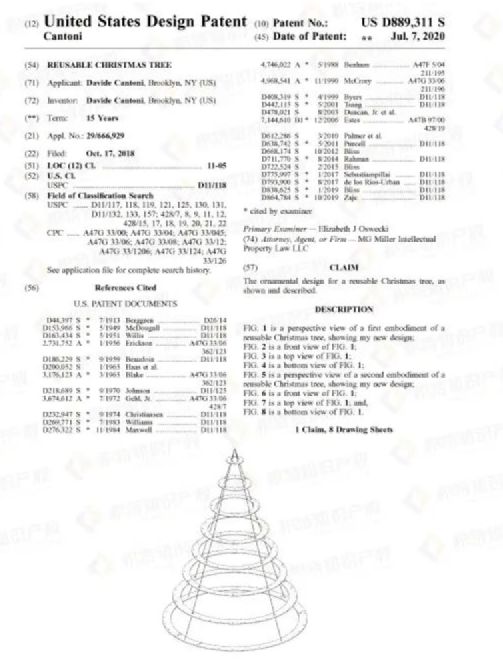 Third, the sea transportation is blocked and the arrival of goods is delayed.
The reason for the epidemic is that the shipping capacity is declining, and containers are in short supply. Some sellers can't grab them at all, and the inventory can only be stored in domestic warehouses.
Even though some sellers spent two weeks renting containers, the goods were still blocked at the port, or had not been delivered to the FBA warehouse, or had not been put on the shelf after arriving at the warehouse
Missed sales node
。
Some sellers have no choice but to roast,
"The goods delivered this year were actually prepared for the next Christmas".
It is understood that under normal circumstances, the time from the departure of the seller's goods to the unloading of the goods generally does not exceed one and a half months, but this year is generally delayed, ranging from half a month to more than one month.
Fourthly, the sea freight has soared.
Lanhaiyiguan has learned that Christmas products cover a large area, especially Christmas trees and Christmas bells, and the added value is low. Therefore, the most affordable logistics method is sea transportation, container transportation, and railway transportation and air transportation for emergency shipments.
According to the statistics of Shanghai International Shipping Research Center, from the end of last year to the National Day this year, the sea freight price continued to rise, with the peak price of this year being 5-6 times that of previous years, and occasionally even 10 times.
Based on the above and feedback from experienced sellers,
There are some tips for making Christmas products.
1. Pay attention to other important festivals in Europe and the United States, and arrange other holiday products while making Christmas products;
2. You can look for products that have sales volume at ordinary times and sales volume at Christmas;
3. When selecting products, it is necessary to conduct intellectual property search, including trademarks, copyrights and patents, to avoid infringement;
4. The time of goods preparation should be well calculated. It is better to select and place orders in March to April, produce in May to June, inspect goods in July, and deliver goods before October or September (it is recommended to advance in case of epidemic)
Unless the seller has its own factory, it is another matter.
Christmas Products Warehouse: Without Yiwu, Santa Claus will lose his job
Because of the epidemic situation, many foreign customers have adopted the method of "online viewing and signing",
Being a Chinese seller of cross-border e-commerce,
Many online platforms place orders, especially
Alibaba
1688 and Yiwu.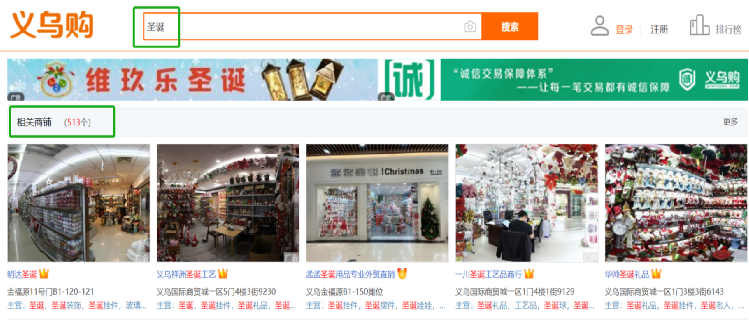 In the final analysis, Yiwu is the "master" of Christmas products.
so to speak,
Chinese factories contract more than 90% of the world's Christmas products, and 80% of them are produced in Yiwu, Zhejiang Province.
Every Christmas, the United States needs nearly 100 million Christmas trees, 81% of which are man-made. Among them,
More than 80% of the artificial trees are imported from China, especially Yiwu.
A Canadian businessman once said that "without Yiwu, Santa Claus may lose his job", which is enough to show that the city plays a key role in the manufacture of Christmas products.
According to enterprise survey data, there are 3102 enterprises making Christmas products in China, and 728 enterprises in Yiwu City, accounting for nearly a quarter.
In Yiwu International Trade City Zone 1 and Futian Zone 2, there are areas dedicated to selling Christmas products.
Among them,
Yiwu International Trade City
The Christmas industry has been developing since the 1990s. Now
Gathered three or four hundred stores selling Christmas products
The furnishings are similar. The area is small, not more than 100 square meters. Some stores are small, but from the ceiling to the floor, they are full of products.
From wearing Christmas hats, Christmas clothes and Christmas socks to decorating Christmas trees, Christmas balls, Christmas bells, lights, garlands, ribbons and snowflakes, cross-border e-commerce sellers can find any Christmas related products in Yiwu Mall.
Ms. Chen, the owner of a shop, said that she mainly sells Christmas hats, clothes and socks,
There are more than 500 samples of Christmas hats alone,
The products of the store are mainly sold to Central Europe, Russia and Southeast Asian countries, and the proportion of export trade exceeds 80%.
Another shop specializing in making Christmas trees has been in business for 17 years. Its Christmas tree products range from large to small, from simple to colorful, and the sales volume has grown rapidly this year,
Factory orders are very full in peak season
, many orders could not be received and had to be pushed off.
In addition to Yiwu,
Guangdong, China is also an important production base of Christmas products in the world.
Yiwu suppliers said that they generally won't receive orders from domestic sellers until November. The domestic Christmas product market only exists two months before Christmas, but the foreign market is different. It started at the beginning of the year.
Foreign customers usually make inquiries from March to May and select suppliers. Many Yiwu suppliers can only accept these orders that do not make much money and do not make much profit in order to ensure the rotation of the factory and retain workers.
The peak period is from July to October, with a large number of orders pouring in
The factory orders may be full at once. Some factories are understaffed and need to recruit a large number of temporary workers.
Before the end of October, it is essential to ensure that export orders are shipped and shipped abroad.
In November, we began to receive small orders from domestic retail sellers. By about a week or two before Christmas, the business of the year was almost over.
This year's situation is somewhat special.
Gao Feng, a spokesman for the Ministry of Commerce, said that in view of the risk of maritime demurrage, overseas customers generally placed orders in advance this year, resulting in
Some orders are shipped and delivered earlier than previous years
Some orders are overstocked in the warehouse due to difficulties in booking shipping space or high freight.
In addition, the overall order volume of domestic Christmas product suppliers increased by 20% - 30%, and the order volume of many Yiwu factories even doubled. The shipping pressure is greater than in previous years.
Conclusion:Christmas products are a big market in demand, but we should do a good job in this market. Remember to follow the trend and get on the bus. We should jog. Small quantities of goods should be tested first. After finding out the seasonal rules of goods preparation, promotion and sales, we should gradually expand the scale to avoid stepping into the trap. (Article/new media of cross-border e-commerce - Blue Ocean Yiguan website domain news) Note: The sellers in the article are pseudonyms.