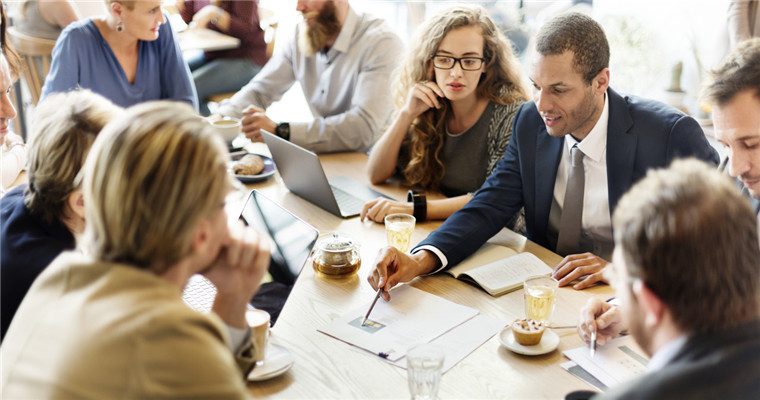 In Southeast Asia,VietnamIt is one of the most attractive Internet economies. By 2025, it is expected that the country's digital economy will grow by 175% and the total GMV of goods will reach 57 billion US dollars, making it the second largest digital economy in Southeast Asia, second only to Indonesia.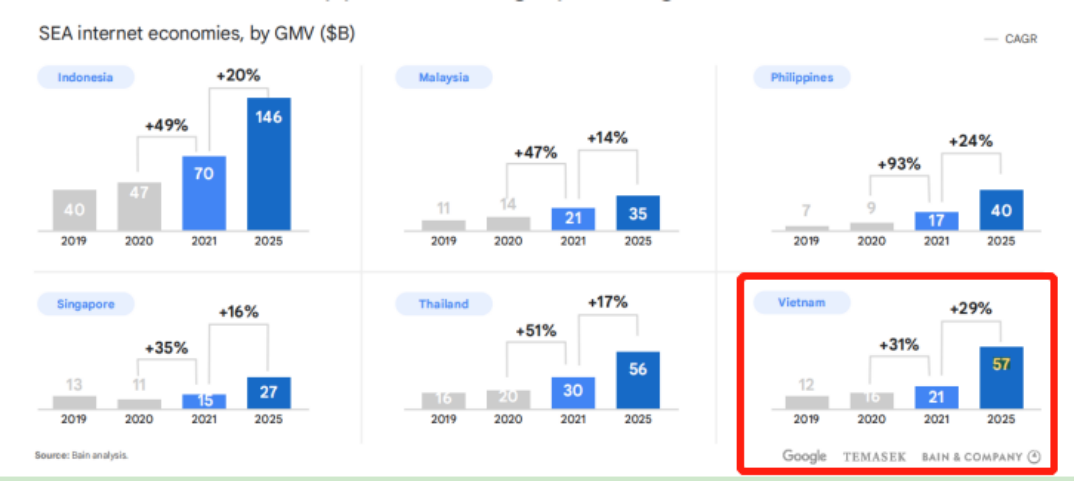 (Source: Southeast Asia Digital Economy Report by Google, Temasek and Bain)
Lanhaiyiguan learned that Vietnam's digital economy is mainly supported by e-commerce, and GMV grew by 53% last year.
One of the reasons behind this is the growth of Internet users. In the first half of this year, Vietnam added more than 8 million digital consumers to purchase various online services and goods.
But the interesting thing is,Vietnam e-commerce marketBut dominated by two foreign platformsOne is from SEA GroupShopeeThe other is held by AlibabaLazada。
In Vietnam, Shopee and Lazada's website traffic is the first and second, and the e-commerce platforms Tiki and Sendo developed in Vietnam are only the third and fourth respectively. (Data source: iPrice Insights)
Half of Vietnamese prefer Shopee when shopping online
According to a "consumer preference" study, about 51% of Vietnamese said Shopee was their preferred e-commerce platform for online shopping, a 7% increase over the previous quarter.
In addition, 18% of Vietnamese preferred Lazada, 8% preferred Facebook, only 7% preferred Tiki, and 3% preferred Sendo.
More than 70% of Vietnam's young consumers, or those of Generation Z, believe that Shopee is the best e-commerce platform.
Industry insiders believe that Shopee's success in Vietnam, on the one hand, is due to the rich variety of goods and competitive prices, on the other hand, there is a discount on delivery fees, which greatly encourages consumers to try to purchase, trade, or even re purchase.
In fact, Shopee can integrate C2C mode and B2C mode, so it can integrate many small sellers, thus enriching the product options and rapidly expanding the scale.
Vietnamese local e-commerce started to compete with Shopee and Lazada
Professionals predict that although Vietnamese e-commerce is now dominated by foreign e-commerce platforms, the rise of local platforms will intensify the competition for market share.
such asTikiIn November, Vietnam's largest local e-commerce platform received an investment of 258 million dollars from the insurance company AIA.
Another example is Sendo, a local platform in Vietnam (affiliated to FPT Corporation, Vietnam's largest IT service company) established in 2012, which completed round D financing last July.
There is also a locally developed Society Pass, which was just listed on November 9. It is the first Vietnamese e-commerce enterprise listed in the United States, and raised $28 million through IPO.
The president of a Vietnamese start-up venture capital company said that in order to compete with foreign giants such as Shopee and Lazada,Vietnam's local platform must increase investment, optimize its ecosystem, and strengthen cooperation with payment service providers.
In the near future, the Vietnamese e-commerce platform will focus on building infrastructure to create a more cost-effective supply chain and shorten the delivery time.
Of course, these platformsIt must also be extended to different vertical fields, such as fresh food distribution and drug distribution.
Tiki has moved in this direction, embedding several mini programs on the platform, such as Infina for investment and savings, Ezin for purchasing customized insurance products, etc.
In addition, Tiki has also run a fresh food distribution service, called TikiNgon. The scale of this service has increased by 2000% year on year. All these services have brought double-digit growth to Tiki in the past two years.
Another point is that Vietnam's local e-commerce platform needs to better seize the business opportunities represented by "social media e-commerce".
The one-to-one interaction on the social media platform can enable many new consumers to build trust. Platforms like Facebook are very useful in promoting e-commerce transactions.
In a word, for local e-commerce platforms in Vietnam such as Tiki and Sendo, it is only a matter of time to adjust strategies and take the right path to increase market opportunities and occupy more market shares.
(New media of cross-border e-commerce - Domainnews Riley Huang)Coupang, Wayfair, Wal Mart, Mercado Libre and other platforms settled, brand copywriting planning, whole network promotion, e-commerce training and incubationPlease contact us for other services. No unauthorizedRewriting, reprinting, copying, clipping and editingIn whole or in part.