According to foreign media reports, in addition to being an e-commerce giant, Amazon is gradually becoming one of the largest advertisers in the world.
According to Amazon's financial report,bySeptember 30thirdDuring the quarter,AmazonThe revenue of the advertising department isUS $8.1 billion,Increase over the same period last year49%。
according toAccording to GroupM, global advertising spending will increase by 22.5% this year to reach 763 billion dollars. This is the first time GroupM has givenValuationThe second increase since. stayEarly outbreak, many enterprises have toForced closing, this yearWith the relaxation of epidemic control,Worldwide's enterprisesLarge scale reopening.In order to promote, the advertising expenditure of enterprises has increased significantly。
It is worth noting thatIn 2021, digital advertising will account for 64.4% of total advertising expenditure, higher than 60.5% in 2020 and 52.1% in 2019. The increase in digital advertising market share is not surprising. In most cases, marketers can more effectively measure the effect of online advertising, such as the amount of ads viewed and conversion rate, while offline advertising is difficult to monitor.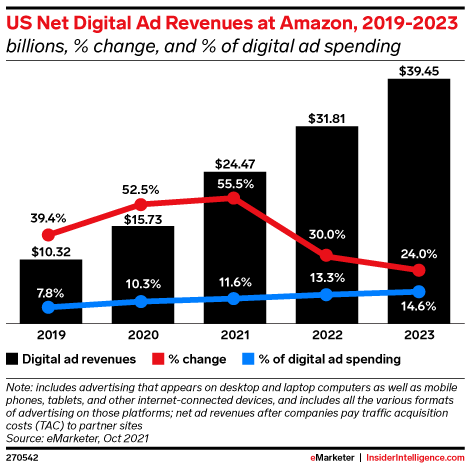 And based oneMarketePrediction of r,Amazon's digital advertising revenue in the United States willIn 2021, it will reach 24.47 billion US dollars, an increase of 55.5% over the previous year, accounting forU.S.ADigital advertising market11.6%,Compared with last yearCompared with the growth rate of 52.5%, the growth rate has not slowed down.
eMarketerestimate,Amazon's advertising businessstayIt will account forUS Digital AdvertisingMarket14.6%,furtherZoom out with Google andFacebook gap.In retail media, Amazon is the absolute leader. It is estimated thatIn 2021, Amazon will occupy 77.7% of the market share.
sinceSince the second quarter of 2020, Amazon's advertising revenue has almost doubled, from $4.2 billion to $8.1 billion. With AmazonFurther expansion of the number of users,As an advertising platform, Amazon has become increasingly attractive to enterprises。
Chief Financial OfficerBrian Olsavsky said in the company's third quarter conference call that,Amazon's advertising products have seen a strong growth, because Amazon's advertising can well help sellers to contact consumers, and users can only click on the advertising to buy.