Recently,Longgang Customs in cross-border e-commerce channelsFor goodsConduct inspectionWhen,Found a batchPlaying cards are suspected of violating American playing card companiesof"Bee" trademark,common14,400 pairs。The obligeeConfirm,theseThe goods are infringing goods. At present, the case hasthroughHand over to the customs disposal department for handling.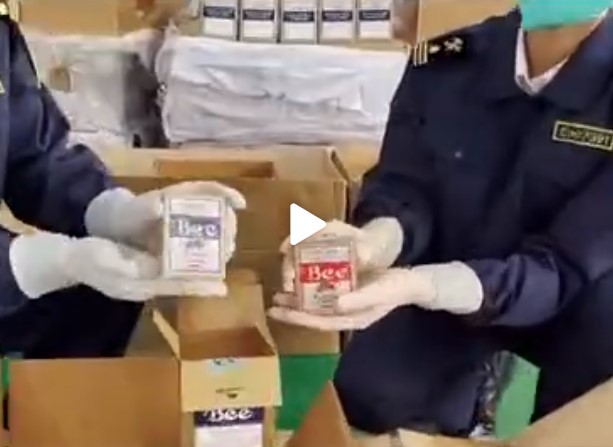 Image source: video screenshot released by the customs
It is understood that the brandBeeBelongs toAmerican Poker Company(The United States Playing Card Company)。BeeIt is a special card in the world casinoChild,It is also an indispensable playing card for professional gambling.itsIt is characterized by a single pattern on the back of the card, which is boundless and can prevent gamblers from going outofPurpose,becausePlaying cards with white edges will be slightly different when printed. Some people canenoughUse this subtle difference to cheat.In addition, brandBeeBlack core paper is used,just so soAntiX-rays prevent cheating.
There are also some stage magicians who use this kind of card, such as the American magician, Jeff, who is called the magic principal·McBride also loves a class of cards.
For the general public, the most important thing is that its price is relatively affordable and its quality is good. If you search on Amazon America, you can't findYou can buy two pairs of Bee cards for $10.
Playing cards is an occasional entertainment for some people, and a daily activity for some people. No matter what kind of person you are, you can't stand playing cards with broken cards.Bee card still keeps the appearance of opening after many parties. It is said that the Bee Brand is made of three layers of paper, so it is very durable.
Poker games are very popular around the world, and have become a way for people to amuse themselves during the epidemic. Although online poker is developing more rapidly now, there is still a certain demand for paper poker.
As the largest poker producer in the world, American poker companies are very rights conscious. In addition to the registration of relevant trademarks in the United States Patent and Trademark Office, it is also registered in the General Administration of Customs of China.
In addition to brandBee, American Poker CompanyAlso producedBicycle series, Tally Ho series, etc. As for other poker companies, such as The Elusionist's Phantom series, the Black Tiger series, etc., and the Guardian Angel and Centurion of Theory 11, these can not be used in tort.
In the joint law enforcement action carried out a few days ago, Guangdong customs seized more infringing goods than2421000 pieces, including bags, leather goods, glasses, clothes, etc.
In fact, many brands, including those mentioned in this articleAmerican Poker Company,Will be filed with the General Administration of Customs of China. In other words, many infringing goods will be found during export inspection. Even if they get away with it, they will also face the test of e-commerce platforms, brands and consumers.