In order to allow children to take a peaceful bath, many parents will put toys such as ducklings and dolls in the bathtub for their children. However, when choosing these products, it is important to pay attention to their quality and safety.Recently, the UK Office of Product Safety and Standards announced the recall of a children's shower toy product.
This product is a shower toy set,There are some insidecolourBathing Doll.When children take a shower, they can put these toys in the bathtub and play role-playing games while taking a shower. The pictures of the recalled products are as follows: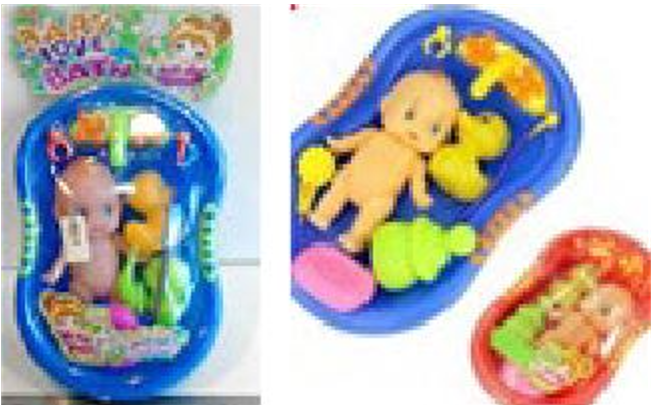 The UK Office of Product Safety and Standards stated that,This productContainingExcessive concentration of phthalates,Therefore, there is a certain degree ofChemical risks. playTheChildren with toys will come into contact withIn toysPhthalate saltcomponent,This ingredient can harm children's health and in severe cases may trigger cancer or some non cancer effects.
In addition,When conducting tensile testing on the product,In a toy setShower, faucet, shower bracket, and pipe jointmeetingstaySeparate under a force of 5N to 14N. The doll's arms and legs separate under a force of 68N to 80N, and the faucet separates under a force of 15N. This productandNon compliantBritain2011ofToy (Safety) Regulations or2008ofREACH Enforcement Regulations.
According to the assessment by the UK Office of Product Safety and Standards, it has been determined that this product poses a risk of suffocation due to chemicals and small component detachment, with a risk level of severe. Therefore, the UK Office of Product Safety and Standards has decided to urgently recall the toy set product.
It is reported that this product is produced in China and was previously produced inSelling on the eBay platform. Currently, the product has been removed from the eBay platform. Consumers who purchase this product must promptly keep the product away from children and contact eBay sellers to return the product and obtain a full refund.
As a vulnerable group, the safety issues of children's products cannot be ignored. When selecting and producing products for related purposes, sellers must strictly control the quality of the products and protect the legitimate rights and interests of consumers, which is the long-term business approach.