Recently, Amazon announced that,Amazon Poland Station commodity promotion(Sponsored Products) has been officially launchedNow, sellers can use this function to promote their brands and products to consumers.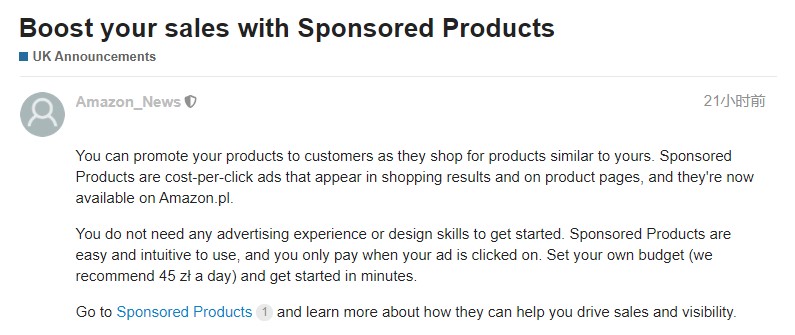 Amazon said that through product promotion, sellers can set their own launch budget to obtain the desired traffic. The suggestion is that every day45 PLN (about US $11.2). The more competitive the bid, the more likely the seller's advertisement will be displayed when it matches the customer's shopping needs.
The seller's advertisement can be displayed above and next to the store results on the computer and mobile devices, as well as on the product page. Display advertisements to shoppers according to relevant keywords or products. It should be noted that at present, adult products, second-hand products, refurbished products and products in closed categories do not meet the conditions for advertising.
If the seller has previously placed advertisements on other sites, it can also associate the Polish account with other accounts to manage multiple national accounts on a comprehensive panel.
last yearIn March, Amazon Poland was officially launched. It is understood that when the Polish site was launched, more than 70000 global sellers had settled in. These sellers are existing sellers in other markets, mainly from China, Germany, the United Kingdom, Italy, Spain and France. In just one month, 3.7 million people visited Amazon Poland.
Last yearIn October, Amazon announced the launch of Amazon Prime service in Poland, providing free delivery and video streaming services. Amazon said that its Prime service in Poland is priced at 49 zlotys (about US $12.2) per year and provides free delivery service for orders over 40 zlotys (about US $9.98).
It is reported that this news led to Polish e-commerce competitorsAllegro's share price fell 3.7% directly. Nevertheless, Allegro is still the undisputed leader in the Polish e-commerce market. According to the data, as of August last year, Allegro had 17.744 million users, while Amazon Poland had 2.779 million users. However, it is undeniable that Amazon's entry has greatly intensified the e-commerce market competition in this country.