Snapchat presents a new landscape in the AR field from technology, creativity, to ecology, showcasing the foreseeable commercial future based on AR for players and brand owners. Taking the release of the new generation Spectacles as an example, it comprehensively carries application scenarios such as learning, shopping, art experience, and gaming, meeting the fun and exciting needs of Generation Z players, and even stimulating the imagination of this group of global creatives.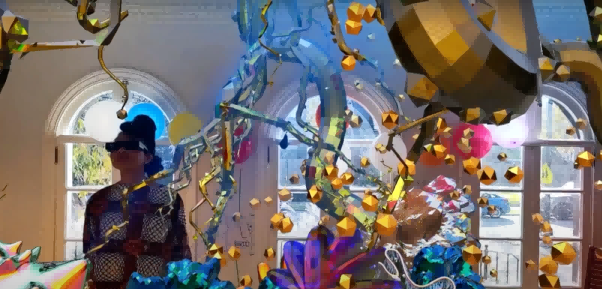 (AR environment in Snap's new generation Spectacles glasses)
andGeneration Z, who play AR black technology with Snap, have adventurers, Rule Breakers, and creative artists. They have a thousand faces, so it's worth asking their most loyal partner Snapchat about the cold knowledge of Generation Z.
ExplosiveBehind AR, Generation Z seizes the "C position"
AR has a natural affinity for Generation Z. They are not only the main user group and consumer group of AR, but also the new force of AR creation. Snapchat collaborated with multiple institutions to conduct in-depth research on platform users, depicting the social, consumer, and other aspects of the current Generation Z.
Snapchat's previously released Snap Consumer AR Report predicted that by 2025, 75% of people worldwide will become regular AR users, with a scale of 4.3 billion people, with the younger generation accounting for the majority. Among Generation Z young users, Snapchat has significant advantages in both user size and user stickiness, and even dominates the social media of young people in Europe, America, and the world.
Generation Z is one of the most important consumer groups in the AR industry. Snapchat predicts in the "Generation Z White Paper" that their consumption capacity will grow exponentially by six times, from $4670 in 2019 to $3 trillion in 2030. In terms of consumption methods, Generation Z, born with their own creative buff, have a high perception of sensory and visual enjoyment. Text is no longer sufficient for their social expression, and AR and visualization are their own ways. Similarly, plain and unremarkable advertising can no longer attract them, and the "out of the loop" creativity based on AR technology is the only way to catch their attention.
It is worth noting that,Generation Z is still the core group of AR creativity. The report "The Role of Generation Z in Shaping the Digital Economy" released by the Oxford Institute of Economics in March this year pointed out that the creativity of Generation Z is at the core of the AR era. With the help of a series of digital tools such as AR lenses, filters, emoji emojis, video facelift tools, and short videos, Generation Z has created "tricks" for AR. The study by Snap and JWT Intelligence also found that 51% of Generation Z believe they are more creative than the previous generation.
Therefore, forFor AR institutions and brand owners, understanding Generation Z is the only way to tap into this huge "treasure trove" of potential.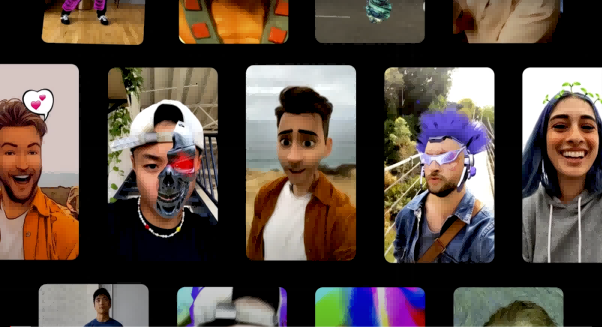 (Partial AR filter effect on Snapchat)
24/7 onlineGeneration Z, what are they all doing?
Generation Z is inseparable from the internet, and their growth environment is filled with technological products. Snapchat collaborates with authoritative online consumer research platform Global Web In the report "National Youth: Global Trends for Generation Z" released by Index, 97% of Generation Z have already achieved mobile freedom, and over 64% of Generation Z have expressed their dependence on the internet and social software.
aboutFor Generation Z, the internet and social applications are their "personalized showcases" for expressing their own value propositions, and they are also their "amusement parks" for exploring new things and meeting new friends. 64% of them enjoy pursuing fresh and exciting things, 48% are fearless of risks and challenges, 47% of them love fashion trends, and they all want to be the brightest. Taking American college students as an example, take a look at what they all enjoy doing on Snapchat.
●Morning, openSnapchat is checking out my friends' latest updates. They have posted a funny video of a certain game filter, which looks very interesting. I also want to take it as an emoticon pack, but download this game to play first.
●Break between classes,Snap MapLet's take a look where everyone is. Just as we were about to share the facial expression pack we just took, a friend posted a message about the coffee shop outside the school gateAR dining video, inviting everyone to learn because 79% of us believe that learning is important.
●Lunch time, openSnap Scan takes photos of ingredients and unlocks 4500 nutritional recipes worldwide. You should know that over 170 million Snapchatters enjoy delicious moments every month using the scan feature.
●Afternoon Leisure, "Game of Thrones" Times Square, New YorkAR special effects should not be too cool. We invite three or five friends to watch a drama, and 49% of us are heavy enthusiasts of video apps.
●On the way home, brush toThe AR image released by an Australian partner on Sanpchat simulating the impact of climate change on the coral reefs of the Great Barrier Reef can only be exclaimed and deeply shocked. Quickly scan a shared bike for low-carbon travel.
●Evening, NoN times opening Snapchat, the latest Fendi sunglasses and Marc Jacobs' crossbody bag, using Snap Try on the AR filter online and play with it. By the way, Amway will wear the same model with friends online, and online try on and purchase is 81% of Sanpchatter's choice.
 It is not difficult to find that this seemingly complex group is actually a group of young people who enjoy communicating through visual images through emoticons, videos, and photos, and are passionate about online music, movies, video games, and cutting-edge technology experiences.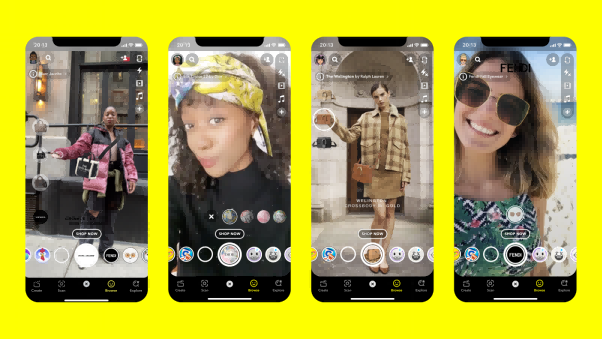 (Partial Wearing Effects on Snapchat)
How do Generation Z, who are not short of money, perceive brands?
The rapidly developing digital age has had a profound impactAccording to the Snapchat Generation report, the consumption behavior and choices of Generation Z have exceeded 200 million game players on Snapchat, of which 82% are influenced by people around them, especially friends on social platforms, and nearly 70% of Snapchatters say they enjoy playing with friends and family. Planting grass is an indispensable step for brands, and in order to attract followers of Generation Z, it is necessary to find effective social marketing channels. They also showed a significant difference in content orientation compared to their "predecessors", that is, they are more willing to immerse themselves in stories and experiences, constantly seeking groups and objects that are consistent with their self-expression.
The research on brand preferences of 12000 users commissioned by Snapchat's research firm Kantar also showed that in Australia, 65% of Generation Z prefer to express their identity through a brand, while among Generation X and Baby Boomers, this proportion is only 40%. theyvalueThe values conveyed by the brand are more appreciated for authentic and unaffected brand stories.
Nowadays,Generation Z is showing strong consumer power. Research shows that although most of them are not yet at the age of complete economic independence, 92% of parents believe that their children will directly affect their family's willingness to consume. Snapchat's research also indicates that Snapchat has a consumption capacity of up to $4.4 trillion, which is an important reason why many brands are turning their attention to Snapchat to attract young people.
AmwayGeneration Z, the path of brand owners' promotion
In many application categories,92% of Generation Z like social apps, which determines that brands want to exert influence on this group. Boring text and overwhelming advertising have long lost their effectiveness, and it is even more necessary to find breakthroughs in social and creative aspects, diversify design creativity, and revitalize interactive gameplay. Currently, over 100 million people use AR functions for shopping, and AR is also having a direct impact on consumption decisions. In Snapchat's 2021 Consumer AR Global Report, interacting with AR enabled products can increase conversion rates by 94%. If 3D/AR is provided, Generation Z will be more interested in online shopping, have more confidence in purchasing, and two-thirds of consumers will express their willingness to place orders quickly after interacting with the brand through AR.
along withSnapchat's layout in the AR ecosystem is becoming increasingly mature, with 3D Body Mesh, body tracking lenses, clothing simulations, and other AR lenses effectively increasing consumer purchases. AR filter advertising is an effective tool for creative marketing on the Snapchat platform, allowing brand owners to showcase their brand stories and creativity to attract young people. Fashion brand American Eagle's sales using Snapchat AR filters increased by $2 million. Zenni, a glasses brand, achieved over 7.9 times advertising returns by creating trial filters for AR glasses.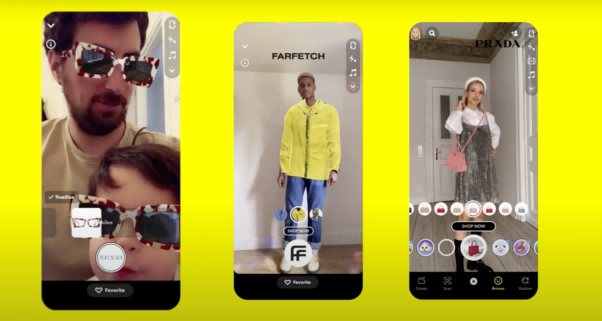 (AR try on filter on Snapchat)
The virtual scenes created by AR have also made game manufacturers popular. When the famous domestic game manufacturer Lilith set sail, she established an official Snapchat account and successfully created multiple filters based on game content and tasks. Recently, she also used Snapchat's powerful AR filters to bring the game experience into the real world.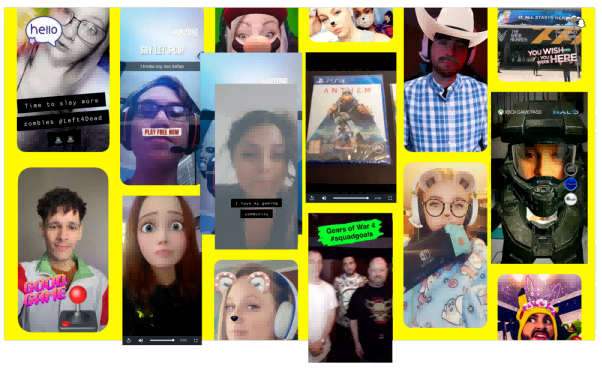 (Game AR filter on Snapchat)
At LilithAfter PICK launched Snapchat's camera creative marketing, the download volume and ROI of its game "AFK Arena" significantly increased overseas, making Snapchat its Top3 marketing channel. When the social appetite of Generation Z is firmly grasped, it will not be a problem for brand owners to successfully possess a stable 'happiness'.