As Christmas approached, orders from many Amazon sellers fell precipitously, which meant that the peak season of this year had completely passed. Some sellers have started"Lie flat". The sellers of Christmas products need to hurry up to clear the inventory, because Amazon announced that the cost of disposal would double after January 18.
Sellers who do not need to clear the inventory took the opportunity to make new development plans. Through Amazon's number blocking, video verification and other related events this year, many sellers have achieved compliance operation and steady development in their plans for next year.
Orders of several sellers dropped significantly to the freezing point
In the past two days, many Amazon sellers found that their orders had fallen seriously and had already fallen to the freezing point. One seller said that today's orders were cold; Another seller said frankly that Christmas is the time when our hearts are broken.
This year's peak season seems to end earlier than usual! An old seller in the industry said that sales in previous years could lastOn the 23rd, this year, on the 21st and 22nd, the sales volume began to decline sharply. More sellers feedback orders as follows:
"-- Today's orders are 10% lower than yesterday's;
——Half cold;
——Sales began to decline;
——The sales volume plummeted all the way;
——There will be a second kill tomorrow. I want to cancel it;
——It's not just cool;
——Christmas is coming, and orders are coming into winter;
——True difference of single quantity;
——When the freezing point comes, the vacation begins. "
According to multiple feedbacks, the sales of Christmas products have declined in the past two days, with the most obvious performance, and other categories of products have also been affected. On the other hand, the reason for the decline of orders is that this period is normal.
As far as Americans are concerned, Christmas is no less than the Spring Festival in China. Families and friends who give gifts to each other usually prepare gifts early, so there will be no demand when the holiday is approaching.
In addition, many Americans have already started their holidays a week before Christmas, and some of them start their holidays from15 days from December 22 to January 5. There are also other different times. A young partner said that American colleagues had a holiday since the 20th. When relaxing on vacation, the proportion of online shopping orders is greatly reduced.
"Foreigners have a holiday for Christmas. The off-season is coming. This year's peak season is so short!" Some sellers sighed.
The decline in orders has a lot to do with Americans' consumption habits, as well as Amazon's delivery of goods.
Yesterday, a seller found that the labels of some Christmas related products on Amazon have changed, and they can only be delivered after Christmas.This is equivalent to a direct death sentence for Christmas related products. Next, such products can only be cleared or sold next year.

The logistics provider in the industry has issued a notice becauseFrom December 24 to December 26, due to the Christmas holiday in Europe and America, the local delivery service will be extended. Hong Kong also has Christmas holidays with Europe and the United States, so some transit goods passing through Hong Kong will be delayed.
These specific factors, such as poor logistics timeliness and delivery after Christmas, have greatly affected the conversion rate of the seller's products, resulting in different degrees of decline in the orders of many sellers. However, what is more terrible than the order difference is the coming return tide.
An old seller in the industry predicted that Amazon's Christmas sales would come to an end, and foreigners would return a large number of goods after the holiday. Returning goods after Christmas is a routine operation in previous years. Some people who don't speak martial arts will return goods after using them.
However, many sellers believe that,The returns after Christmas this year will be more turbulent than those in previous years.This year, many Europeans and Americans are in a bad economic situation. There will be more people who want to go whoring for free than in previous years, and there will be more returns in the future.
In addition, it is predicted that more sellers will return goods this year based on the current situation. This month, some sellers have felt the helplessness of returning goods, and one seller sold20 received 20 returns.
According to some feedback at present, this yearThe return of goods in December was higher than that in the same period of previous years. Therefore, sellers infer that a higher return rate may be expected after Christmas.
At the end of the peak season, many sellers are faced with the problem of clearing the remaining inventory.
Yesterday, a seller roast:"Several tickets of Christmas season goods issued by Canada in September have been signed for sale today!" There are many similar cases. For logistics reasons, sellers miss sales nodes for holiday products and face large storage and disposal costs. On the same day, the seller found sadly that the cost of abandoning the US station would double from January next year.
Since January 18, the cost of removal and disposal of Amazon Logistics has risen sharply
Amazon logistics page displays,In 2022, the cost of removing and discarding orders in Amazon Logistics will change, and the cost of removing and discarding orders in the U.S. station will increase significantly, and the cost of some goods will more than double. The change will take effect on January 18.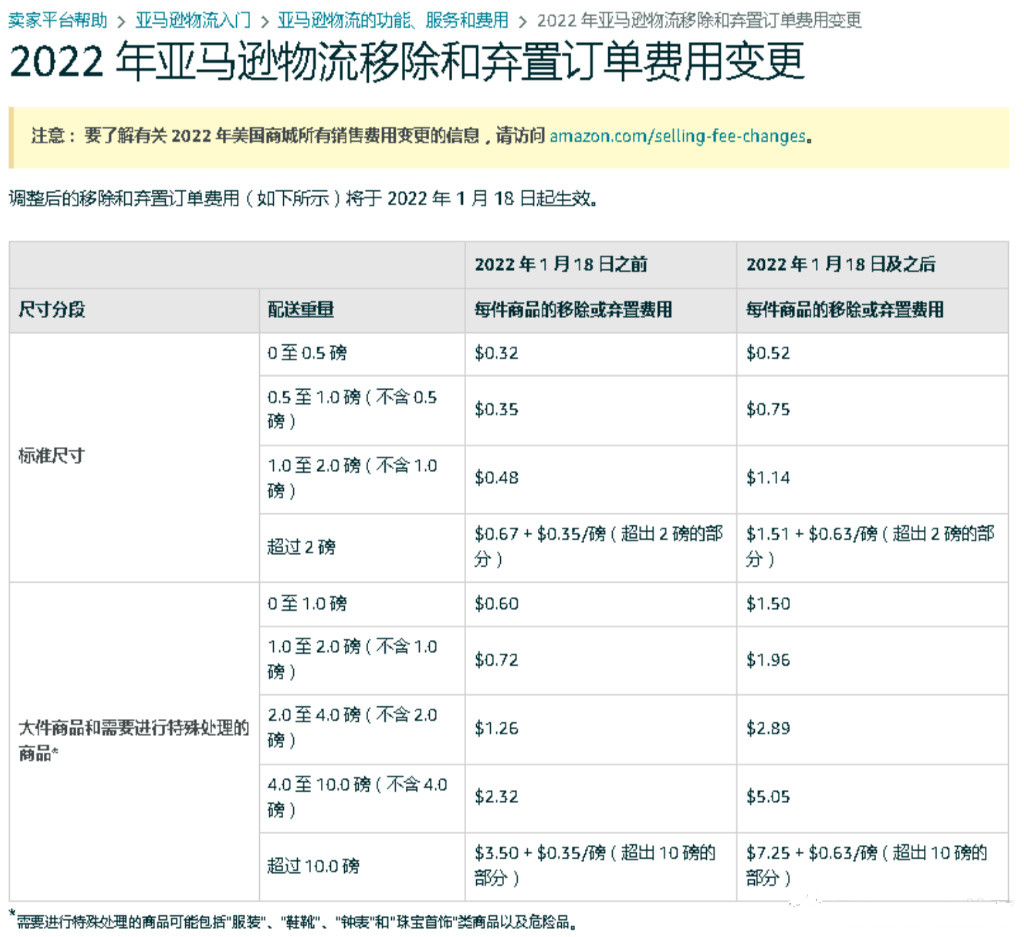 (Source: Seller"Amazon Beauty")
The change information shows that the standard size delivery weight isFor 0 to 0.5 lb items, the removal or disposal fee per item increases from $0.32 to $0.52; For 0.5 to 1.0 pounds (excluding 0.5 pounds), the cost increases from $0.35 to $0.75; For 1.0 to 2.0 pounds (excluding 1.0 pounds), the cost increases from $0.48 to $1.14; For those over 2 pounds, the cost will increase from $0.67+$0.35/pound (the part exceeding 2 pounds) to $1.51+$0.63/pound.
The cost of discarding large commodities and commodities requiring special treatment has increased even more and has doubled. Clothing, footwear, watches, jewelry and dangerous goods may be classified as"Commodities requiring special treatment".
For large pieces and goods requiring special treatment, the distribution weight isFor items from 0 to 1.0 pounds, the removal or disposal fee per item increases from $0.60 to $1.50; For 1.0 to 2.0 pounds (excluding 1.0 pounds), the cost increases from $0.72 to $1.96; For 2.0 to 4.0 pounds (excluding 2.0 pounds), the cost increases from $1.26 to $2.89; For 4.0 to 10.0 pounds (excluding 4.0 pounds), the cost increases from $2.32 to $5.05; For those above 10.0 pounds, the cost will increase from $3.50+$0.35/pound (the part exceeding 10 pounds) to $7.25+$0.63/pound.
The seller sighed that the cost has increased year by year, and now there is a lot of money to spend. For the sellers who have prepared a large number of goods in advance before and still have a large amount of inventory accumulation, it is even worse. The peak season has passed, and it is not easy to clear the redundant inventory at a low price. If you want to avoid this expense, you can only prepare in advance to lose the goods and destroy them before the price rises.
On the one hand, the cost of disposal has increased, on the other hand, Amazon has relaxed the storage restrictions. Is this a good rhythm for sellers to prepare goods?
Previously, Amazon informed us by email that,The inventory performance index (IPI) assessment in the first quarter of 2022 will be postponed to the middle of December.Yesterday, Amazon US announced that it had raised the replenishment limit for many sellers in recent weeks, andFrom January 1, 2022, the score threshold of the inventory performance indicators of Amazon's logistics warehousing restrictions will be reduced to 400. After the adjustment of this indicator, the proportion of sellers with limited storage capacity will be less than 10%.
Many sellers were overjoyed:
——"I'm so happy! The IPI threshold has been lowered! The European IPI that just fell to 498 this week almost didn't cry, and now it is alive again, moved!"
——"Finally, there is no need to exceed the quota!"
——"It's New Year's Day, and this is too timely."
A seller soon found that on the background storage page, the storage limit for the next time period has been displayed asUnlimited.

Some sellers believe that the peak season is over, and that Amazon's release of storage restrictions has little effect, but it is a critical stage for spring stock, and the release of restrictions is still good for most sellers. Although storage restrictions are relaxed, replenishment restrictions still exist. For most sellers, this is the real bottleneck."What's the use of lowering the IPI threshold and not increasing the inventory? Most sellers' IPI will not be lower than 450, and the storage capacity is still limited." A seller said.
On Monday, Amazon adjusted the storage capacity as usual, and the feedback from sellers was inconsistent. The standard of storage capacity adjustment is still questioned. Some sellers are unbelievable about their own storage capacity increase, while others say frankly:"Meiya is still reducing its storage capacity at this point, which means that I am selling too badly, or that there is too much overstock in Amazon's warehouse in the peak season this year?"
A seller was confused. He didn't want to deliver the goods and wanted to save money for the New Year. But on Monday, Amazon expanded its capacity400. Some sellers advised them to enlarge the pattern. After all, the first year of the epidemic is the king when goods are available. Every day, prices rise and orders continue to rise. At present, the global epidemic seems to be getting worse. However, after the middle of January 2022, the cost of removal and order abandonment will rise sharply, and sellers still need to prepare their goods carefully.
The limitation of storage capacity also makes some sellers miss the opportunity to push new products. A seller said:"Last month, a friend recommended a product to me and asked me to do it. I said that there was no storage capacity and I would not bother. Today, he told me that he made a profit of 3W a day on this product, and each one earned 150 yuan. It was good, and one product changed another."
In 2021, the seller will experience more than storage capacity limitation. In this unusual year, Amazon is no longer "making money with eyes closed". People witnessed a series of major events such as Jeff's resignation, the wave of titles, system collapse and tornado, and also witnessed the turning and transformation of the platform.
Inventory of 2021 Amazon Events
1. Amazon US Station puts forward insurance requirements
On February 16, Amazon America sent an email notification to several sellers, requesting them to provide proof of liability insurance for products sold through Amazon stores. The email said: "Article 9 of the sales agreement stipulates that the seller needs to purchase and maintain commercial general insurance, additional liability insurance or excess liability insurance of at least $1 million within 30 days after the total sales amount reaches $10000 for three consecutive months."
Failure to purchase insurance within the time limit may result in failure to withdraw cash or even being prohibited from selling. For sales in the month not reachedFor stores with a standard of 10000 dollars, if Amazon requires to provide insurance certificates, it also needs to provide them. A number of sellers have successively purchased.
2. Amazon Cancels Early Reviewer Program
Amazon told the seller that sinceFrom March 5, 2021, new registration of the Early Reviewer Program will no longer be allowed, and this service will be stopped on April 20, 2021 for sellers currently registered with the program, affecting four sites in the United States, Britain, Japan and India.
This plan is a safe and efficient way to obtain comments for sellers who obey the rules and do not pay orders, and it is also beneficial to potential new products. Since then, the seller has lost a compliance evaluation channel.
3. Cancel the ASIN level replenishment restriction and change it to the restriction on the overall store
On April 22, the US station announced that FBA products would no longer be limited by the number of ASIN products, but would instead limit the inventory of the entire store according to different storage types and past sales. Since then, the seller has faced double restrictions: the inventory capacity limit caused by failing to meet the IPI score, and the total replenishment limit of the store. Replenishment update every Monday has also become a key event for sellers.
4. The arrival of the number sealing tide
At the end of April, the main brands under Patoson were sealed, which opened the curtain of the seal up tide that lasted for half a year. Later, Tongtuo, Zebao, Youkeshu and other top sellers were hit by one after another, which triggered an earthquake in the circle. The event was suspected to be triggered by "small cards" and other comments were exposed.
The incident aroused widespread concern, and the Ministry of Commerce also responded to it.On September 17, Dai Zhifei, Amazon's global vice president and CEO of Amazon's global Asia Pacific region, revealed that according to Amazon's statistics, about 600 Chinese brands and 3000 accounts, including some large sellers, had been closed in this move. After this, a large number of Amazon sellers began to operate in a fully compliant manner.
5. Bezos, "brother-in-law", leaves office
US Local TimeFrom July 5, Jeff Bezos, founder of Amazon, officially stepped down as CEO of Amazon, which was succeeded by Andy Jia Xi. After leaving office, Bezos continued to work in the company and served as the chief executive chairman of the board of directors.
6. AWS service interruption, Amazon front and rear platforms and logistics system failure
Several times this yearAfter the bug, Amazon AWS service was severely interrupted on December 8, US Eastern Time. A large number of consumers are unable to access Amazon.com, and some functions of the seller's background page are missing or data cannot be updated, affecting sales. The FBA logistics system is in disorder, and the warehouse staff and drivers cannot identify the goods, so the local warehouse is temporarily closed for one day and stops receiving goods. The hot warehouses such as ONT8 have long delivery lines in the front row.
7. The Amazon warehouse collapsed due to tornado
local timeOn December 10, the central region of the United States was hit by a storm, and 19 tornadoes swept across 5 states. The tornado caused a large-scale collapse of a warehouse in Amazon, killing 6 people. The seller who put the goods in the warehouse suffered serious losses. Some sellers said that they received an e-mail from Amazon Logistics for compensation. For the seller who needs to clear the inventory, receiving compensation is not a bad thing.
8. Amazon launched a pilot program to shorten the payment collection time to 3 days
Amazon released an announcement to launch a trial plan, and the time for some sellers to receive payment will be shortened to3 days of email notification. According to the email, all confirmed orders of the seller will be retained within three days after the actual delivery date from December 16, 2021. For example, if the seller delivers goods on January 1 and the actual delivery date is January 5, the sales revenue will be paid from January 9.
Seller's plan for next year: compliant operation and steady development
After a series of changes this year, some sellers believe thatAfter 2021, Amazon will be the real Amazon. There will be no scalping, no black technology, and all operations will be in compliance with regulations.
In particular, Amazon has hit hard to crack down on review violations. Many sellers' accounts have been blocked, and some of the head sellers have been hit first. After being blocked, these stores have not recovered as quickly as before, and many of the sellers' accounts are still suspended.
When we saw that the bloody number blocking cases had been increasing, the sellers in the industry began to be cautious, abandoned illegal behaviors such as order swiping, and carried out normal white hat operations. Now, how are the sellers of white hat operation?
A seller introduced his white hat operation, because5. In June, we went through platform raids, so we used real corporate information to register our new stores, and passed the video audit. All the work was ready to start compliance operations. After the product was put on the shelves, orders were issued the next day. About half a month after "streaking", the daily sales reached 15 orders that exceeded expectations, and then went all the way to the top 50 of New Releases.
A month later, several comments came in succession. However, due to the category problem of the product itself, it was judged as an insecticide by Amazon and was removed from the store. After we saved the link, the sales began to decline. Later, in order to stabilize salesQA, as an outsider, increased the advertising investment, and the sales volume slowly rebounded. After several seconds, the daily sales of the product exceeded 40. During this period, we carried out constant background reviews and vine, and the sales volume also increased with the evaluation. Unfortunately, the good times are not long. The warning letter arrived as scheduled, followed by a decline in traffic and sales volume.
The seller said thatQA and offsite are not pure white hats. Next, Amazon's trend is to make the seller fully compliant and operate with pure white hats.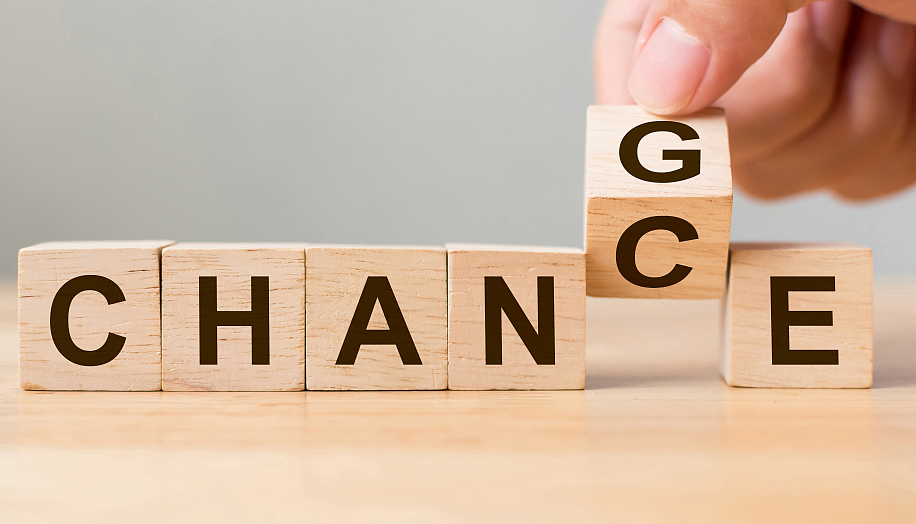 Another seller directly established the Amazon white hat operation group, and has made some achievements. He said that wethis yearThe white hat operation group of Amazon, which was added from 0 to 1 in May, had sales of 600000 dollars in December.
This new operation group is an elite. At present, onlyThe two operations use the pure white hat playing method. They do not play with black technology, send tests, or play outside the station. All traffic comes from Amazon, which fully complies with the rules of the platform, and the store is extremely safe. Moreover, because the market could not find similar products, and the products were relatively advantageous, this white hat operation group not only had a relatively considerable sales volume, but also had a very high gross profit margin.
In the process of operation, the ranking increase mainly depends on Amazon advertising. At presentAcos has significantly increased, but the sales volume has doubled, so we are willing to spend advertising fees to burn.Next, we will focus on expanding in the field of pure white hats.
In this regard, the peers believe that the white hat playing method may be suitable for any category and any product. It is more appropriate for everyone to slowly accumulate traffic, customers and comments. It is more appropriate to compete fairly on a starting line depending on the advantages of the product. Play black technology and other means, even if Amazon doesn't kill you, it will also be killed in China, referring to the recent so-calledOne or two examples can be seen in the case of "E-business First Sister" monopolizing the whole network traffic.
At present, many sellers are already trying to operate in compliance, using the pure white hat approach to obtain orders. Some sellers have already achieved success. On the white hat road, some deviated sellers may be unable to escape Amazon's review, thus affecting their hard accumulated ranking and sales.
When the recent orders began to decline and the peak season was coming to an end, many sellers began to doIn the plan for 2022, they put compliance operation and steady development into the plan.
An old seller in the industry made a plan for next year,In 2022, the main line is still to seek stability. Some of my ideas are:
1、Deepen the existing product lines and improve the competitiveness of their products.
2. Multi platform development and progress in stability.
3. We will reduce the number of qualified soldiers and reduce unnecessary expenditure.
4. Financial and tax compliance is the key point.
This idea has been recognized by some peers. In the following year, we will operate in compliance and develop steadily.
At present, the Amazon platform has gone through a period of brutal development and a period of making fast money. Next, if sellers want to operate for a long time, they may have to develop through white hat operations and cooperative operations. In this period of time, sellers may go a little slower, but it is certainly not a big trend to seek fast, and seeking stability has become the consensus of most insiders.