As early as this yearIn mid September,NPD GroupThe relevant data of shows that toy consumption in the UK market is strong this year. Although toy prices have risen due to supply chain and port congestion, the enthusiasm of the British people to buy toys is still unstoppable.
The popularity of the British toy market is more obvious during Christmas. For Western countries, Christmas is a very important consumption node. People usually buy many needed goods and Christmas gifts during ChristmasToys are also a popular hot item during Christmas every year.
Just a few days ago,NPD GroupAnnounced that the British market this yearfrontTop 10 Best SellersofToysCategory, once again proving that these toysattractive force。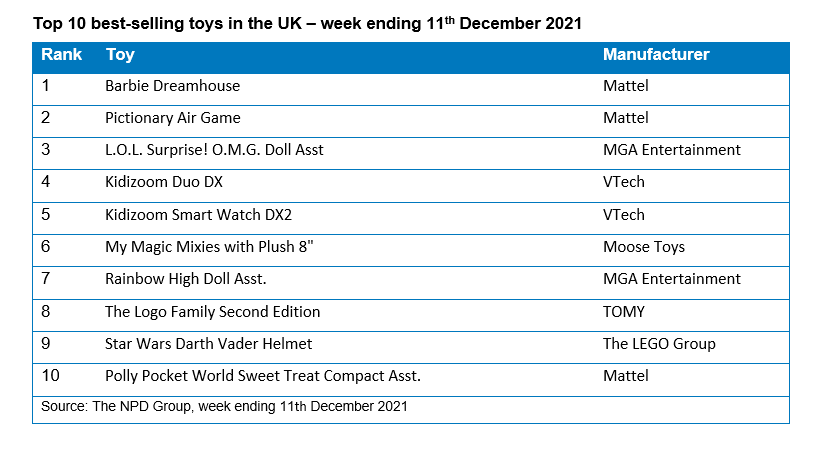 Executive Director of British Toy Company express:"In DecemberMid day, sales data shows that consumersincludeChildrenas well asAdults of all ages,They allChoose interesting and innovative toys."
"The best-selling products include fashion dolls, Barbie dolls andLOL Surprise's latest product! Go to the latest unpacking item My Magic Mixes, which will add some smoke and magic to the opening of Christmas morning gifts. Every Christmas, board games are people's favorite, because family and friends want to spend a good time together."
"This year's bestsellers include updated classic gamesPictionary Air Game and Logo Game 2. The sales data in December showed that the fun, imagination and innovation of toysallDrive sales."
Moreover, the outbreak of the epidemic has prompted a surge in online sales of toys. People are more targeted to buy toys, and toys with higher prices are more popular in the market.
Moreover, the consumers of toys are not only children, but also adults' enthusiasm for buying toys can not be underestimated. In particular, the epidemic has made people stay at home for a long time, and the reduction of outdoor social activities has enabled people to spend more time with their families. Moreover, toys can enhance their interaction with their families. In addition, the income of adults is stable, and their consumption ability is guaranteed, so the toy consumption market in Britain is further expanding!