In recent two years, with the promotion of the epidemic to the global online process, cross-border e-commerce has ushered in a new pattern,Anker, Shein, Patpat and other overseas enterprises taking the high-quality and brand oriented route have become the favorites of the capital market.
The entry of capitalization accelerated the growth of the industry, but at the same time, it also put forward higher requirements for small and medium-sized start-ups that are still in the growth stage. When we communicate with many enterprises, we can feel that many enterprise managers still face challenges when implementing the actual problems of enterprise operation:
● How to realize the integration of industry and finance?
● How to break through the bottleneck of traffic growth?
● How to realize the refined operation of the enterprise?
● How to build a high-density talent team?
…….
To this end,Airwallex has planned a new interview column for enterprises going to sea Airtalk.
Airtalk will invite front-line managers from the field of brand outbound and cross-border e-commerce, or from different positions and functions such as brand end, product end and financial end, but what remains unchanged is that they are unswerving activists and creators on the outbound road. Here, you will be able to hear their successful (or failed) entrepreneurial stories, sharp industry insights, or effective management experience.
Focus on air cloud collectionAirtalk, a dialogue with the Overseas Entrepreneurship Action GroupyouThe voyage to sea brings different inspiration and sparks.
Airtalk Phase I: Dialogue with Wantuo Scientific Innovation CFO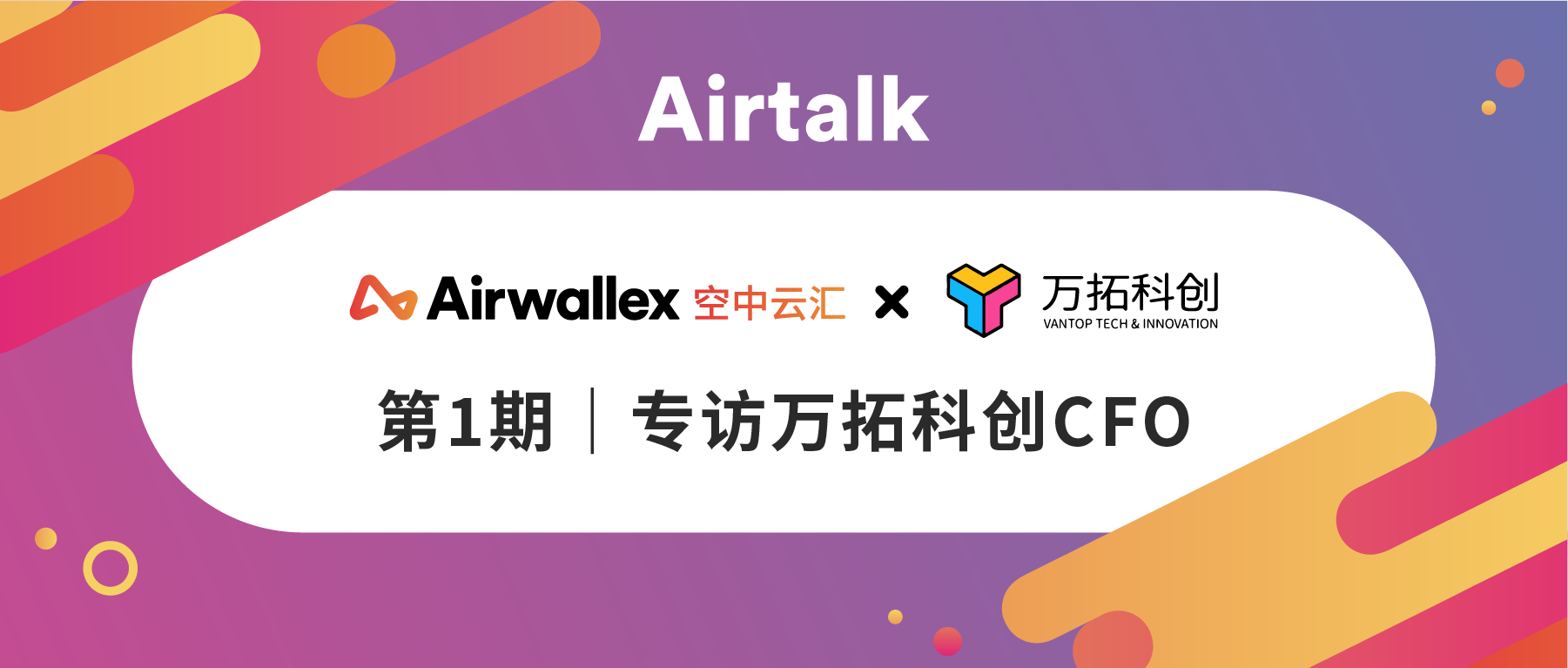 Airtalk Phase I, invited toHasWell known cross-border e-commerce enterprises, andMichelle, the chief financial officer of Wantuo Kechuang, is a customer of Airwallex with more than three years of cooperation. Michelle has worked in four major accounting firms and Wal Mart China for more than 10 years, and has rich experience in transnational enterprise restructuring and acquisition, financial consulting, tax planning, etc.
In 2018, Michelle joined Vantop. In 2021, Wantuo will have 9 branches in the world, incubate 11 global famous brands, cover more than 100 countries and regions, have a compound growth rate of more than 400% for three consecutive years, and have completed the financing of 300 million yuan of Sequoia Capital Round A.
The battlefield of cross-border e-commerce is overseas, and financial work is more challenging. From traditional industry to offshore industryMichelle also felt deeply about these problems. In this issue of Airtalk, Michelle will share:
● How to do a good job in financial management in the offshore financial team
● How cross-border enterprises plan overseas fund collection
● equity financing&Fund compliance on IPO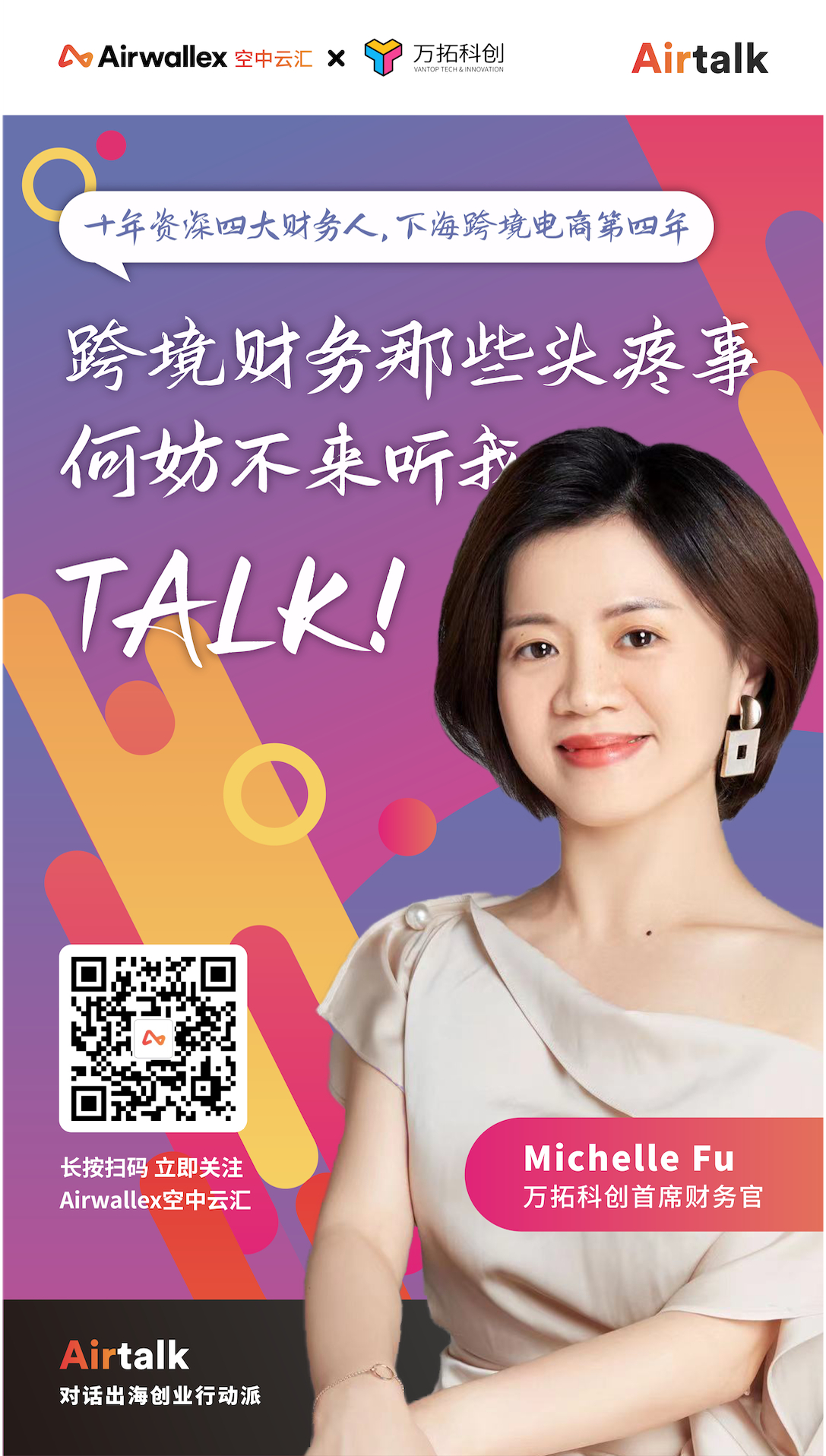 More wonderful sharing of guests, please see the written interview
Q: How does the cross-border e-commerce finance team divide its functions?
A: As the tax systems of the major e-commerce platforms around the world become more and more perfect, the requirements for the professional quality of cross-border e-commerce financial personnel will become higher and higher. However, cross-border e-commerce is an emerging industry, and financial management does not have many references like traditional industries. But in general, the financial team cannot be built without these four financial modules, namely: basic accounting, budget management and financial analysis, capital management and tax management.
Q: What thorny problems have you encountered in cross-border financial work?
A: There are many ways to improve financial efficiencyCFO has a headache. For example, as far as the work of the fund management module is concerned, it involves the entry of overseas funds, from the ordering of consumers to the return of payment to China, to the settlement of foreign exchange. The intermediate links are complex, costly, and the efficiency of capital flow is very slow. In 2018, we had a Hong Kong bank account frozen due to review, and the accounts could not be withdrawn, which seriously affected the enterprise's capital flow.
Later, we began to work withAirwallex air cloud exchange cooperation. Air Cloud Exchange provides us with one-stop cross-border collection and payment services such as collection, exchange and payment. The global account of Air Cloud Remittance is directly connected to the overseas local clearing system, which reduces our collection and payment rates and greatly improves the timeliness. The Yunhui Visa card that we started to use this year has also helped us solve some problems in advertising payment.
Now the integrated service of air cloud remittance, collection and payment makes our cross-border fund module work very simple, efficient and economicalMore than 20% of cross-border capital transaction costs.
Q: What suggestions do you have for cross-border fund collection and payment?
A: Many small and medium-sized sellers think that their trading volume is small, and exchange rate fluctuations have little impact on their operations. They often think of exchange when they use it. However, with the continuous growth of business transactions, small exchange rate fluctuations may have a greater impact on corporate profits. I suggest that sellers, no matter how large they are, should learn more about foreign exchange management tools and related financial derivatives and establish a regular habit of foreign exchange management.
Q: What role should CFOs play in the enterprise?
A: First of all, financial management and financial risk control: to ensure that there are no financial risks in daily operations, such as cash, budget, and financial support for businesses, that is, business financial integration.
The second is enterprise financing: bank loans, supply chain finance, bond financing, equity financing, etc. For example, WantuoThe investment of Sequoia Capital was obtained in Round A. In this process, the CFO needs to assist the founder to obtain good equity financing, to tell the investor about the enterprise vision, future strategy, and to cooperate with the investor in the process of financial data collection and due diligence.
Finally, M&A: the fastest way to expand the local market may be M&A, including M&A plan, capital source, post M&A strategy, etcCFO's ability is a bigger challenge.
Q: How can cross-border enterprises face the uncertainty of the macro environment?
 A: First, do not make products with low added value. Under the epidemic situation, manufacturing industries in various countries have been hit hard, and China's supply chain advantages have become increasingly prominent. How to transform selling thinking into product thinking and improve the team's R&D ability is particularly important for cross-border enterprises to build a moat of enterprises through products and brands.
Second, enterprises should diversify. Product categories, sales channels and sales regions should be diversified.For example, in the context of the Sino US trade war, whether it is necessary to deploy other countries and markets to reduce geopolitical, economic and trade uncertainties, and reduce business risks.
Current periodAirtalk, we heard about Michelle, the CFO of Wantuo KechuangBring her some understanding and sharing of cross-border e-commerce finance. With the increasing demand for senior financial management talents from overseas enterprises, how to cope with the competitive market, the changing regulatory environment and the constantly internationalized business is a long-term subject for financial managers of overseas enterprises to face and discuss.
futureAirwallex will invite more front-line managers from brand outbound, cross-border e-commerce and other fields, business side and financial side, pay attention to Airtalk, talk to outbound entrepreneurial action, and bring different inspiration and sparks for your outbound journey.