Recently, the Consumer Product Safety Commission of the United States(CPSC issued a notice stating that,Scott Fetzer Consumer Brands (SFCB) has announced a recall of electric fish knives under the American Angler brand, citing the risk of tearing.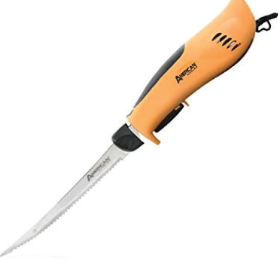 It is understood that this type of fish knife is thin and flexible, and there are currently two types on the market, one is a traditional fish knife, and the other is an electric one. The fish knives recalled this time belong to the latter.
Electric fish knives can help complete most of the cleaning tasks for fish. Their design is similar to an electric reciprocating saw, with two thin blades installed side by side on the handle. When starting, one blade is pushed forward while the other blade is pulled back.
This helps the knife cut through the skin and flesh of the fish without exerting too much pressure on the blade, allowing the user to easily maintain control of the knife throughout the entire cleaning process. If people are planning to clean up a large amount of fish, this is a good choice.
Search on Amazon AmericaElectric Fillet Knives "pops up 191 results. Compared to categories such as clothing and electronic products, this belongs to a relatively niche category.
as forThe American Angler brand of electric fish knives is manufactured by a Chinese manufacturer and currently displays' not available for sale 'on the Amazon platform. In addition to the Amazon platform, retailers such as Wal Mart and Bass Pro Shops have also been on the shelves, with prices ranging from $110 to $150.
Between January 2019 and October 2021, 43200 American Angler electric fish knives were sold in the United States, while 630 were sold in Canada.
As of now,SFCB has received 23 complaint reports, but there have been no injuries. The company stated that consumers should immediately stop using the product and cut off its power cord. Consumers can send photos of disconnected wires to SFCB for free replacement. As for problematic products, consumers need to throw them into the trash can.
The model of the fish knife involved is32300, with the following serial numbers: AEK-OB-DS-003-1, AEK-OB-DS-008-1, AMK-KM-DS-003-1, and AEK - OB-RB-004-1. The model is printed on the bottom of the EFK handle, and the serial number is printed on the product packaging. The handle of the knife is printed with the words "American Angler" in orange and gray colors.