For most sellers, Europe is the most important market besides the United States. Under the epidemic situation, some new changes have taken place in European e-commerce. Recently, the European Association for Electronic Commerce released a report. The report comprehensively analyzes current EuropeE-commerce market in 37 countries. Next, the small editor will give you "key points" to quickly grasp the latest e-commerce trends in Europe.
Europe

70% of online shopping

, especially in Western Europe
Let's take a look at the general situation in Europe. We all know that the European market is very big, so how big is it? The report predicts that,In 2021, the population of Europe should reach 735 million, more than twice that of the United States; GDP will reach 18.333 trillion euros, which is close to the total economic output of the United States.
In addition to the huge market, the network coverage in Europe is still very high, and the proportion of Internet users is increasing year by year, which is close to90%。 Not only that, but now more and more people are joining the "army" of online shopping.The proportion of online shoppers has changed from60% in 2017 rose to 73% today.In this way, e-commerceThe contribution rate of GDP also rose to 4.6%, an increase of about 1.5% over 2017.
It should be noted that the pace of economic development is inconsistent. The e-commerce market in Europe is also different. According to physical geography, Europe is divided into Western Europe, Eastern Europe, Southern Europe, Northern Europe and Central Europe.
In Western Europe, the proportion of Internet users reached96%, 87% of online shoppers; Internet users in Eastern Europe accounted for 78%, and online shopping users accounted for 44%; In Southern Europe, 87% of Internet users and 64% of online shoppers accounted for; As for Northern Europe, Internet users accounted for 96% and online shopping users accounted for 84%; In Central Europe, Internet users accounted for 89% and online shopping users accounted for 78%.
Western Europe accounts for the total European e-commerce salesofThe highest proportion is64%; The second place is Southern Europe, accounting for16%; As for the rest, 8 per cent in Central Europe and 6 per cent in Eastern and Northern Europe.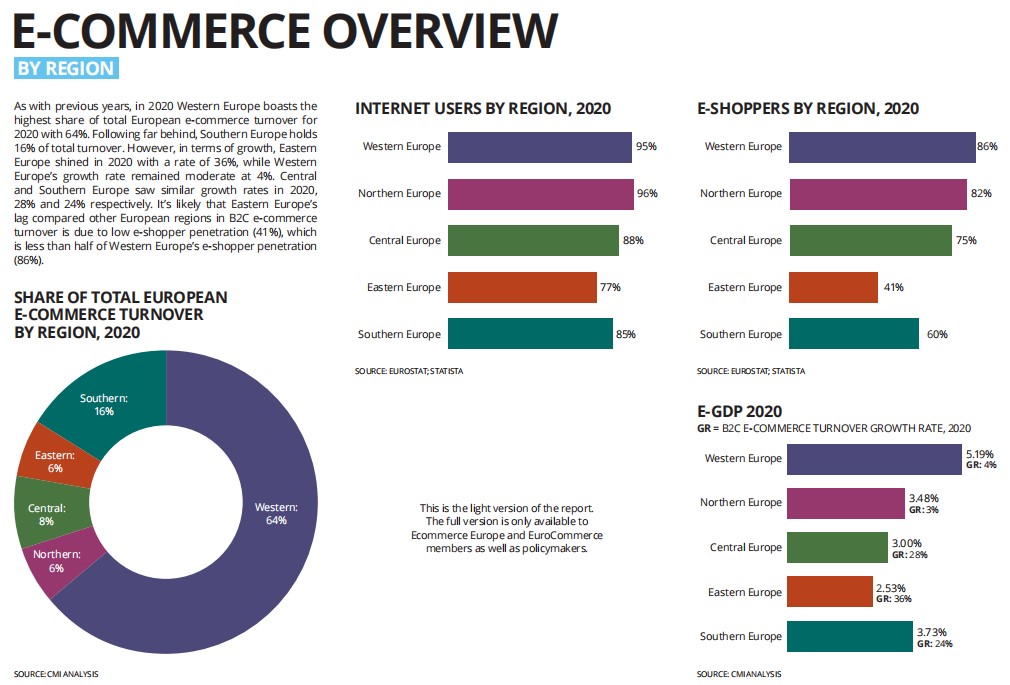 E-commerce in Western EuropeDevelopment is the most developed, far away from other regions. However, in terms of growth,Eastern Europe inIn 2020, the growth rate of e-commerce will be 36%, while the growth rate in Western Europe will remain moderate, at 4%.The growth rates in Central Europe and Southern Europe are similar, respectively28% and 24%. Compared with other regions in Europe, e-commerce development in Eastern Europe lags behind, but the stamina is also strong。
In addition, the EU27 countries are also the focus of attention.Percentage of EU Internet users in 2021About91%, 75% of online shoppers; andGDP will reach 12.987 trillion euros, and e-commerce will contribute nearly 4% to GDP.
The EU is the economic core of EuropeGDP accounts for 70% of the total. Moreover, due to the interconnection between EU countries, the EU has become the market that sellers focus on.
It is understood that,88% of EU people will choose to shop in China, 31% will choose other EU countries, 22% will choose non EU countries, and 40% will choose other countries (including EU and non EU countries).
britain

——The number of network users reaches

99%
The UK is a developed country with a very high Internet usage rate, including99%Of people will use the Internet。Although withtwo thousand and twentyCompared with,two thousand and twenty-oneThe growth rate of Internet use in2.26%Descend to1%, but this also shows that the Internet population in the UK is becoming saturated. And there are93%% of Internet users will consume online, which also shows that the UK is a high-quality country developing e-commerce products.
according toFIS Worldpay's forecast,two thousand and twenty-fourMore than20%'s shopping will be completed online, and the online consumption amount will reachtwo thousand six hundred and forty100 million pounds.
In the era of social media, many businesses will promote and market their products through social media. At this time, learn about local popular social media applications"Suit the remedy to the case" is the key to obtain the traffic password.
In the UKFacebookIt is the most popular social media for local people, including52%Use ratio; andPinterestThen25%Proportion ofRowIn the second place; Relatively speaking,Twitter、InstagramandYouTubeThe popularity of13%、5%and2%Scale of.
Amazon owns"Overlord",four point one sevenThe monthly living volume of 100 million is enough to show how much British consumers like it. Clothes and shoes are the most common commodities that British people buy online, with a proportion of68%。
Some sellers in the UK market said:
——Although the British consumer market is smaller than that of the United States, China and Japan, they are willing to spend money, so there is still a great opportunity to dig for gold.
——The market demand in Britain is quite large. As a big trading country, many of their products are imported。
Germany——Sustainable development is the theme of future development
Germanytwo thousand and twenty-oneThe annual Internet usage rate is96%, fromtwo thousand and eighteenIt has maintained steady growth since.FacebookIt is the most popular social media in the region, including67%Users of;Pinterestwith18%The utilization rate of is ranked second.
German expertsMartin Groß- Albenhausenexpress,During the epidemic, groceries and pharmacies were the largest categories of online shopping products.Moreover, the proportion of online shopping for the elderly has also grown rapidly.
epidemic situationAlso letEnterprises are also forced tomakeChange. Many enterprises have switched from traditional business models to online ones. Even if they had never sold goods online before, they began to pass through theInstagramAnd other networks to promote their own company information. The online market also provides them with the necessary infrastructure to help them adapt to the e-commerce market as soon as possible.
Sustainable development is a problem that German retail sellers should pay attention to.The survey found that although consumers are willing to pay for sustainable development, if a product is listed as"Organic products" then charge higher fees, and consumers will not pay for them. Some businesses will reduce packaging to achieve sustainability, which has increased the return rate. Because consumers will choose to return the goods they bought without the original packaging. So how to achieve sustainability while still being accepted by consumers is a question that businesses should think about next.
France——Pursue the actual consumption characteristics
Francetwo thousand and twenty-oneThe annual Internet usage rate is94%。FacebookIs the most popular social media in France, including72%Users of. The second isPinteresthave16%People.Twitter、InstagramandYouTubeThe utilization rate of is relatively low, respectively6%、3%and2%Scale of.
According to professionalsMarc LolivierAccording to the analysis of, before the epidemic, the development of e-commerce in France was on a steady risetwo thousand and twentyIt began to soar in, and it has increased nearly in the fourth quarter alone41%。
He also said that the online shopping of French consumers is characterized by the pursuit of practicality, and there are also requirements for product diversity.In addition, the types of goods consumers buy are also different during each blockade period.
During the first blockade, computers and cultural products were the focus of consumers' online shopping; In the second blockade, consumers allocated more of their budget to furniture and household items. andtwo thousand and twenty-oneIn, the sales of health and beauty products and online food products remained high.
Russia——Contactless delivery and same day delivery become popular
In Russia,two thousand and twenty-oneThe number of Internet users in81%。 And withtwo thousand and nineteenOf83%In comparison, there is a decline. But on the whole, it is still in a relatively stable state.
In terms of social media use, Russian local social networking sitesVkontakteIs the most popular among the local people24%Use proportion of. secondly,Facebook、Pinterest、YouTube、TwitterandInstagramThe use proportion of18%、18%、15%、13%and10%。
Professional data analystsNadezhda VinogradovaIt was mentioned in the interview that the epidemic situation has become the driving force for the growth of online shopping.staytwo thousand and twentyIn, Russian e-commerce grew44%, add aboutone thousandMillion users, who have never bought any goods online before. During the blockade period, the sales of sportswear, cosmetics, shoes and some office supplies were outstanding.
It is worth noting that during the epidemic periodten point five10000 sellers passedInstagramAnd some online celebrities to sell their products. The Russian government also has relevant measures and financial subsidies to cultivate these new sellers.
In addition, many online stores have started non-contact delivery and same day delivery services, which have helped sellers increase their sales, which has also become a popular trend.
But in Russia, sellers face difficulties in logistics and customs.Different kinds of goods need different logistics companies,For example, refrigerators and mobile phones need to find different logistics companies. In this way, logistics cost is a big problem for multiple sellers。
two thousand and twenty-oneThe year was still affected by the epidemic, but overall, the global e-commerce market continued to develop. Sellers should develop different marketing strategies for different countries in order to achieve more outstanding results in the new year.
The full report is detailed in:
https://ecommerce-europe.eu/wp-content/uploads/2021/09/2021-European-E-commerce-Report-LIGHT-VERSION.pdf