Recently, the British government announced the recall of a series of products with substandard quality or safety hazards, including a large number of domestic toy products, involving AmazonMultiple platforms such as eBay and Wish.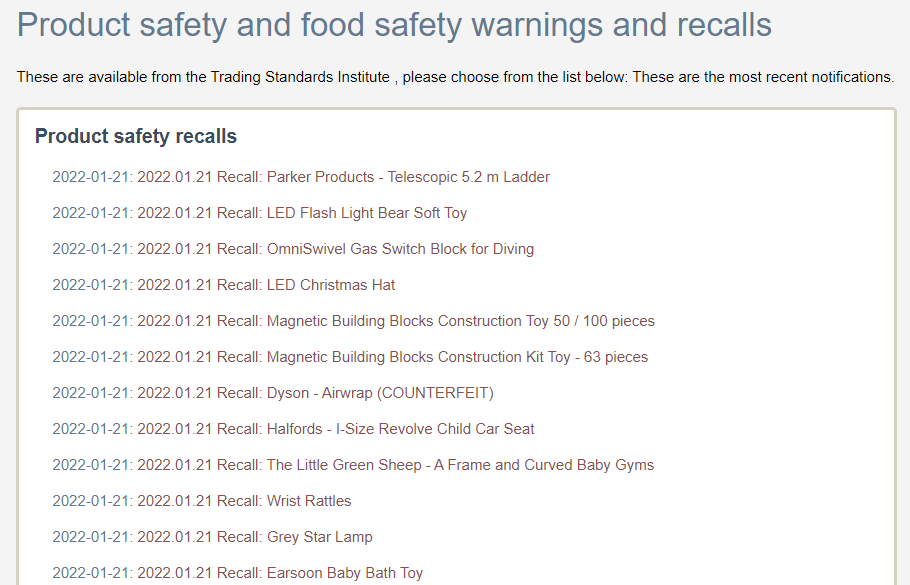 The recalled products are as follows:
1Amazon platformEARSON baby shower toy
This is aBlue Coggiri shapeBaby shower toy with yellow hose and four suction cups, canTo take a showerGlue the elephant to the bathtubRecall number is2109-0188.
During testing by the UK Office of Product Safety and Standards, it was found that the product is prone to breakage and the appearance of small cylindrical parts. Young children are likely to put these small parts into their mouths, posing a serious risk of suffocation. This product does not meet the requirementsThe relevant requirements of the 2011 Toy Safety Regulations have been recalled from consumers. At present, the product link has also been removed from Amazon for processing.
2Wish Platform LED Christmas Hat
Almost a month after Christmas, there are still Christmas products being recalled.The products recalled by Wish platform this time areA red felt Christmas hat with white trim and pommel balls. There is a white felt reindeer on the front of the hat, which containsLED lights and button batteries.
The UK Office of Product Safety and Standards believes that this productThe button battery in the LED light is easily accessible to young children and may be swallowed in their mouths. Therefore, this product has been identified as having a high chemical risk, injury, and suffocation risk. The product does not meet the requirements of the 2005 General Product Safety Regulations and has been removed from the platform for processing.
3Joom platform LED flash bear plush toy
The recalled product is wearing a pink bow tieWhite plush teddy bear,There is a strip inside the bodycolourLED lightsRecall number is2111-0496.
The UK Office of Product Safety and Standards believes that the filling inside the doll is easily removed and ingested by young children, thereby obstructing their breathing and posing a serious risk of suffocation. This product does not comply withThe Toys (Safety) Regulations of 2011 have been removed from the platform.
The other recalled products also include wrist bells, building block toys, and so on. It has to be said that the toy industry really has frequent recall incidents, especially some toy products suitable for young children. These children, due to their immature mental state, are prone to accidentally eating small parts while playing with toys. Sellers of these types of toys must be cautious when producing products to avoid falling into a recall crisis.