According to the report, the scale of online retail in Vietnam has steadily increased over the past five years.In 2016, the online retail scale in Vietnam was only $5 billion. By 2019, this number had doubled to approximately $10 billion. In 2021, the scale of online retail in Vietnam can reach 13 billion US dollars. The report cites Statista's data stating that,reachIn 2025, the scale of online retail in Vietnam will reach 39 billion US dollars.
stayIn 2020, there were approximately 49.3 million online consumers in Vietnam, with an average annual consumption of approximately $240 per person (an increase of 42% compared to 2016). In the first half of 2021, online consumers added 8 million, with 55% coming from non urban areas.
58% of Vietnamese consumers believe that they will continue to purchase groceries on e-commerce platforms, while 53% of consumers say that online grocery shopping has become a norm in their daily lives.
As for which platform to choose when shopping, consumers mainly consider the following factors:Reputation of e-commerce websites and applications(70%), multiple promotional activities (41%), transportation policies that are beneficial to consumers (40%), affordable prices (39%), diverse products (34%), good product quality (34%), easy order tracking (26%), convenient website and application access (21%), good customer service (20%), and live shopping (8%).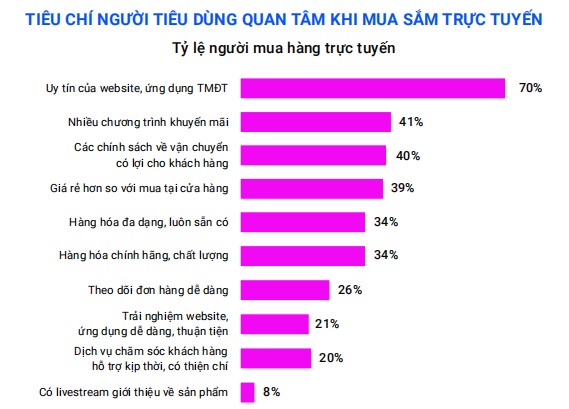 And in theLazadaOn the platform,The most searched categories in 2021 are:Clothing, personal care, interior decoration, food (such as breakfast cereal), garden supplies, kitchen supplies, games and puzzles, medical supplies, food supplements, school and office supplies.
In addition, in order to maintain opportunities for online sales growth, sellers can also consider the following trend predictions:
The first is the rise of social commerce. Sellers can use highly interactive content sales methods to communicate directly with consumers, such as live streaming, virtual store experiences, and shopping entertainment activities, which will help drive sales.
In addition, user generated content will be more powerful than ever before. With the rise of many highly engaged social media platforms and the trend of leaving comments, allowing users to share more content related to brands or products/Commenting will help sales.