According to foreign media reports, the Mexican second-hand car trading platform Kavak has recently completed an E-round financing of US $700 million, and its valuation has doubled to US $8.7 billion compared with a few months ago, becoming the second highest valuation start-up in Latin America, second only to Brazil's Fintech Nubank.
The current round of financing of Kavak is led by General Catalyst, and invested by Softbank Group, Founders Fund (founder fund of Peter Thiel), Sea Ltd (Singapore game and e-commerce company), Tiger Global, Spruce House, D1 Capital Partners (hedge fund) and Ribbit Capital.
This is also one of the steps for Softbank to increase the number of Latin American start-ups. The losses caused by investment in WeWork and Uber did not slow down Softbank. According to CB Insights data, Softbank has made 117 investments in 2021, which is expected to reach 197 by the end of the year, three times that of 2020. Latin America is one of the current strategic priorities of Softbank.
On September 14, Softbank announced the establishment of SoftBank Latin America Fund II, with a scale of US $3 billion. It is reported that the Phase II Fund will focus on technology enterprises in Latin American countries, industries and stages, especially in the fields of e-commerce, digital finance, health, education, blockchain and enterprise software.
Sun Zhengyi of Softbank said in the statement, "So many innovations and disruptions are taking place in Latin America, where I think there are unprecedented business opportunities. Latin America is an important part of our strategy, so we will expand our business and double our bets."
In 2019, Softbank has announced the establishment of the Latin America Fund (formerly known as the Innovation Fund), with an initial commitment of US $2 billion, totaling US $5 billion. As one of the most active VCs in Latin America, Softbank has received rich returns: it has invested 15 unicorns, including QuintoAndar, a Brazilian real estate technology company, and Rappi, a Colombian distribution service company.
It is reported that the net internal rate of return of Latin America Fund has reached 85%. Marcelo Claire, the Latin American fund manager and the executive vice president and chief operating officer of Softbank Group, said in the interview that the income of Latin American funds is far beyond imagination, and 2022 may be the year when Latin America will usher in the largest IPO.
Latin American start-ups are in the limelight. Latin America has a vast market, 640 million people, the Internet penetration rate is close to China, and the per capita GDP is about 70% of China's, but banks and other infrastructure are generally insufficient, leaving a huge space for innovation and development of science and technology enterprises.
Take Kavak as an example. This used car online trading platform, established in 2016, became the first Unicorn enterprise in Mexico last October. In April this year, it completed the D-round financing of $485 million, and its valuation reached $4 billion; Then came this round of $700 million financing, with its valuation doubling again. In recent years, Kavak has successively entered Argentina and Brazil, and plans to continue expanding to emerging markets outside Latin America. In addition to second-hand car trading, Kavak also dabbles in financial technology. In the interview, Garcia, CEO of Kavak, mentioned that the consumer habits in Latin America are similar to those in China. Kavak was inspired by Didi and hopes to develop a super app that includes multiple services in the future.
According to the data collected by Atlantiso, a venture capital firm, Latin American technology start-ups attracted a total of 9.3 billion dollars in the first half of the year, and more in the second half of the year. Among them, financial technology enterprises, especially new banks such as Nubank, C6 and Neon, received the most investment, accounting for about 40% of the investment; The number of start-ups receiving investment is expected to reach a record 800.
On November 4, InvestHK and 36 Krypton went to sea to hold the LET'S CHUHAI CLUB Hong Kong Financial Technology Special Event. As a joint event of Hong Kong Financial Technology Week, Hong Kong and mainland financial technology enterprises were invited to participate. Guests came from Changliang Technology, Gaoyang Global Technology, Deng Baishi, Standard Chartered Bank, Qbit, etc. The activity included thematic round table sharing and exchange interaction, sharing insights and practical experience of Hong Kong's financial market, and discussing how Chinese enterprises can achieve globalization through Hong Kong.
welcomeClick the linkOr scan the code to fill in the form and register for the activity.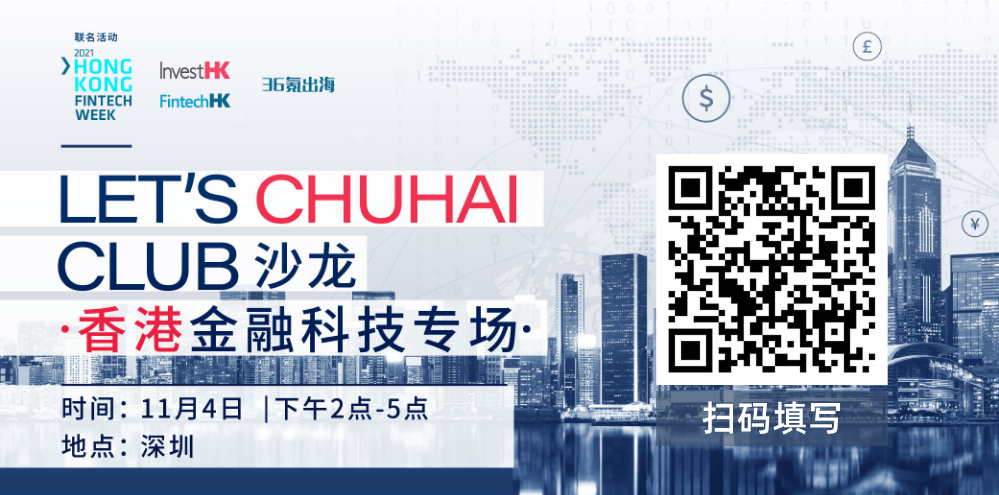 Article | Shi Yi
Editor | Zheng Shenghao
Fig. | Unsplash