With the rapid development of the cross-border e-commerce market, the demand of businesses and users for cross-border capital flow, namely cross-border payment, has followed. Traditional cross-border payments are mostly made through banks and professional remittance institutions, which have the disadvantages of high rates and low timeliness. Compared with third-party cross-border payment companies, they can better meet the demand for small frequency and high amount payments.
The third party cross-border payment is mainly divided into three stages: receipt, collection and foreign exchange settlement and sales. Taking e-commerce as an example, acquiring refers to the process in which the buyer uses bank cards or various payment methods to pay to the seller or platform when placing an order. Receiving refers to the process in which the seller collects income from the platform or acquiring tools to the account. Settlement and sales of foreign exchange refers to the process in which the seller exchanges foreign currency into RMB.
Grepay is a localized aggregate payment company mainly engaged in cross-border acquiring. According to Yao Yingxin, co-founder of Grepay, Grepay was founded in 2017 and started its payment business in India in 19 years. Grepay said that they have access to more than 150 local payment methods in India, Brazil, Mexico and other countries. There are a team of about 50 people around the world who hold MSB licenses in the United States and Canada. They hope to target dLocal, which focuses on localized acquisition in emerging markets. DLocal, a Latin American cross-border payment platform located in Uruguay, has become one of the Unicorn companies last year.
According to the data provided by the team, Grepay's total monthly transactions are tens of millions of RMB, serving about 200 merchants, mainly B2C customers, such as independent stations, apps, web pages, etc., accounting for 95% of the total acquiring business. The main source of profit is the service charge, and the specific rate varies from place to place.
In the view of the Grepay team, compared with the collection business trapped in the "internal volume" of the rate, the acquiring business pays more attention to localization, and needs to understand the regulatory requirements and payment methods of various regions. In Brazil, for example, the main payment methods include bank card, mobile wallet, cash, Pix payment system, which is emerging in recent years. In terms of compliance, third-party payment needs to have a local license, while aggregate payment usually cooperates with licensed local institutions.
In addition, the acquiring business also has the technical ability to access various payment methods, the risk control ability to prevent fraud, and the local operation service ability.
One of the risks of acquiring documents is refusal to pay, which means that the payer refuses to pay when he has objections. If the number of dishonored orders in the total orders of the payee is higher than a certain proportion, it will not only cause losses, but also cause additional risks. For example, Visa, Mastercard and other card organizations require that the dishonored rate should not be higher than 1%. If it is higher than 1%, the payee will enter the monitoring and incur fines and other expenses. Other payment products will usually set standards by reference to this rate.
The reasons why users refuse to pay include information theft, dissatisfaction with product services, etc., but there are also cases of malicious refusal and fraud. The Grepay team said that in emerging markets without a complete credit reporting system, it is necessary to rely on its accumulated experience and technology and cooperate with risk control enterprises to carry out risk control and prevent malicious fraud. At the same time, merchants should also improve their own service and commodity levels to meet user needs.
In the field of cross-border payment, many companies at home and abroad have occupied or are occupying the market. There are PayPal, Stripe, Adyen, etc. abroad, PingPong, iPayLinks, AirWallex, Wanlihui, Qianhai, Lianlian Payment, etc. in China. The business focuses on one or more items such as collection, payment, receipt, and exchange. The focus on market development is also different. In the future, it may seek substantial development in expanding business and improving services.
On December 16, the fourth stop of "LET'S CHUHAI CLUB Sailing to Southeast Asia Series Salon" jointly sponsored by Singapore Economic Development Council and 36 Krypton Sailing to the Sea will arrive in Beijing. This activity will focus on the hot topics such as enterprise service companies' market strategies in Southeast Asia, how multinational enterprises break through cultural barriers, and discuss business opportunities and challenges for enterprises to go to Southeast Asia, so as to create a next-generation global enterprise.
Welcome to scan the code and fill in the form to register for the activity.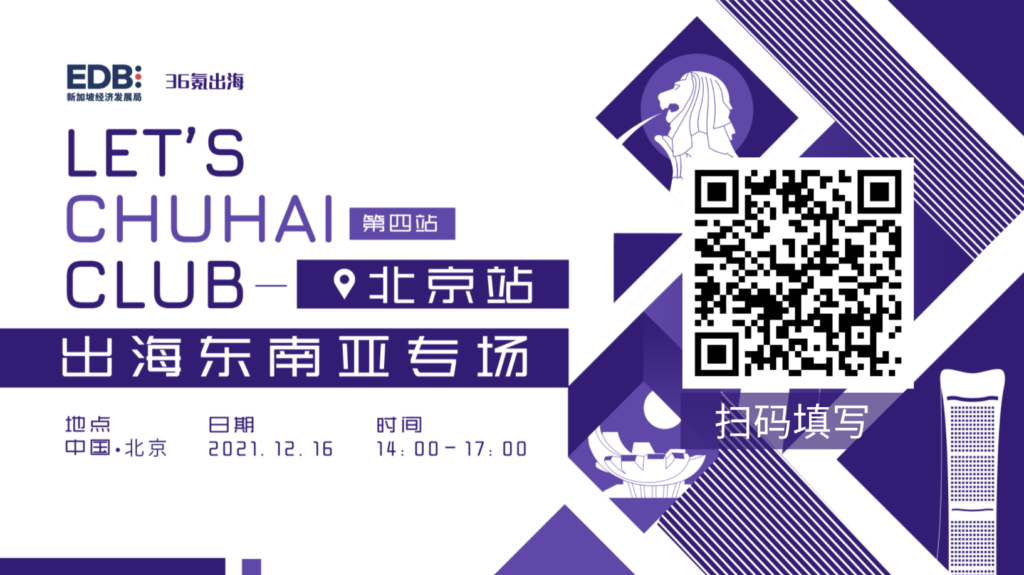 Article | Shi Yi
Editor | Zhao Xiaochun
Fig. | Unsplash