According to the data of Sensor Tower, recently, Uplive, a video social platform owned by Asia Innovations Group (hereinafter referred to as "ACO"), ranked No. 5 in the list of short video/live broadcast APP downloads in H1, 2021; It also ranked No. 5 in the breakthrough list of social downloading of Chinese manufacturers released by App Annie in early August. In addition, CuteU, a real-time video matching dating software owned by Yachuang, ranked No. 2 in the list released by App Annie this time, and MoonChat, another online dating application that won No. 7, is a product of Yachuang's subsidiary.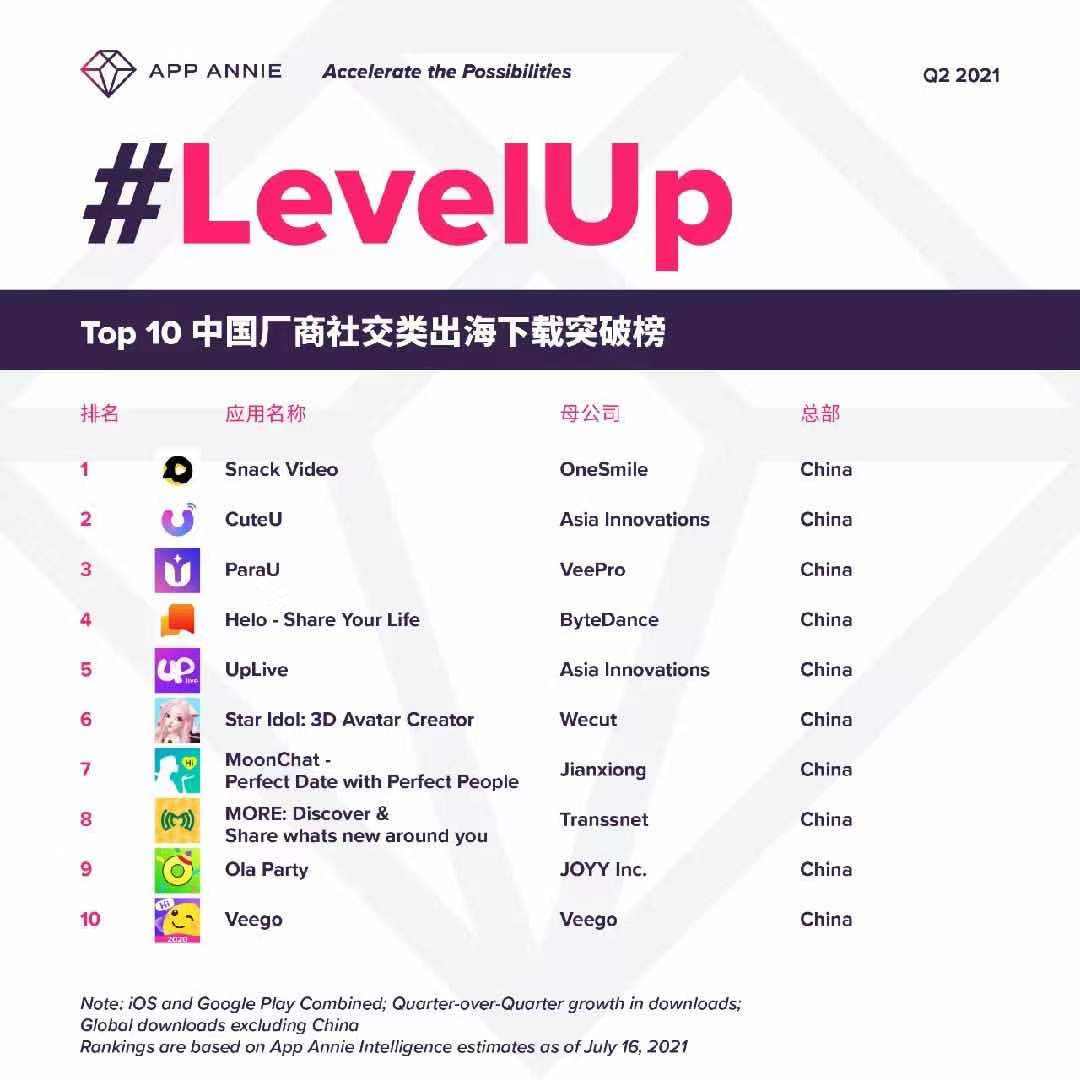 Communication is an eternal need of people. With the advent of the digital age, people's daily communication has become more and more "online", and the online social networking industry has also entered the fast lane, while the epidemic caused the "national home" has added a fire to the development of online social networking. According to the data of The Business Research Company, the global social media market is expected to grow from $94.83 billion in 2020 to $102.62 billion in 2021, with a compound annual growth rate (CAGR) of 8.2%.
However, with the increasingly fierce competition in the domestic stranger social networking, game social networking, same-sex social networking, as well as the fiery video social networking and audio social networking in recent years, more and more players have extended their commercial tentacles to overseas markets to seek new growth points. Among them, besides TikTok, Kwai, BIGO Live, TanTan, Yalla, Blued, we are familiar with, there is also Uplive who won the fifth place this time. It is reported that Yachuang, the parent company of Uplive, is a social entertainment group founded in 2013. The company mainly provides social products for 410 million users from more than 150 emerging market countries and regions, such as Southeast Asia, the Middle East and North Africa, and Latin America.
It is understood that the company's products are mainly involved in three segments: first, the voice and video social products Uplive and Haya; Second, Lamour, CuteU, Wink, FancyU and Amigo, which focus on online dating; The third is the star fan community "Super Star Rice Ball", which is mainly for Chinese fans. Among them, Uplive, which was launched in July 2016, is a video social platform. Users can not only enter the live room and host voice and video chat, but also play games in groups. It is reported that during the epidemic, the number of users of Uplive increased by nearly 90% to 230 million, and the number of anchors reached 19 million.
In addition to Uplive and other products for global users, Yachuang has also provided several "customized" products for several target markets. For example, Haya, a voice social product, is mainly aimed at users in the Middle East who don't like to show their faces; Another online dating platform, Amigo, is for Spanish users.
Speaking of the overseas layout logic of Acreation, Tian Xingzhi, CEO and co-founder of Acreation, said that Acreation adopted a strategy of simultaneous layout in Southeast Asia, the Middle East, North Africa, Latin America and other emerging markets, aiming to quickly replicate successful experience by exploring the commonalities of various regions in key points such as products, users, and operations, which can reduce trial and error costs to a certain extent. However, the simultaneous layout in such a "fragmented" market will not only increase the difficulty of product creation and operation, but also increase the collaboration costs of various local teams at the initial stage of the layout. It is understood that at present, Yachuang has more than 1500 employees in 12 offices around the world, of which 60-70% are overseas employees.
From the perspective of the environment of the target market of Yachuang, Southeast Asia, with a population of 670 million, is the fastest growing Internet region in the world and the fourth largest Internet market in the world. The average daily usage time of mobile devices here is also very considerable. Take the Philippines for example, its Internet users use the social platform for more than 4 hours on average every day. Latin America, on the other side of the globe, has also become a market that Chinese enterprises focus on in recent years because of its "large plate, good foundation and little competition". In addition, the average daily use time of Latin American users for Internet entertainment and social products is about 3 hours and 30 minutes.
When referring to the Middle East and North Africa (MENA) region, the most eye-catching place in the Middle East is undoubtedly the rich "six Gulf countries". Due to proximity and large population, Egypt, Morocco and Tunisia in North Africa are also concerned. In addition, the population structure of the region has become younger. Of the total population of about 500 million in the Middle East, 70% are under 30 years old. In addition, MENA has a large number of users and high consumption capacity. However, due to religious and cultural factors, offline dating in the Middle East and North Africa is relatively limited, and people's demand for online dating is growing.
The current situation of the social track is that old players are playing more games and new players are entering the game. For social gamers like Yachuang who plan multiple overseas markets and multiple track segments, they have to face many competitors. In Southeast Asia, Latin America, Central and Northeast Africa and other regions, social giants from Europe and the United States have considerable influence. In addition to such star products as Facebook, Tinder, Clubhouse, MLive from the United Kingdom, Tango Live from the United States, etc. are also highly praised in emerging markets. In addition, BIGO Live and TikTok from China also often "dominate" the downloading and income ranking of the Sensor Tower. In addition, LiveMe, Kwai, Mico, and "Middle East Tencent" Yalla are also nibbling at the big cake of emerging markets. It will take time to prove whether Yachuang, which relies on "products going to sea together", can build a moat on this basis.
Wen | Deng Yunxi
Editor | Zhao Xiaochun
Figure | Graph Worm