From 0 to 500000, Xiaomi will become the fastest growing smartphone brand in Chile in Q1 2021.
According to the data from Strategy Analytics, the market research institute, the shipment of smartphones in Chile in Q1 2021 will increase by 71% year on year, reaching a record 2.9 million units. Among them, Xiaomi has the most eye-catching performance, winning the third place in the market with 500,000 units shipped, with a year-on-year growth of 1025%, becoming the fastest growing smartphone brand in the region. At the same time, Xiaomi's market share in Chile also rose to 15.5% from 2.4% in the same period last year.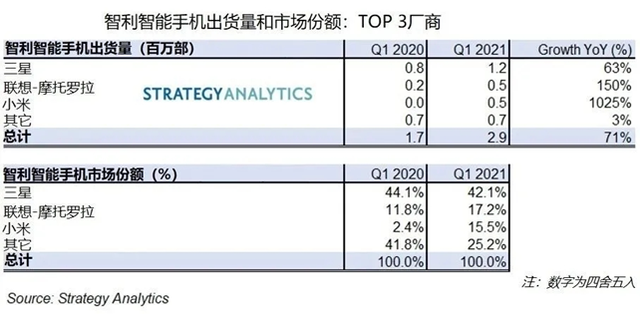 In 2014, 4-year-old Xiaomi extended his tentacles overseas. For Xiaomi, Latin America, which loves to "buy and buy", is a fertile land to be developed. Among them, Chile is the third largest smartphone market in Latin America after Brazil and Mexico, so Xiaomi can't miss it.
Chile: a mature market to be developed
Chile is a country with high income, high Internet penetration and high smartphone penetration. According to the 2020 data of Worldmeter and Trading Economics, a global economic index platform, Chile has a population of about 19 million and a per capita GDP of more than 15000 US dollars, belonging to a high-income country.
In terms of Internet penetration rate, according to the data of Digital Portal in January 2021, Chile's Internet penetration rate is as high as 82.3%, with more than 15 million Internet users. Turning to Chile's smartphone market, Counterpoint Research analyst Tina Lu said: "Chile is the most mature market in Latin America, with the highest smartphone penetration and replacement rate in the region." Neil Mawston, Executive Director of Strategy Analytics, also said: "Chile is the third largest smartphone market in Latin America, second only to Brazil and Mexico. In 2021, despite the impact of the epidemic, the demand for smartphones in the country is still high. The same growth of 71% in Q1 shipment in 2021 is sufficient proof."
Chile, which has a "good" smartphone development environment, is also a crucial step for Xiaomi's layout in the Latin American market. It is reported that as early as December 2018, Xiaomi has begun to layout the Chilean market. However, when Xiaomi first entered Chile, it did not immediately deploy "Xiaomi authorized stores" (rice stores), but sold its products through some large shopping malls and mobile phone stores, but the sales did not seem to be very ideal. In order to further open the Chilean market, on April 27, 2019, Xiaomi's first Chilean "rice store" opened in the prosperous business district in the east of Santiago, the capital of Chile.
As for the reason why Xiaomi was able to achieve such a success in Chile this time, Rajeev Nair, senior analyst of Strategy Analytics, said: "Xiaomi's red rice mobile phone has a high cost performance ratio, which makes it highly recognized among Chilean consumers who have been" downgraded "due to the epidemic, thus helping Xiaomi to win the third place in the shipment volume in the region, and further improving its market share. In addition, Huawei's "failure" of mobile phones during this period has also given Xiaomi a lot of room for growth. "
However, in Chile, Xiaomi has to face the encirclement and suppression of Samsung, Lenovo Motorola, Apple and other competitors, especially the giant Samsung, which still "dominates the market". Woody Oh, director of Strategy Analytics, said: "Samsung's smartphone market share in Chile is currently relatively stable, at about 42%. In 2021, Samsung's smartphone shipments in Chile will grow 63% year on year." However, regarding the development space of Xiaomi in Chile, Rajeev Nair, an analyst at Strategy Analytics, added: "If the current growth trend continues, Xiaomi will surpass Lenovo Motorola and become the second largest smartphone brand in Chile by the end of 2021."
Latin America: fertile land with a passion for "buying, buying"
Latin America generally refers to the American region south of the United States, including Mexico, Central America, West Indies and South America. According to United Nations data, there are 33 countries in Latin America and the Caribbean. In 2021, the population of the region will exceed 650 million. Although the per capita GDP is not low (about 9000 US dollars on average), the regional development of Latin America is not balanced. Among them, Brazil, Mexico, Colombia, Argentina, Chile and Peru are countries with a high level of development in this region, and have also become the key markets for track players.
From the perspective of mobile phone penetration, according to GSMA data, by the end of 2020, nearly 70% of Latin American residents have personal mobile phones. For Latin American consumers, Samsung is still the most popular product in the region, in addition to Motorola, Apple, Huawei, LG and other brands.
In terms of market share, according to the data of StateCounter in 2021, Samsung's market share in Latin America is as high as 45%, leading the way. In addition, Motorola and Apple ranked second and third with 16% and 10% market shares respectively. Xiaomi and Huawei rank among the top five with similar market share. However, for Xiaomi, which began to layout the Latin American market in 2015, such achievements are not impressive.
It is reported that as early as 2015, Xiaomi had tested the Latin American market. As the largest economy in Latin America, Brazil has become Xiaomi's first choice. However, the overall economic situation in Brazil was not good at that time, and consumers had to "tighten their purse". In addition to Brazil's high taxes and a series of "unfriendly" policies introduced by the government due to local protectionism, Xiaomi finally left in 2016 with regret after repeated setbacks. After three years of absence, Xiaomi, who has gained a certain international reputation, decided to return to Brazil. In June 2019, Xiaomi opened its first physical store in Sao Paulo, Brazil. Subsequently, Xiaomi accelerated its layout in Latin America and sold its products to Brazil, Mexico, Colombia, Chile and Uruguay through online shopping malls and offline "rice stores".
Today, Xiaomi's market share in Brazil, Colombia and other major markets is basically in the top five, and it will enter the top three markets in Chile in Q1 2021. However, today's Latin American market is still "dominated" by Samsung. In addition, Motorola, which has a strong "mass base", Apple, which has both popularity and strength, as well as Chinese brands such as Huawei, vivo, OPPO and realme, are also encroaching on this fertile land.
To truly "win" Latin America, Xiaomi still has a long way to go.
Wen | Deng Yunxi
Editor | Zhao Xiaochun
Figure | Unsflash, Strategy Analytics