36 Krypton went to sea to learn that Tanggram (hereinafter referred to as "Tanggram") has recently completed a round A financing of AUD5 million. This round of financing is led by the funds under the Raye Family of Australia, and several other family funds belonging to the same Raye Family participate in the investment. It is reported that the newly raised funds in this round will be mainly used for platform development and market expansion.
According to Nick Tang, the founder and CEO of Tangram, Tangram is the first personal wealth app in the world that combines "shopping and wealth management", aiming to use "consumption rebate" for investment. Specifically, Tangram will negotiate with online and offline merchants about the consumption quota and rebate ratio (usually 5% - 30%) in advance. Users can get a certain rebate when they spend at the cooperative merchants of Tangram. The rebate will be automatically deposited into the user's account in the Tangram, and the funds will be deposited in the bank trust account. Subsequently, users can choose the financial products recommended by the platform for investment at any time.
At present, there are two investment options in the tangram platform. One is Tanggram Seed for "beginners". The minimum investment period of this option is 3 months, with an initial investment limit of AUD 1000, which can achieve a target annual return of 4.2%. The other "advanced" Tanggram Spark has a minimum investment period of 6 months, an initial investment limit of AUD5000 and a target return of 5.05%.
The concept of tangram began in 2016. At that time, financial APP based on "small change investment" had appeared on the market. The so-called small change investment is to put the change generated when users consume into the APP investment account previously bound with the bank account. However, this concept has some meaning of "mandatory financial management" - users sometimes passively generate some "change" in order to invest. However, the "novel" model still attracts many users.
Perhaps inspired by the "small change investment" model, the jigsaw puzzle team began to plan a model combining "shopping and financing" in 2016. Speaking about the R&D experience of the Tangram APP, Mr. Tang Cong said: "In Australia in 2016, our concept is very new, and there is no ready product to refer to. We need to start from scratch. In 2018, we set up an IT team, and then formally began to develop version by version, and each logic was worked out by us. Until April 2020, the Tangram APP was officially launched."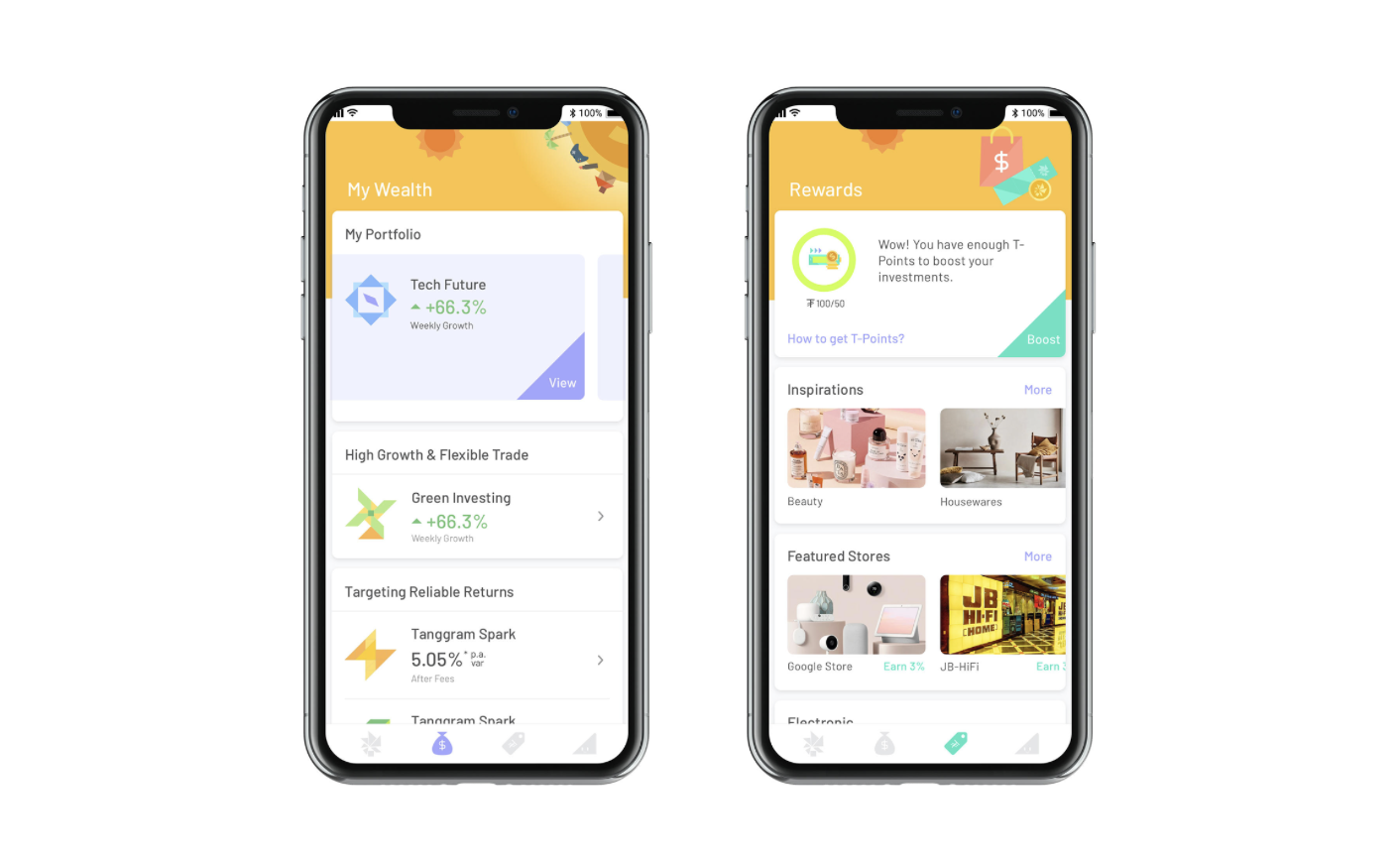 Speaking of the definition of "light financing", Mr. Tang Cong believed that light financing does not only mean that users can easily complete investment, but also how to ensure that users can be more convenient and worry free in future financing after investment. To achieve this, we have developed a strict screening mechanism for the selection of funds, products and fund managers. For example, when selecting funds, we will select funds that have been established in Australia for at least 5 years and have certain requirements on their investment performance in these years. It is reported that Tangram has reached cooperation with two Australian financial management funds: La Trobe Financial, which manages AUD12 billion of assets, and Trilogy, which focuses on real estate investment.
From its launch in 2020 to March this year, Tangram has nearly 100000 registered users, with a total investment of more than AUD 10 million, covering all Australian cities. According to Mr. Tang Cong, "Tangram users are 25 to 40 years old, have stable jobs, and their average personal income is between 60,000 and 80,000 Australian dollars per year. At present, our average account investment amount exceeds 10,000 Australian dollars, while the average account investment amount of other financial management APP is about 1000 Australian dollars." Speaking of the needs of users, Mr. Tang Cong said: "Most users will have the need to buy a house and a car. In addition, for Australian users, they sometimes save money for the upcoming holiday travel. When facing these users, we want to provide them with a low investment threshold, good liquidity, stable income, and of course, the risk is higher than the option of 'saving money'."
In terms of revenue, Mr. Tang Cong said, "Tangram has two main revenue sources at present. The first is 0.5% of the fund management fee (platform management fee). The other is that in the" consumption rebate ", we will draw 5-10% of the amount returned to users from merchants."
When it comes to the future, Mr. Tang Cong said: "In terms of business layout, we will also launch more investment options this year, and achieve an investment of more than 100 million Australian dollars. In terms of market layout, in addition to the development plan in Australia, we have also started to layout in China. At present, Tangram has reached a landing agreement with Nanjing Pukou District, and will set up a Nanjing branch in July. In China, we will focus on pensions. In addition, Tangram will also enter Singapore, Malaysia Come to Southeast Asian markets such as West Asia. At the same time, we also hope to complete another round of financing in the second half of this year to prepare for the subsequent listing in Australia, which is also our most important goal in the near future. "
In the face of the young generation who don't like fuss, the jigsaw puzzle wants them to make money while buying.
Wen | Deng Yunxi
Editor | Zhao Xiaochun
Figure | Tangram Light Financial Plan