In the 18 months after February 2020, 32 billion dollars of investment poured into the Southeast Asian logistics market, and the 43 financing deals completed by delivery were 800 million dollars more than the total amount of transactions predicted by the outside world.
Ninja Van is one of the enterprises obtaining financing, with a round D financing of 279 million dollars.
In September 2021, Ninja Van completed another new financing, with a transaction amount of 578 million dollars. Among them, Alibaba, which regards Southeast Asia as its first globalization station, invested 200 million dollars and obtained about 10.8% of the equity, becoming the second largest shareholder of Ninja Van.
Founded in 2014, Ninja Van now has more than 2000 operations research hubs, warehouses and delivery stations in Southeast Asia, and the final delivery can cover almost all remote villages and towns in Singapore, Malaysia, Indonesia, Vietnam, the Philippines and Thailand (hereinafter referred to as the six Southeast Asian countries).
Ninja Van's positioning is similar to that of Shunfeng in China, and more than 95% of the logistics network is self operated. In the remote area of Southeast Asia with rugged terrain, Ninja Van delivers packages by means of transportation including but not limited to motorcycles, boats and even buffalo.
Since its establishment, with its extensive distribution network, Ninja Van has become the top two regional third-party express logistics company in Southeast Asia (the first is J&T Express).
Coverage and efficiency
When the round B financing was completed in 2016, Li Changwen, Ninja Van Lianchuang and CEO, said in an interview: "At present, there is no company in Southeast Asia that does cross-border last kilometer distribution, and even Singapore Post, Malaysia Post and Kerry, Thailand's leading logistics company, only serve their own countries. When e-commerce platforms need a company that provides regional logistics distribution, they can't find one."
By the end of 2018, Ninja Van will become one of the service providers that have solved the pain point of e-commerce platforms in Southeast Asia.
According to the official data, Ninja Van has achieved 100% coverage of distribution networks in Singapore, Vietnam, Thailand and Indonesia, and more than 95% coverage in Malaysia and the Philippines.
For Southeast Asia, three problems need to be solved to solve the "last mile" distribution:The coverage problem of the world's largest island area, the timeliness guarantee under extreme weather and bad road conditions, and the consumption habit of relying on offline payment.
Express companies that rely on e-commerce to develop need to show strong performance capability and efficiency in front of merchants and buyers.
According to the latest company data, Ninja Van currently has a total of 67000 employees, of which the number of team members dispatched in the last kilometer accounts for more than 75% of all employees.
In the remote areas where the multi island terrain is more prominent and the road facilities are backward, "motorcycle+boat" is one of the most commonly used transportation tools for Ninja Van dispatchers. Financial Times once reported that Ninja Van even used water buffalo in the last kilometer of distribution.
In densely populated areas, cooperative convenience stores, booths and express cabinets have solved a part of the delivery and parcel delivery volume for Ninja Van. For example, in Singapore, the most densely populated city, Ninja Van has more than 1000 self promotion points; In the Philippines, Ninja Van has developed the supermarket chain Puregold and the convenience store Minitop into a cooperative self promotion point in a relatively low-cost way.
In Southeast Asia, where 47% of the population has no bank account, COD (payment on delivery of goods) has become a sharp tool to go deep into the logistics delivery terminal. Ninja Van is the first logistics service provider in Southeast Asia that has cash on delivery services in all covered areas. By the end of 2020, Ninja Van's annual COD collection of cash for goods is 1.5 billion dollars.
At the end of 2019, the daily order volume of Ninja Van was 1 million, which is a good result for Southeast Asian logistics providers who have been established for 5 years.
However, there were no few regional logistics service providers in Southeast Asia at that time. In terms of the six Southeast Asian countries with the highest e-commerce penetration rate, J&T Express, Lalamove and GrabExpress have also achieved full coverage. The logistics business GoSend under GoTo, the logistics business Qxpress under the e-commerce platform Qoo10, the Indonesian logistics provider Deliveree, and the GOGOX mainly engaged in freight services are also expanding the distribution network boundary.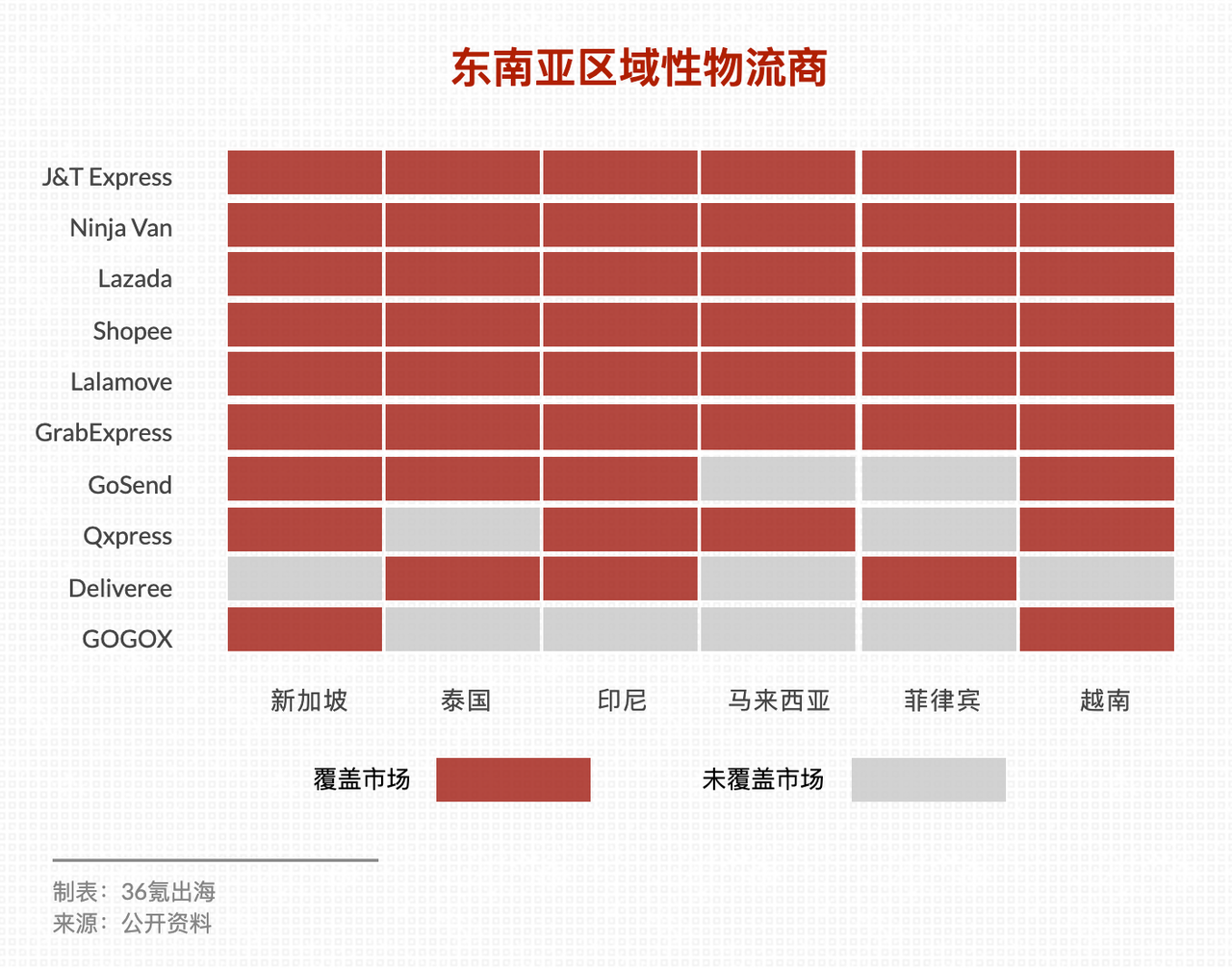 The epidemic in early 2020 has become the watershed of Ninja Van's strategy. After a short period of decline and stagnation, Southeast Asia ushered in an outbreak of online shopping, and the number of express packages also began to increase exponentially. In July 2021, Ninja Van announced that the daily order volume was 1.7 million, and two months later it exceeded 2 million.
In the heavily self operated business model, doubling the number of packages means doubling the human cost, and technology has become one of the few alternatives. To carry the increasing business volume without increasing too much labor cost, Ninja Van needs multiple efficient and large transfer centers located at the hub.
The completion of Ninja Van's heavy asset project has been refreshed in Southeast Asian media reports.
On the eve of the Double 11 Festival in 2021, a 7500 square meter Ninja Van automatic training center will be completed in Singapore; Also on the eve of the Double 11 Festival, a 48000 square meter sorting center close to Thailand's Suvarnabhumi International Airport was put into use, which can handle 800000 packages per day; At the beginning of 2022, Ninja Van built the largest warehouse so far in Saanan (Kuala Lumpur place name), Malaysia.
Ms. Han Peiyi, General Manager of Ninja Van China, said, "Next, on the last kilometer of the distribution network, what Ninja Van needs to do is to solve the technical problems of reverse logistics, address modification and other problems, and how to achieve standardized services in extreme weather."
Southeast Asia single volume dispute
There are not a few logistics and express industry giants developed by binding e-commerce platforms, especially in China, such as Taobao's "three connections and one arrival", and temporarily the "Jitu". For logistics providers relying on e-commerce, single volume is the "heart", providing continuous blood supply for the company's development.
According to the report of RedSeer, the package volume of Southeast Asian e-commerce in 2020 will total 6 billion, and the daily order volume will be about 16.4 million on average. The rapid expansion of Shopee, Lazada and other local platforms, as well as the arrival of eBay, Wish and other overseas platforms, continue to stimulate the growth of e-commerce orders in Southeast Asia.
There are not a few express companies that like the "cake" of e-commerce logistics in Southeast Asia.
Unlike China's express market, where Shuidayu is big, if the service providers engaged in single market business are included, there are about 100 third-party logistics companies in Southeast Asia. According to Tech in Asia, there are no fewer than 50 third-party logistics providers cooperating with Lazada alone, and no fewer than 100 third-party logistics providers cooperating with Shopee.
According to the statistics of RedSeer, about 80% of the package volume of e-commerce express delivery is distributed to third-party logistics providers, while the other 20% is held by the platform's proprietary logistics.
As the platform matures, Shopee and Lazada, the biggest allies of third-party logistics, do not hide their intention to "grasp the whole chain of payment to logistics".
Lazada has been investing in the construction of its own logistics assets. According to Tech in Asia, Lazada currently has over 300000 square meters of self built warehouses, 15 sorting centers and nearly 400 collection and distribution stations in Southeast Asia. During the Double National Day in 2020, Lazada announced that more than 85% of its packages were delivered through its own logistics network.
Shopee also covers its own logistics SLS (Shopee Logistics Service) to six countries in Southeast Asia, and the delivery price is about 70% of the market price. According to LatePost, Shopee switched SLS to the first place in the platform logistics supplier list last year.
The competition Ninja Van faces in the local logistics market is not small. According to public information, Ninja Van will handle about 360 million packages in 2020, ranking third in third-party logistics in Southeast Asia (including regional logistics providers and single market logistics providers).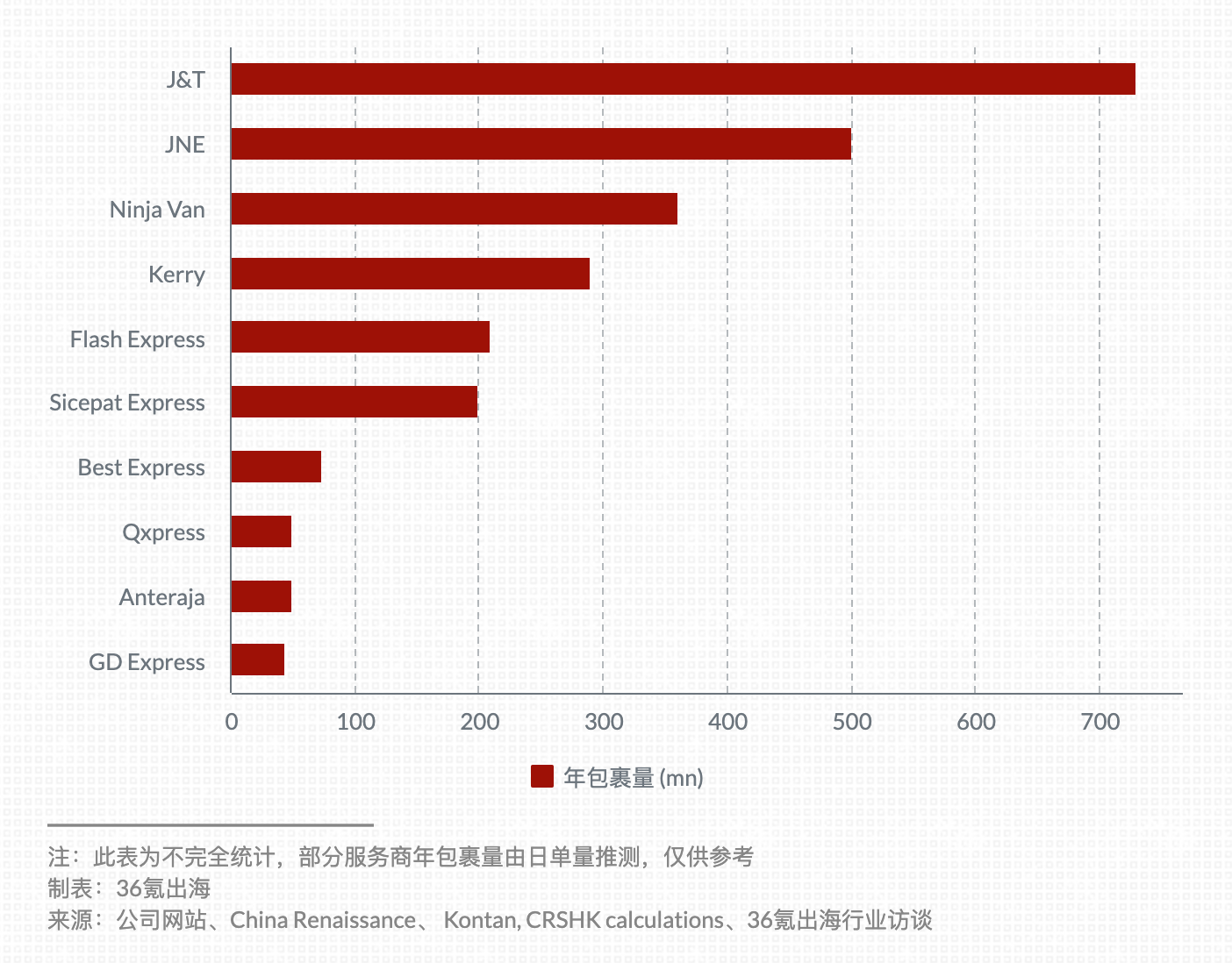 According to 36 Krypton Sailing, most of its orders come from Shopee, Lazada, Bukalapak, Tokopedia and other local e-commerce platforms in Southeast Asia, with the former two taking the highest share.
Cross border cooperation is also a single source. In 2019, Ninja Van won the strategic investment of Southeast Asian Internet giant Grab, and then Grab users can choose to use Ninja Van to provide logistics services in their applications. Some orders of Grab Express logistics business were directly imported into Ninja Van.
According to the statistical data of RedSeer, compared with the Chinese market, the total daily order volume of third-party logistics in Southeast Asia is less than that of J&T Express, a Chinese company, in the same period. In the short term, it seems that the Southeast Asian e-commerce express market is not particularly large, and it is difficult to breed a "giant beast".
The cross-border e-commerce from China to Southeast Asia gives Ninja Van a second growth point.
In 2019, Ninja Van established China's wholly-owned subsidiary, Energizer Logistics, in Shenzhen, focusing on cross-border B2C logistics delivery, B2B procurement and supplier development. It is understood that some of Ninja Van's customers in China include Jingbangda Trading (JD), TikTok, SHEIN, Bangwood, etc.
As the average e-commerce penetration rate of the five Southeast Asian countries (except Singapore) is less than 3%, Ninja Van China has successively launched cross-border B2B procurement and supply chain business on the basis of logistics business. It is understood that the sub businesses include helping Southeast Asian enterprises to purchase Chinese goods, develop suppliers, etc. In addition, they also provide financial and cross-border remittance services.
However, like the local logistics market in Southeast Asia, it is not only Ninja Van that sees the potential stock of "China Southeast Asia" cross-border logistics. For example, players with more powerful Chinese genes, such as Jitu, Shunfeng, JD Logistics, Yuantong, are also eyeing cross-border logistics from China to Southeast Asia.
The opportunity to seize the market is fleeting, and the "cash ability" of the giants seems to be enough to support them to run faster on the road of market expansion. Next, in addition to the air transportation, sea transportation, warehousing and other resources required for cross-border distribution, Ninja Van may also need to quickly open its brand in China's logistics market.
This means that Ninja Van needs more investment and more Chinese friends.
Article | Chang Weiqian
Editor | Zhao Xiaochun
Figure | Provided by the enterprise