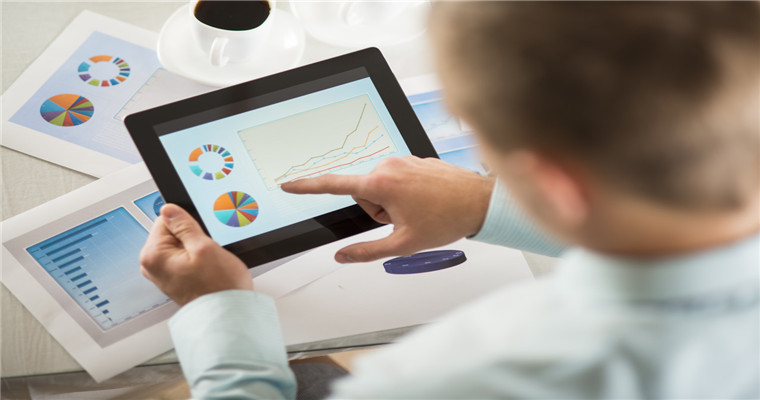 ShopifyofShop APPNow you can find the sellers, add their products to the shopping cart, and check out. These steps do not need to leave the APP. This app is obviously different fromShopify independent stationDifferent.
one、Shopify has no plan for the platform?
Blue Ocean Yiguan has learned that,ShopifyPresident Harley Finkelstein once said in an interview that they had no plan to make a marketplace (platform). However,ShopifyIt is slowly adding functions to makeShop APPCloser to marketplace.
When the Shop APP was launched in April 2020, it had no shopping cart or in app checkout function; Click the product to pop up a window on the shop website page. Now these functions are integrated, allowing users to shop without leaving the app.
This app meets the definition of marketplace.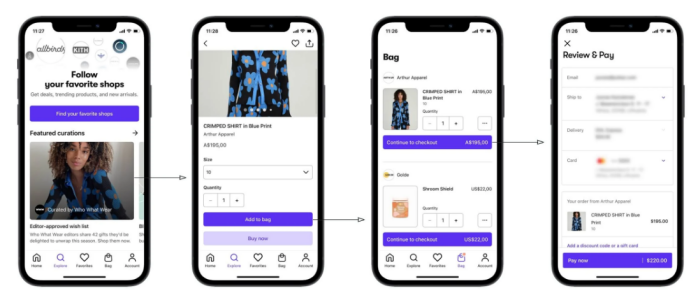 Shop APP does not lack sellers, but commodity search function. Users can not find specific products by searching "sweaters", but only Shopify sellers who sell sweaters.
But Shopify is testing a feature to solve this problem.
IIShopify is testing the product search function
Shopify is quietly testing a new search feature that allows customers toShopify SellerSearch products between, which means that products from competitive brands will appear in search results one by one.
However, in Shopify, not everyone is in favor of developing search functions. Even if participating in general search is a seller's choice,The internal debate about whether this feature will harm the seller continues。
Universal search means that higher ranking is affected by algorithms and indicators, and also means that sellers can obtain higher ranking through payment.
3、 The monthly download of Shop APP exceeds that of Wal Mart, Nike and Target
Shopify doesn't have a clear direction for this app, but at the same time, because Shopify recommended this app in the email after purchase, the number of downloads of the Shop app reached millions of times per month.
The people who downloaded this appWal-Mart、Nike、Target TargetAnd almost all other companies (exceptAmazonIn addition).
Because tens of millions of shoppers have downloaded the Shop APP, if Shopify launches universal search to everyone, the app will immediately generate a considerable amount of GMV commodity transactions. But it is not enough to affect the broader e-commerce.
IVShop APPCan't replace Amazon and other platforms
1. On the seller side,The choice of selling products is not "either or".
Instagram、Facebook、TikTok、Pinterest、Google ShoppingThese platforms are active places for Shopify sellers; There are also many independent website sellers selling products at Amazon, Wal Mart and Target.
Since they can sell through multiple channels, it seems unnecessary for Shopify independent site sellers to compete with Amazon, and even more and more sellers are no longer so opposed to Amazon. This reduces the probability of using only Shop APP instead of other platforms.
2. On the buyer side,MarketplaceThe function is not enough to make the shop a shopping destination.This app is unlikely to replace Amazon or other platforms, because its choices are uneven.
It can not be broken through through a few categories, because The Fascination, Thingtesting orEtsyThe DTC brand discovery platform has already done a good job in this field. It also cannot copy Instagram or TikTok's social features and user generated content.
Finally,It is not clear whether the independent station brand will benefit from the Shop APP,You will still see your products "submerged" in the search results.
According to Blue Ocean Yiguan,ShopifyMaybe he accidentally set up aMarketplace。 However, as Tobi L ü tke (Shopify CEO) said, this is an obvious script, a script that will not subvert e-commerce.
(Polly ZhangNew media of cross-border e-commerce - Blue Ocean Yiguan website domain news) connects with high-quality resources of cross-border e-commerce.Wal Mart, Coupang、Wayfair 、Mercado Libre and other platforms settled,Brand copywriting planning, network wide promotion, e-commerce training, incubation and other services, please contact us. No unauthorizedRewriting, reprinting, copying, clipping and editingIn whole or in part.