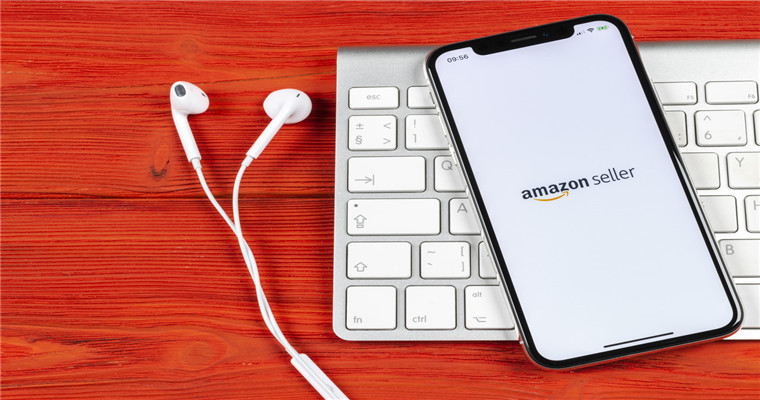 From Revlon Revlon One Step hair dryer to Paula's Choice BHA exfoliating product,TikTokThe most popular products areAmazon BeautyProduct likeBSRTop of the list.
Blue Ocean Yiguan has learned that,According to a product sales tracking report and analysis of SimilarwebTikTokThe beauty products on the website are available inAmazonSales onAverage month on month growth of 85.3%, exceeding the average level of their respective categories.
IRevlon hair dryer ranks first among Amazon beauty products
Revlon has benefited a lot from the viral transmission of TikTok. The brand's hair dryer brush is in Amazon'scosmetologyThe sales volume of its products is the first, and its Oil Absorbing Volcanic Face Roller product ranks the third.
These two beauty products were listed by Amazon spokesman as "the products with the highest total sales volume of the black five websites this year",Both have experienced viral transmission on TikTok.
For example, One Step brush has been the pillar of TikTok beauty products since it first became popular on the platform in February 2020. At the same time, thanks to the video of makeup artist Lexington (@ looksbylexington) demonstrating the product, Volcanic Face Roller became popular for the first time in March 2020.
When this product becomes popular again in the spring of 2021Amazon's sales in March increased by 54% month on month and 65% in April.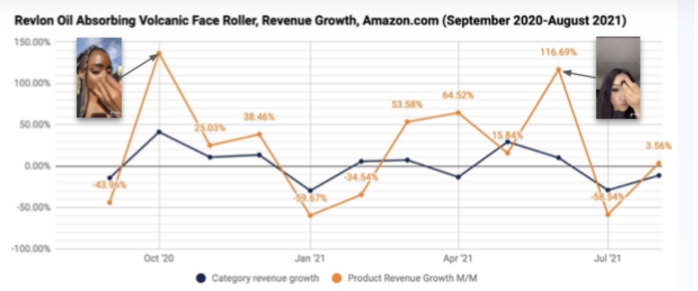 IITikTok online celebrity plays a great role in beauty product marketing
Small online celebrity shows the positive effect of using the product before and after the video release, which may be a major driving force for viral transmission. According to Similarweb, among the beauty websites with great influence from TikTok, those that have influence on Amazon's sales includeDr. Muneeb Shah、Mari MariaandMireya Rios。
1. Dermatologists have many fans on TikTok, who all think they are knowledgeable people. They not only recommend daily skin care products, but also give suggestions on how to maximize the effect of the product, so that people can better use the product.
In January, Shah publicized Paula's Choice BHA exfoliation product in a TikTok video,The video received 3.3 million hits,thereafterAmazon's sales grew 13% month on month.
3. When Edward Zo, an online celebrity of TikTok, mentioned the same product in March this year, its sales increased by 17%. This product currently ranks 18th on the Amazon Beauty BSR list and 9th on the skin care category list.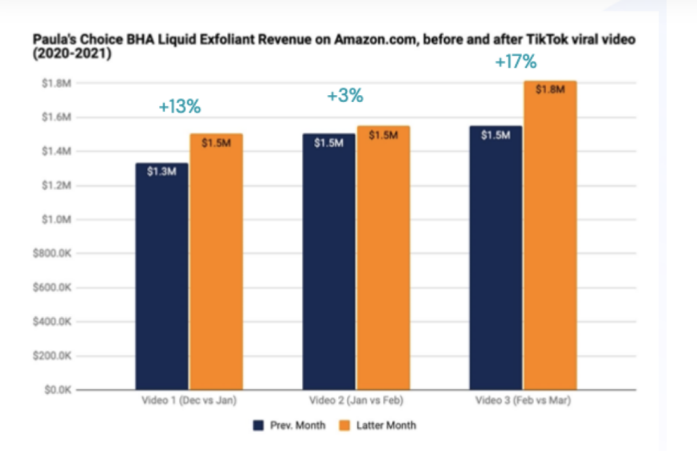 4. Eos' shaving cream was also affected by the viral transmission of TikTok, and its Amazon sales increased significantly.
In February 2021, TikTok's online celebrity Carly Joy released a famous video full of dirty words, which triggered a product cooperationSales soared 171%。
5. TikTok's online celebrity @ realbellabands video made SoftSheen Carson's Magic Shaving Powder in JulySales soared by 177%。
6. A video of Rios made Aquaphor grow for several months in December 2020. In March 2021, with more TikTok users publishing relevant information, this number will increase to 28%.
3、 The brand uses TikTok to promote Amazon product sales
Some brands have realized the value of TikTok marketing channel for Amazon sales.
For example, RevlonTikTokA video of online celebrity Natalie Atick Nunez (@ therobelifeblog) was released on the website, saying that she bought this face roller product on Amazon.
But most of the time, TikTok Red Cross will directly direct fans and consumers to brand websites, and sometimes also point to cosmetics retailers such as Ulta or Sephora that cooperate with them.
TikTok itself is like this. Its 2021#TikTokMadeMeBuyItThe gift guide includes Revlon face roller products, links to purchase on Amazon, and links to other retailers or DTC websites for other beauty products.
As long as effective TikTok marketing is carried out, even if there is no official Amazon store, there will be a surge in sales. Similarweb said that when the famousAHA 30% + BHA 2% Peeling SolutionAfter the solution became popular on TikTok in September 2020, the third-party sales of The Oriental in Amazon began to soar, and then became popular again in April 2021.
According to Blue Ocean Yiguan,When creating a viralTikTokWhen it comes to products, sellers should know that natural posts are most popular with consumers, because consumers need not worry about whether there is false publicity, and can recognize and trust the use effect of the product. Of course, the payment cooperation with greater influence will certainly help to increase the exposure rate of products, thus increasing sales after the initial boom.
(Polly ZhangNew media of cross-border e-commerce - Blue Ocean Yiguan website domain news) connects with high-quality resources of cross-border e-commerce.Wal Mart, Coupang、Wayfair 、Mercado Libre and other platforms settled,Brand copywriting planning, network wide promotion, e-commerce training, incubation and other services, please contact us. No unauthorizedRewriting, reprinting, copying, clipping and editingIn whole or in part.