Scan the code of the poster at the end of the article and get the following industry reports for free
2021 Fashion Clothing Consumption Trend Report
White Paper on Digital Marketing Growth of 2021 Cross border Seagoing Industry
Overview of China's cross-border e-commerce logistics industry in 2021
Chinese sellers are killing all sides in the global wig market.
A Chinese seller, doing wig retail in the United States, opened 30 stores at one go, and achieved revenue in 2020300 million yuan.
Jay, the seller of Zhengzhou Amazon, entered the Amazon wig market when the category competition was most fierce. In less than half a year, Jay has made a breakthrough in the category, and the monthly turnover has stabilized atAbout 30000 yuan.
Of course, Amazon is not Jay's main platform.
Jay's wig traffic on AliExpress and Dunhuang is much larger than that of Amazon. At Jay's peak,one monthSold valueA wig worth 600000 yuan.
Xuchang, Guangzhou and Shenzhen are active in a large number of cross-border wig e-commerce.
Xuchang is a wig seller in an independent station, with an annual sales volume of 400 million to 500 million yuan. There are also independent station sellers in Guangzhou, with an annual sales volume of about 1 billion yuan.
According to Sellersprite data,Among Amazon's top 100 sellers, 96 are from China,One seller is from Hong Kong, China. The remaining 3 sellers are from the United States.

(Source: seller spirit)
The number of Chinese sellers accounts for more than 96%.
The wig market of Amazon US Station is almost covered by Chinese sellers.
Not only on Amazon, wigs have also become a popular product on AliExpress in recent years.
On October 26, 2020, Liu Qiang, a post-90s female anchor,I changed 15 wigs in one minute.According to Liu Qiang, in the past, when the offline counter was the "counter sister", only 10 customers could be contacted every day.
But through live broadcast of AliExpress, Liu Qiang2 hoursWill be able to access the worldMore than 700 customers.
Ni Qianqing, head of the global express wig industry, said wigs are the star products on express,On average, one wig is bought every 2 seconds.
Recently, during the Double 11, Xuchang wig was ranked the third in the overseas hot sale list of Quick Connect China's industrial belt.
(Source: Henan Daily)
When it comes to wig industry, Xuchang is an unavoidable place. On Amazon, the head sellers are very concentrated, many from Xuchang.
A data shows that VCKOVCKO is the top wig seller in Amazon North America(Xuchang CityFlying Fish Trading Company), Dreamover and FANDAMEI, which ranked second and third, came from Shenzhen, while ENTRANCE STYLES, FAELBATY and Nnzes, which ranked second and third, were all from ShenzhenThe brand of Xuchang cross-border e-commerce company.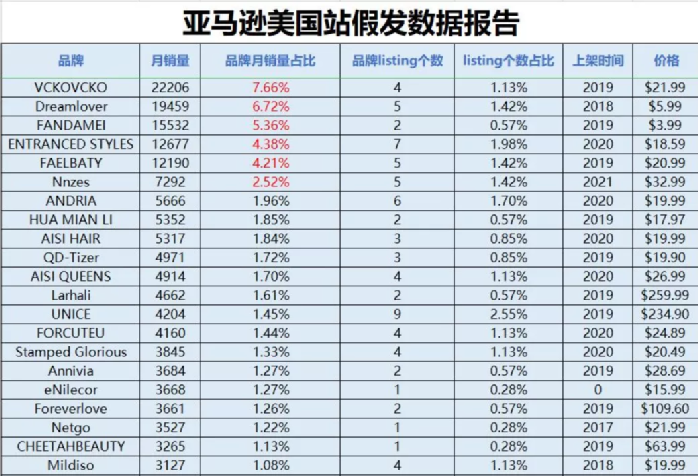 Monthly sales ranking accounts for more than 2%Of the 6 sellers4From Xuchang, two from Shenzhen.
The sales proportion of these six top sellers in the Amazon hair product category,The total has reached30.08%。
VCKOVCKO, which is recognized by Amazon as "Best of the best", has the highest sales within 30 days, with sales up toAbout 122800 US dollars (about RMB779 thousand and 600)。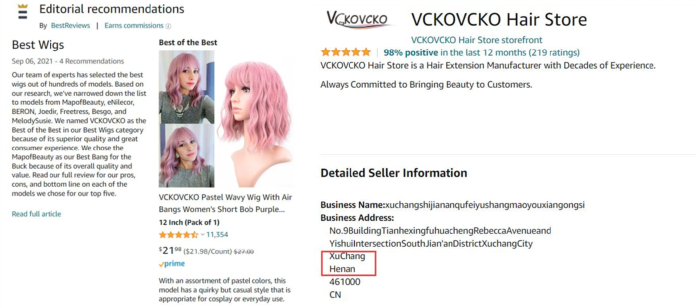 VCKOVCKO stores only5 products,But nearThe total sales volume in 30 days exceeded26 thousandSingle.
(Source: seller spirit)
Such a volume is beyond the reach of ordinary sellers.
▎stayIt's hard to be a Xuchang seller on Amazon?
There are many opportunities to sell wigs on Amazon, but there are also many problems.
According to Guan Zhongping, an industry observer, at present, wig sellers on the Amazon platform are basically from Xuchang and Zhengzhou. These sellers have a natural supply advantage,A wig may be cheaper than other sellersDozens of dollars.
"The competition for Xuchang wigs is too fierce. At present, this category has begun to appear on AmazonHead concentration effect,It is very difficult for new sellers to compete with these old sellers who have settled down for many years. "
In addition, because of the high price of wig raw materials and the shortage of high-quality goods, many new sellers simply cannot establish an advantage in the supply chain. What can finally be done well on Amazon,Many are still old sellers from Xuchang.
The high-end products in wigs are made of human hair.In the past few years, there was a large supply of human hair in China, and wig manufacturers could purchase it without much effort.
Nowadays, many women in China are reluctant to wear long hair, which leads to the growing tension of real hair,We have to go to India, Myanmar and other countries to purchase. Many wig factories and sellers in Xuchang have worked hard in the supply chain for many years and have great advantages.
Many latecomers adopt the grey operation method.
"Nowadays, the competition in the American black wig market is very fierce. Many people can still do what they enter the market by breaking the rules." Shi Xin, a senior wig seller at Amazon, said.
According to Shi Xin, the current Amazon wig sellers, in addition to the old head sellers and some sellers with supply advantages,Most of the new sellers' promotion can only be done by scalping.
This is very dangerous in the current environment. Generally, the value of wigs is not low. Once the number is sealed, the loss is undoubtedly huge.
However, the sellers with supply advantage start with ultra-low prices, and the ordinary sellers can't compare with them.For new sellers, wigs may not be a suitable category for novices.
The seller Yan Ping has 3 years of experience in making wigs on Amazon.
He said that because the category competition is too fierce, it is ineffective to spend promotion expenses on Amazon advertising. At present, the promotion of wigs mostly depends on external drainage, especiallyYouTube,The effect is much better than in station advertising.
"Of course, sometimes you need some tips."
According to Yan Ping, a month to a month and a half before Halloween is a good time node. During this period, you can use discount, coupon and other methods,Explosive pushNew products.
Since the new product has a traffic support period, if the quality is guaranteed, then the new product has 60 reviews, with a traffic weight of 5 points in total,It will not be much lower than the weight of the old links with 1000 comments and an average of 4.5 points.
However, Yan Ping's approach is not realistic for many sellers at present, especially when there are conceptual differences between operators and bosses.
"The boss doesn't trust me to release advertisements outside the site. He basically only gives the budget for advertisements inside the site. Sometimes even the budget for advertisements inside the site is skimpy."
According to the seller Li Yun, most advertising budgets are prioritized. The advertisements in the station are not spent, and they will not spend money outside the station.
To this end, Li Yun explored other methods, such as video evaluation and picture evaluation.
If there are no pictures and videos in the comments, the conversion rate is less than 5%. But with pictures and videos, the conversion rate can be increased to 15%.
In addition to the above problems, the return rate of wigs on Amazon is relatively high. This leads to products that appear to have high gross margins, but are actually dragged down by the return rate. Marginal costs erode a lot of profits, and the flow is still not going up.
Of course, most of the above sellers' experiences are personal. The specific situation needs to be verified by interested sellers.
However, despite a series of difficulties, Chinese wig sellers still have a big piece of cake on Amazon, which is still growing.
Since the second half of the year, the search volume of "Wigs" has increased.
According to Sellersprite data, in October alone, the search volume of "wigs" on Amazon reached about1608000,It has reached the peak since 2021.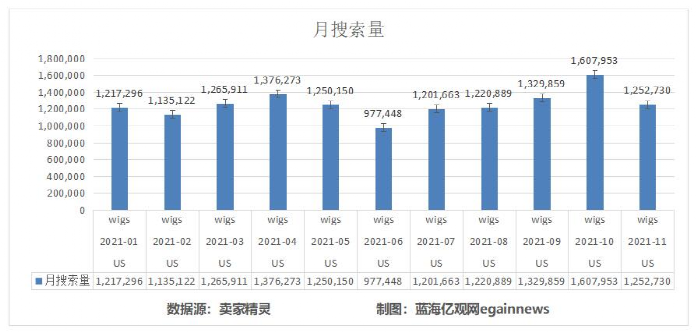 This is because it is Halloween at the end of October. Foreigners are popular in "playing the ghost" or buying Halloween costumes for children, and the demand for wigs of various colors will rise sharply.
One seller gave feedback,On Halloween,The daily sales volume can be stabilized at240-300Top.
According to Sellersprite data, there are more than 20000 search results about "Wig" keyword on Amazon.
Among them, the average sales volume of the top 172 ASINs was 1118monthThe sales volume is 43000 dollars.
(Data source: seller wizard)
Among them, the single link with the highest sales volume in the past 30 days has a sales volume of aboutUSD 417700 (about RMB2.6598 million yuan), high gross profit ratereach81%。
Is there really a broad market for such "high gross profit" products?
▎The lost wigs will soon enter the market?
As the leader of the wig industry, Rebecca is a big seller that sellers can never bypass.
However, from the current situation,Rebecca has just made efforts on Amazon.
according torebecca The published data shows that although Rebecca will achieve approximately1.819 billion yuan,The net profit has even reached212 million yuan.
Net interest ratethe height is11.64%,This is a group of cross-border e-commerce businesses in ShenzhenIt is difficult for big sellers to do so.
However, in 2020, affected by the epidemic, Rebecca's business was "hit hard", with its revenue declining and net profit declining seriously.
By 2021, the total revenue of the first three quarters will riseHas exceeded1 billionYuan,Net profit is44.5346 million yuan,More than 2020annualNet profit ofthree thousand eight hundred and fourteen point one fiveTen thousand yuan.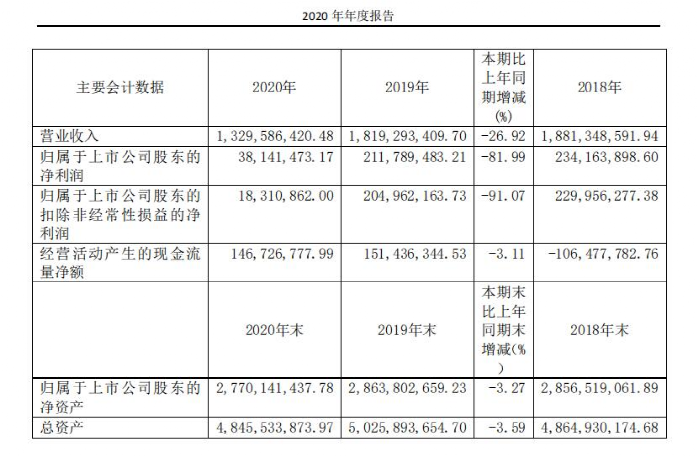 The data of 2019 has been fed backBefore the epidemic, how high was the profit of the wig industry.
<font si