Recently, Youzan AllValue and the North American cross-border mobile payment company Tianjie Payment AlphaPay have reached a strategic cooperation. The two sides will jointly provide stable, professional and ultimate cross-border shipping solutions for cross-border merchants through independent station building, international small programs, cross-border payment and other ecological resources, and work together to boost the growth of Chinese brands in the global market.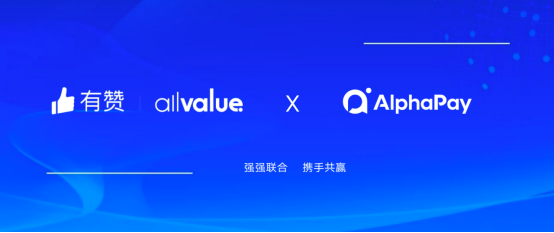 Based on years of cross-border technology payment service experience, AlphaPay has obtained Alipay, WeChat payment and UnionPay authorization in Canada, which can provide cross-border merchants with payment solutions in the international version of small programs, and provide cross-border merchants with safe and ultimate cross-border collection experience.
The international version of the applet is a key measure for cross-border businesses to open up overseas Chinese markets and thus realize the globalization strategy. The strong alliance of Youzan AllValue and AlphaPay will protect this strategic measure, so as to finally realize the business globalization strategy planning.
  High quality service provided by AlphaPay to merchants
Safe and reliable:PCI-DSS security authentication and encrypted payment channel guarantee
Better rate: preferential rate with competitive advantage
Faster arrival:Safe and fast arrival within 2 working days
More options:One stop support for WeChat, Alipay, UnionPay and credit card payment
Simple and easy to use: simplify financial management and make funds clear at a glance
  International version applet, multi-channel sales promotion order conversion
For overseas merchants facing the Chinese market, Youzan AllValue has launched "WeChat international version applet". In addition to helping merchants complete the construction of independent stations, they can also quickly generate international version of small app stores, more easily and quickly reach overseas Chinese markets in Europe, America, Southeast Asia and other countries, meet the shopping experience of overseas consumers, and improve the order conversion rate.Use scenarios of international applets:AllValue merchants can use the international version of the applet to play with the operation of the overseas WeChat community, and overseas Chinese consumers can quickly complete shopping and place orders through the international version of the applet.
Advantages of international applets:
• Multi channel sales to improve order conversion rate. AllValue provides merchants with international small programs, extreme mobile shopping scenes and interactive experiences, which are more in line with the shopping experience of overseas Chinese. Businessmen can use WeChat ecology and overseas Chinese circle to cover more Chinese consumers and improve the order conversion rate of independent stations.
• Diversified overseas social marketing methods, fission and diversion。AllValue provides merchants with international applets, which use official account, applets and WeChat groups to communicate, and integrated marketing accelerates traffic fission. It conforms to the localized consumption habits of overseas Chinese and facilitates diversified overseas social marketing methods of businesses, such as group competition.
• No need to develop, quickly generate small programs, and the product experience is smoother than H5. AllValue merchants can quickly generate international applets, reduce development time and cost, and enjoy smooth shopping applets, which are simple and fast.
about AlphaPay Tianjie PaymentAlphaPay Tianjie Payment is Canada's leading mobile payment and marketing service provider. Authorized by Alipay, WeChat payment and UnionPay, it focuses on cross-border mobile payment and digital marketing solutions, helps traditional industries achieve digital transformation, helps businesses achieve online and offline connectivity, and serves Chinese brands to go global.Since its establishment in 2017, AlphaPay has always adhered to its strong technology and product R&D capabilities, adhering to the concept of simplicity, security and efficiency to build a global cross-border payment platform. It is committed to providing merchants with high-quality one-stop cross-border payment experience and marketing solutions through the most complete payment system and digital marketing products, helping global enterprises build a fast and convenient bridge with 1.4 billion Chinese consumers, creating products with the concept of smart business, and helping merchants improve business efficiency and user payment experience.
About Like AllValueAllValue is a cross-border e-commerce independent station building tool launched by Youzan. Provide independent station systems and business services for global e-commerce sellers, help customers quickly build e-commerce websites that face consumers directly, carry out advertising and social marketing, operate private domain traffic, and connect with global payment and logistics.  AllValue is committed to helping Chinese brands go to sea, bringing more orders through social fission and content marketing, improving the value contribution of individual customers with sophisticated customer operation tools and methods, accelerating growth in the international market, and making every effort to create "new growth" for sellers.  Youzan is a leading trading SaaS company in China, serving the super6 millionMerchant. In 2020, we will help merchants to conclude business103.7 billion yuan.The company was listed in Hong Kong, China in May 2018.