Global eBay is ultimately doomed to bankruptcy?
The latest news shows that the wholly-owned subsidiary of Cross border Communication, Global E-commerce, has been ruled to accept bankruptcy liquidation,The Taiyuan Intermediate People's Court has issued a "Civil Ruling Paper", ruling to seal down all assets of Shenzhen Universal. Cross border Brother's move towards this ending is thought-provoking!
Global eBay has been ruled by the court to accept bankruptcy liquidation, and the Shenzhen Stock Exchange5 Questions Cross border Communication
Recently, Cross border Communication released a notice regarding the court's ruling to accept bankruptcy liquidation of its wholly-owned subsidiary, Global E-Buy.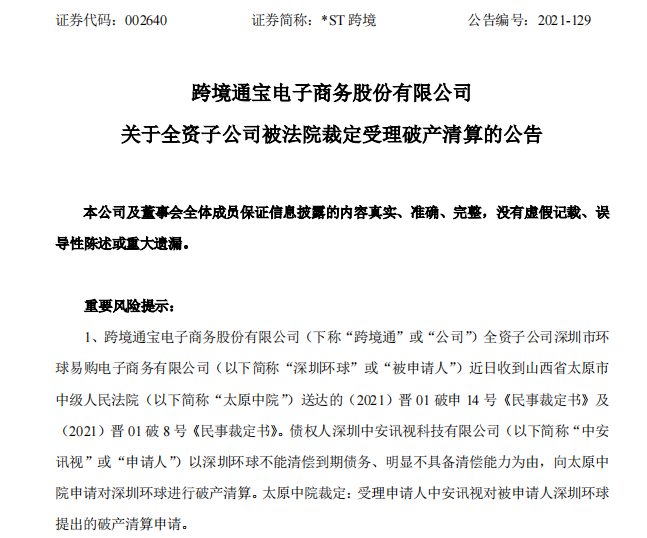 Announcement display,On November 24th, Shenzhen Zhongan Xunshi Technology Co., Ltd. applied to the Intermediate People's Court of Taiyuan City, Shanxi Province for bankruptcy liquidation of Shenzhen Global E-commerce, citing its inability to pay off its matured debts and obvious lack of solvency. Finally, the Intermediate People's Court of Taiyuan City ruled that:Accepting the bankruptcy liquidation application submitted by the applicant Zhongan Video to the respondent Shenzhen Universal.
Prior to this, Shenzhen Universal and Zhongan Xunshi were issued a civil mediation agreement by the Nanshan District People's Court of Shenzhen, Guangdong Province due to a dispute over the sales contract. However, Universal eBay failed to fulfill its obligations under the civil mediation agreement. Therefore, Zhongan Xunshi applied to the Nanshan District People's Court of Shenzhen for compulsory enforcement. It is reported that,As of the date of the announcement, Global eBay has not yet repaid the loan, with an outstanding amount of approximately2.6 million yuan.
Subsequently,The Taiyuan Intermediate People's Court has issued a "Civil Ruling Paper", ruling to seal down all assets of Shenzhen Universal.Meanwhile, the Taiyuan Intermediate People's CourtOn November 30th, a notice was issued to Global E-Buy requesting it to "submit a statement of property status, a list of debts, a list of creditor's rights, relevant financial and accounting reports, payment of employee salaries, and payment of social insurance fees to the court within fifteen days from the date of receipt of this notice
On December 3rd, the Shenzhen Stock Exchange issued an inquiry letter requesting Cross border Communications to provide the following explanation regarding the bankruptcy of its subsidiary, Global Easy Buy: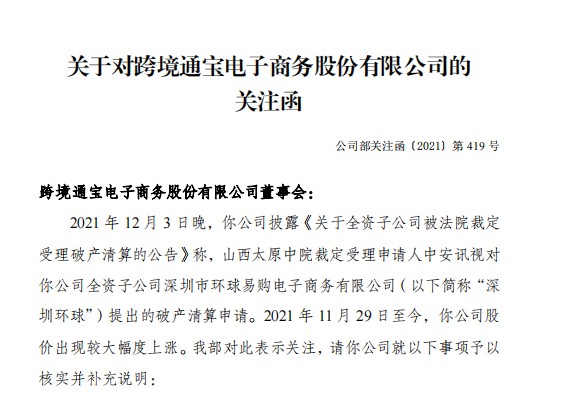 1Will cross-border communication lose control over Shenzhen Global and no longer be included in the scope of merger compliance, which will have a substantial impact on the elimination of matters that cannot be expressed in the company's annual report.
2Cross border communication needs to be verified and supplemented with explanationsThe reason for the timely fulfillment of information disclosure obligations regarding the application for bankruptcy liquidation of the subsidiary, Global eBay.
3Cross border communicationFully alert the relevant risks and explain the substantive improvement measures taken and the progress of internal control rectification for matters related to the inability to express opinions, andPlease independent directors verify and express their opinions.
4Cross border communicationExplain the insider information of Shenzhen Global's bankruptcy liquidation application, and conduct a self inspection of the company's directors, supervisors, senior management, and shareholdingHave more than 5% of shareholders and relevant insiders engaged in buying or selling company stocks within one month prior to the disclosure of the announcement.
5Cross border communicationCheck if there are any other significant matters that should be disclosed but not disclosed or are in the planning stage in the near future. If so, explain the relevant specific situation.
In the inquiry letter, the Shenzhen Stock Exchange requested the cross-border communication company to provide a written explanation on the above issues andSubmit relevant materials to the exchange and disclose them to the public before December 10, 2021, and copy the dispatched office at the same time.
At the same time, the Shenzhen Stock Exchange also requires members of cross-border communication companies to comply with relevant laws and regulations, truthfully, accurately, completely, timely, and fairly fulfill their information disclosure obligations.
Cross border communication responds to delisting claims
After experiencing such a series of turmoil, investors and relevant personnel may ask, will cross-border links be forced to delist as a result?
Regarding this, the cross-border communication side stated that if the companyIn 2021, if one of the six situations specified in Article 14.3.11 of the Shenzhen Stock Exchange Stock Listing Rules (Revised in 2020) occurs, there is a risk of the company's stocks being delisted.
But it also mentioned that since the change in actual control of the company, the company has actively added board members, strengthened management team building, optimized the company's asset structure, improved corporate governance level, strengthened internal control and financial management, integrated existing assets and businesses, stabilized various business management of the company, and eliminated historical legacy problems to the greatest extent possible.
Under the dual impact of the epidemic and Amazon, companies are facing numerous difficulties and generally do not choose to put all their eggs in one basket.
Recently, the editor gained insights from enterprisesAccording to the APP, Alphabet Brand Management (Shenzhen) Co., Ltd. was established on December 2nd with a registered capital of 3 million RMB and its legal representative is Pei Hailiang.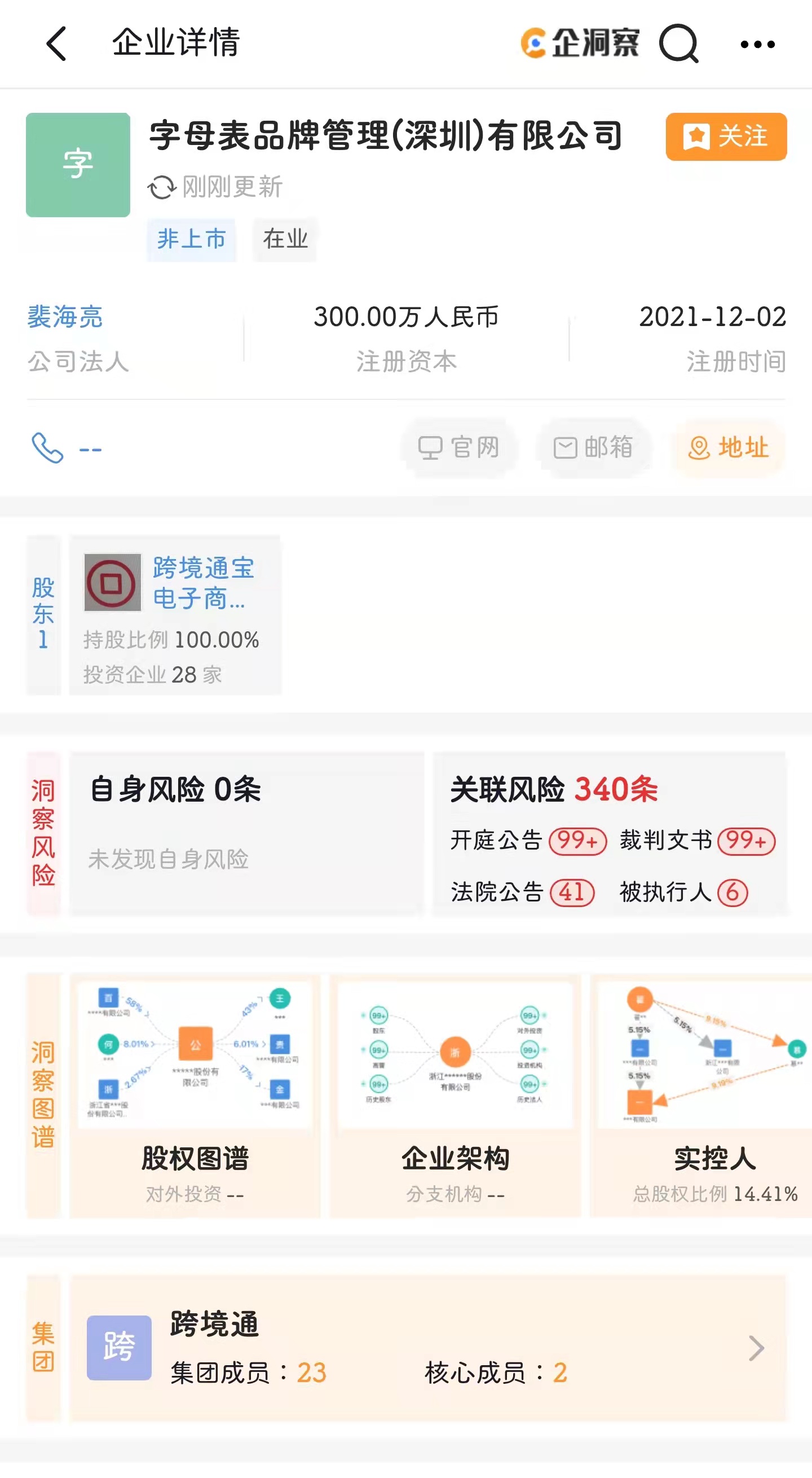 After investigation, in addition to general enterprise management consulting, information consulting, marketing planning, brand management, and trade agency, the company can also independently carry out goods import and export, technology import and export, import and export agency, and internet information services according to the law with its business license.
From the perspective of enterprise insight equity penetration data, it is not difficult to find that the company is a wholly-owned subsidiary of cross-border communication, which is also another measure of cross-border communication to avoid risks and reduce losses.
Global eBay is deeply embroiled in negative turmoil
Since the beginning of this year, there have been many negative rumors about Global eBay.As early as the middle of the day, Global eBay was unable to repay the payment due to poor management and was collectively visited by suppliers for debt collection. After multiple unsuccessful debt collection attempts, several forced and helpless suppliers collectively gathered at Qianhai No.1In front of Block A, there was a physical conflict between the supplier and Universal Security as they attempted to jump out of the building. Due to the severity of the situation, the local police station was even alarmed.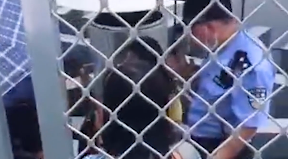 At the end of August, there was news that Global eBay was facing unpaid wages and began large-scale layoffs of employees. According to a notice released by Global eBay, due to business difficulties, 151 employees will be on vacation from August 24th, and the return time will depend on the company's business situation.
Global eBay has also been filed for bankruptcy liquidation by creditors multiple times this year.Earlier,The creditor, Industrial and Commercial Bank of China Shenzhen Nanshan Branch, has applied to the Shenzhen Intermediate People's Court for bankruptcy liquidation of Shenzhen Universal on the grounds that Shenzhen Universal is unable to repay its due debts and clearly lacks the ability to repay them.
According to public information, as ofAs of September 30, 2021, Shenzhen Global had a total assets of 1727.2906 million yuan, total liabilities of 3357.9015 million yuan, net assets of -1630.6109 million yuan, and operating income of 335.2517 million yuan from January to September 2021, a total profit of 210.52022 million yuan, and a net profit of 210.3169 million yuan. (Not audited by an accounting firm)
In September, the Shenzhen Intermediate People's Court ruled that due to insufficient evidence, it would not accept the bankruptcy liquidation filed by Industrial and Commercial Bank of China Nanshan Branch against Shenzhen Global. Nowadays, with the ruling of the Intermediate People's Court of Taiyuan City, the outcome of Global eBay has also surfaced.
As he rises from a high building, as he feasts with guests, as he collapses, "said an industry insider,Although Cross border Connect has not yet been delisted, in his opinion, it is also difficult for Cross border Connect to rise again,The cross-border elder brother, who once had unlimited scenery, has come to this end, which is deeply regrettable.
In fact, many cross-border sellers have had a bad year. In the blink of an eye,2021 has reached the end of the year. Looking back at the journey of cross-border sellers in 2021, it can be said that they were a lone boat in the wind and rain, and were completely knocked down by a slight mistake. Perhaps, for cross-border sellers, being able to reach the end smoothly this year is a different victory.
Looking back at the middle of the year, Amazon's blockading trend hitManyThe seller was caught off guard. Whether it is a timid small and medium-sized seller, or a glamorous top seller, they are inevitably trapped in this vortex. Some sellers are still struggling to find a way to break the situation, while others have already left the market in despair
However, in the turbulent and fluctuating cross-border e-commerce industry, there are not only sellers such as Global eBay who have been deeply trapped in business difficulties one after another, but also new sellers who have broken through and reborn. We still need to wait and see how the cross-border e-commerce industry will change in the future.