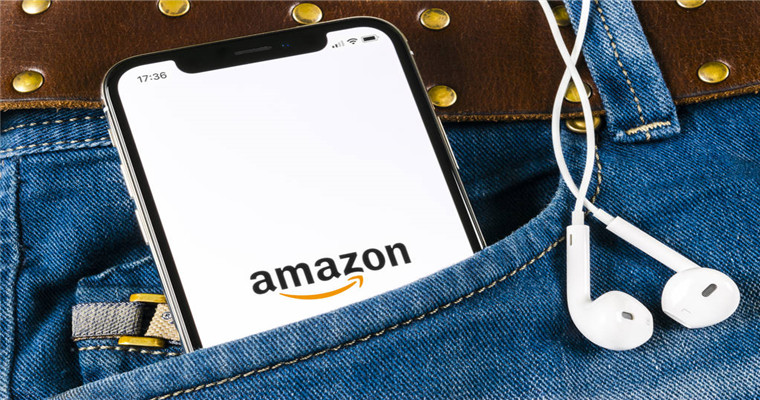 In 2020,Brazilian e-commerce marketIncrease by 35%, ranking the fourth in the world in terms of growth rate. Amazon's share in the Brazilian e-commerce market continues to increase, but it faces strong competitors, such as Mercadolibre and Americanas.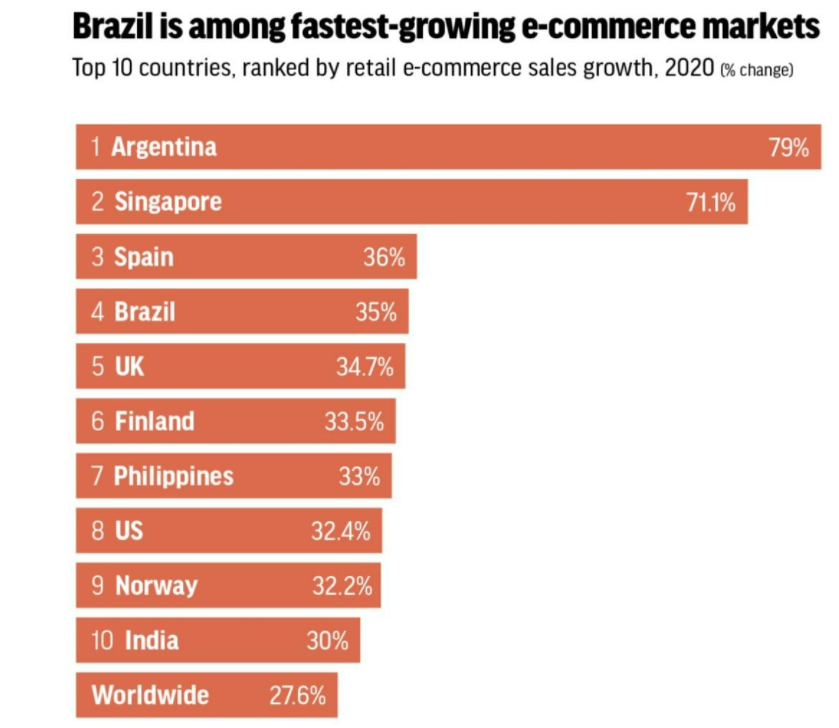 (Source: eMarketer)
In Brazil and even Latin America, Amazon has to compete with many giants
Amazon is a global e-commerce platform, especially in the United States.
Blueocean Yiguan learned that last year, Amazon accounted for nearly half of the U.S. e-commerce market (47%).
As an international and global e-commerce platform, Amazon has considerable influence and scale in the Brazilian market, even in the entire Latin American e-commerce market.
However, in Brazil and Latin America, Amazon is not as "like a fish in water" as it is in the United States, occupying an absolute "boss" position. It faces fierce competition and strong competitors.
such asMercado LibreThe largest e-commerce platform in Latin America, as well as Magazine Luiza, the largest multi-channel retail platform in Brazil, Americanas/B2W, OLX and other platforms.
According to EBANX Beyond Borders' recent survey on "Latin America cross-border e-commerce market",In Brazil alone, Mercado Libre has 267.9 million monthly visitsAmerica has 119.4 million, OLX has 102.5 million, andAmazon has only 74.5 million monthly visits on averageIn contrast, there is still a certain gap, especially with Mercado Libre, which is less than one third of the latter.
According to monthly visits and interactions, the top 10 e-commerce platforms in Brazil currently include Mercado Libre, Americanas, OLX, Amazon Brazil, Magazine Luiza, Casas Bahia, AliExpress, Sub Marino, etc.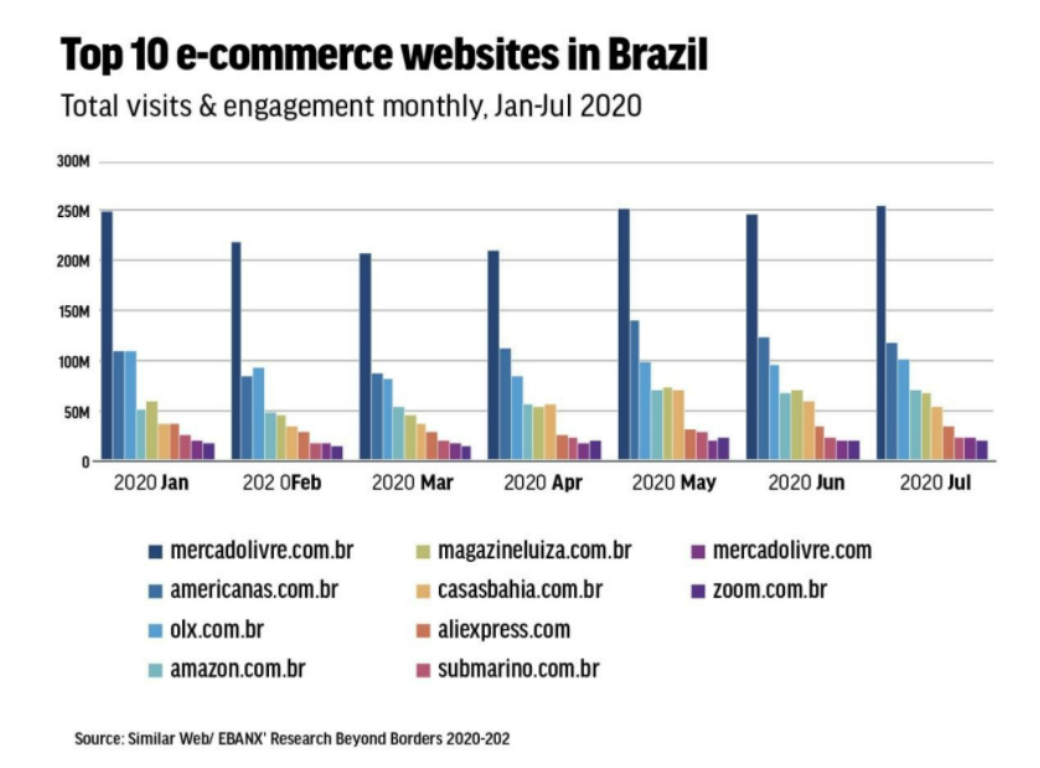 According to eMarketer insiders, Mercado Libre will occupy 24.6% of the market share in the whole Latin American market in 2020, nearly a quarter. Magazine Luiza will occupy 6.5% of the Latin American e-commerce market, surpassing B2W (6.3%) for the first time. Of course, B2W may be due to the large amount of spending on acquisitions last year, leading to a temporary decline in market share.
Amazon's share in the Latin American e-commerce market is about 3.3% - 3.5% (2019 data). It is estimated that under the catalysis of the epidemic, it can now be about 4% - 6%.
The growth rate of e-commerce in Latin America exceeded that in the Asia Pacific region, ranking first in the world
In 2020, due to the closure, blockade and isolation of physical stores, the Latin American e-commerce market grew rapidly by 36.8%, and almost no industry has such a growth rate.
And this timeThe growth rate of Latin America's e-commerce ranks first in the world, surpassing that of the Asia Pacific region for the first timeIn the previous 10 years, the fastest growth of e-commerce was in the Asia Pacific region.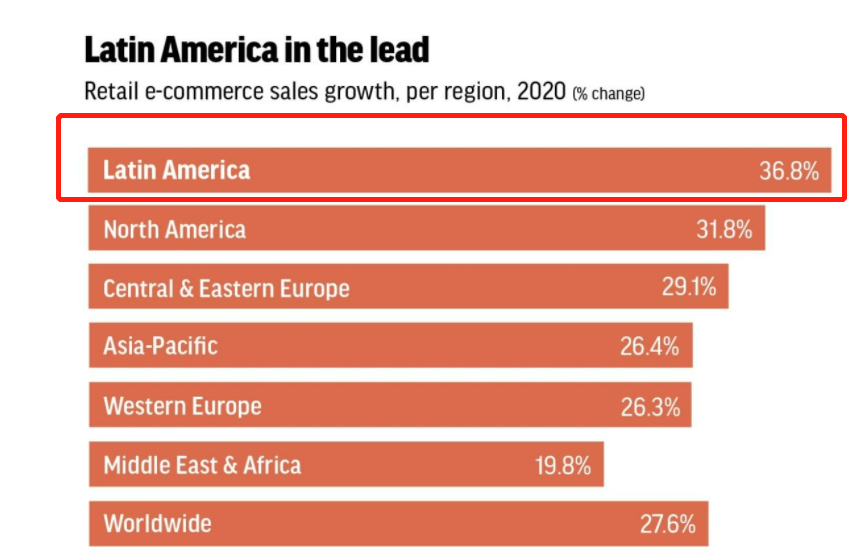 (Source: eMarketer)
Another survey by Euromonitor shows that in 2020, the online sales of goods in Latin America will grow fastest, reaching 60%.
Compared with the 12% growth rate predicted in the fourth quarter of 2019, it is three times higher.
(New media of cross-border e-commerce - Domainnews Riley Huang)Coupang, Wayfair, Wal Mart, Mercado Libre and other platforms settled, brand copywriting planning, whole network promotion, e-commerce training and incubationPlease contact us for other services. No unauthorizedRewriting, reprinting, copying, clipping and editingIn whole or in part.