Recently, according to foreign media reports,Wish Standards (Standards Program) has officially launched, and Wish Merchant Platform and Merchant Plus Platform have successively launched Wish Standards performance pages to help sellers gain a deeper understanding of store operations and product data.
Wish means: Although Merchant Stand provides incentives for sellers to improve performance, we also recognize that Wish needs a stronger and more comprehensive plan to improve performance rewards. While providing transparency about merchant expectations, we recommend trust between buyers and sellers to enhance Wish's shopping experience. The Wish Standard Program is a significant initiative that represents our long-term commitment to rewarding outstanding merchant performance and demonstrates Wish's commitment to sellers and The buyer's determination to comprehensively improve the quality and health of the Wish ecosystem
Wish points out that sellers can view detailed information by logging into the Wish merchant platform or Merchant Plus platform and selecting "Wish Standards" in the top left corner of the screen. At present, the seller's Wish Standards come in four levels: platinum, gold, silver, and bronze. If the seller is a new resident merchant or an existing merchant that has not reached 50 mature orders within the past 90 days, this section will display 'unrated'.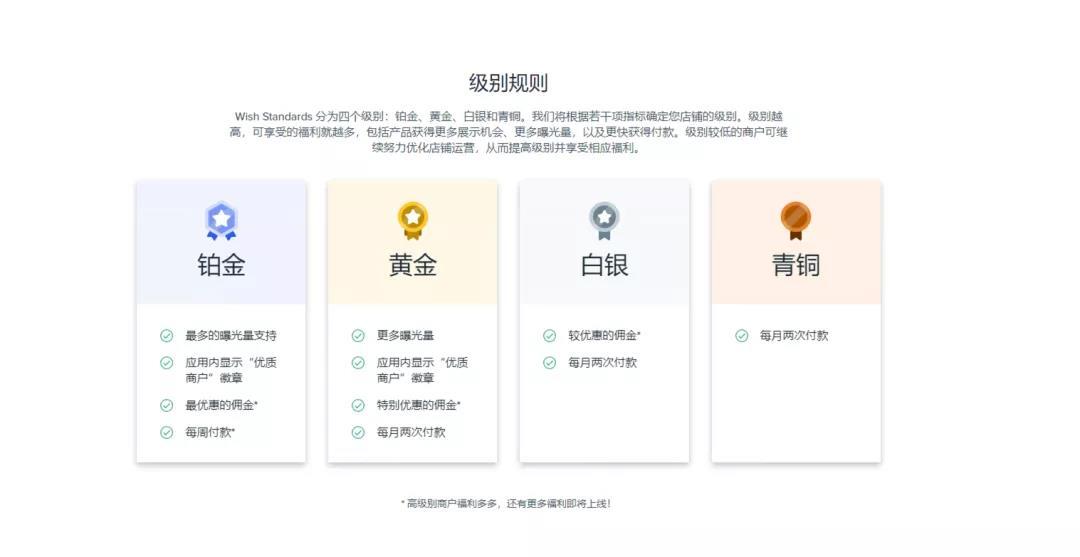 It is reported that if the seller wants to joinWish Standards requires reaching at least 50 mature orders within the past 90 natural days, while in order to reach the "Platinum" level of Wish Standards, it is necessary to reach at least 100 mature orders within the past 30 natural days. (Mature orders: Wish believes that orders that have been completed for a sufficient period of time to accurately evaluate their fulfillment status and user satisfaction may have different maturity times for each order.)
In addition, joiningSellers of Wish Standards can also receive three major benefits: commission rates and discounts, increased exposure, high-quality merchant badges and logos; The higher the level of the seller, the better the benefits.
Wish represents,Commission rates and discountsThe specific information on benefits will be announced in the coming months. The exposure benefit is to increase the exposure probability of the seller's product.Platinum and Gold gradessellerThe product is in theArrange in Wish application and Wish web versionThe name will be higher,The product exposure of "bronze" level merchants may decrease,andThe product exposure of "silver" level merchants is almost or completely unaffected.
As for high-quality merchant badges and representations, they refer toPlatinum and Gold levelThe seller willstayWish web version and Wish application will receive the "Premier Merchant" badge and logoTo demonstrate that the service quality and product quality of one's own store are both excellent, in order to attract buyers.