The Black Five War has just ended, and many consumers have also received the goods they bought. According to the information providerTamebayofThe latest report, respectively in AmazonThree e-commerce platforms, eBay and OnBuy, purchased 15 packages and tested their logistics speed.
The current results show that,OnBuy is not only the first product to be delivered, but also the first product to be delivered.This is the parcel that is delivered through Hermes Logistics. It is not time to place an order and receive the goods24 hours; The second package was also delivered from OnBuy, but was delivered by Amazon; The third arrival is the package from Amazon, which is also in the charge of Amazon Logistics; The package purchased in OnBuy and delivered by Royal Mail was the fourth to arrive.
According to the data in the table,OnBuy packages were delivered 4.75 days earlier than promised on average.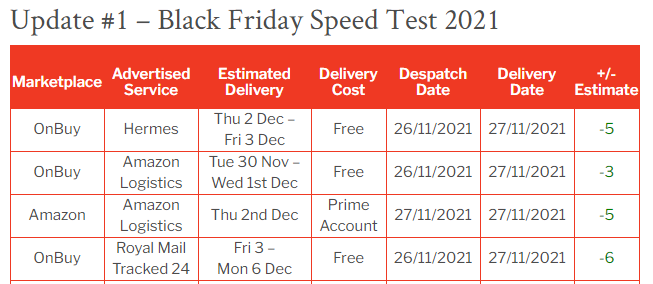 In online shopping, in addition to commodity sales, consumers also attach great importance to logistics and distribution. Delivery speed and logistics delivery speed are also the key for consumers to decide whether to buy in stores.
In order to improve the delivery efficiency, especially when shopping at the end of the year is greatly promoted, let consumers receive goods as soon as possible. Amazon and other e-commerce platforms also optimize logistics and distribution services as much as possible.
According to the logistics companyMWPV LInternationalofThe latest news is that Amazon has opened450 new distribution sites to process and distribute goods.At present, Amazon's distribution sites in the United States have reachedMore than 930.
Amazon CFOBrian Olsavskydisclose,It is estimated that by the end of the year, Amazon will add30 distribution centers, which can store about 3 million items. These sites are probably located in Chicago, Atlanta and Washington, D.C., where there are more people, to improve the local parcel storage and distribution efficiency.
andOnBuy has also previously announced thatEasyshipEstablish cooperation relationship to provide omni channel cross-border distribution and other capabilities for platform sellers. Merchants throughEasyshipofFunction to process any domestic and foreign orders, and improve order processing efficiency.
Although Amazon is in the leading position in the global e-commerce platform. But BritishAt present, OnBuy has accumulated more than 7000 merchants and more than 36 million pieces of goods, focusing on the global market.In addition, the delivery speed and logistics distribution efficiency are also good, and there is also a good evaluation among buyers. The future is expected.