Recently,EBay has released a new announcement on its seller news page, stating that it will launch a new feature of Promoted Listings Advance.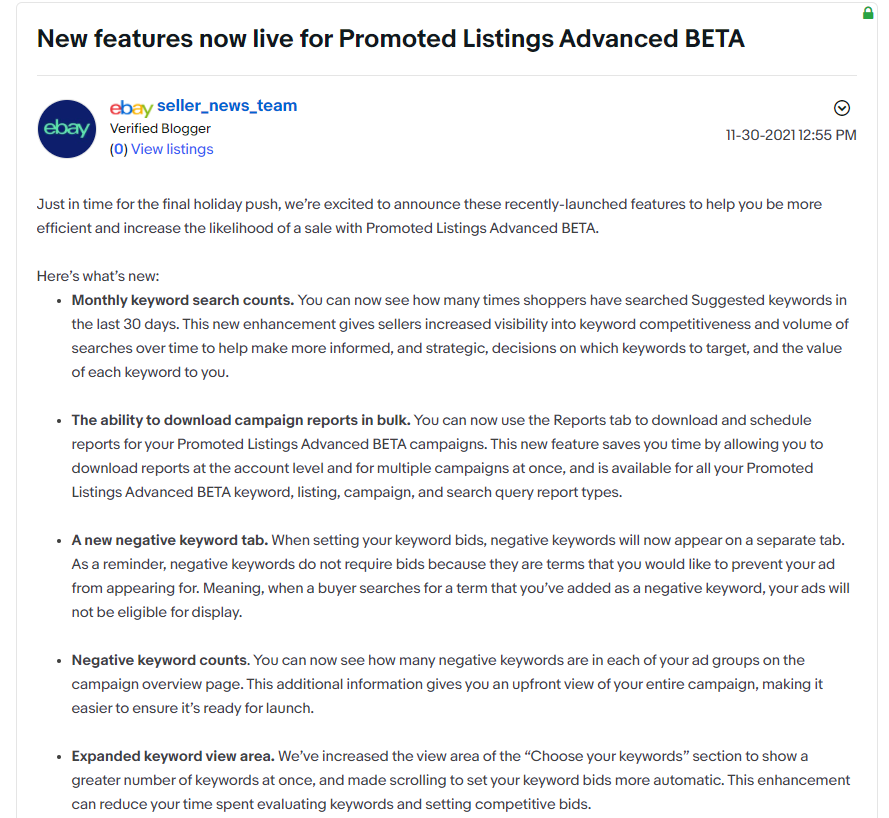 EBay stated that the launch of new promotional features aims to help sellers improve work efficiency and increase the sales potential of premium BETAs on the promotional list. It is reported that there are seven new features launched this time.
1Monthly keyword search count
Sellers can now view the seller's pastNumber of times to search for suggested keywords within 30 days. This new enhancement allows sellers to better understand the competitiveness of keywords and changes in search time, in order to make more informed sales strategy decisions.
2Ability to batch download activity reports
Sellers can now useThe 'Reports' tab downloads and schedules reports for your promotional list of advanced BETA activities. This new feature allows sellers to download reports from multiple advertising series at once, including keywords, listings, search query report types, etc., to help sellers reduce work pressure.
3 Negative keywords
Sellers can now view the number of negative keywords in each ad group on the ad series page. This additional information can help sellers understand the entire ad series in advance, making it easier to ensure ad availability.
4 Expanded keyword view area
EBay has added a view area for the "Select Your Keywords" section, which can display more keywords at once. Sellers can automatically set keyword bids through the scroll wheel, which aims to reduce the time spent by sellers in evaluating keywords and setting competitive bids.
5 Hide zero quantity or out of stock items
Sellers cannot add out of stock lists when creating ad groups. This feature is designed to help sellers improve advertising effectiveness and overall buyer experience.
6Listing Count Summary
sellerAdding to ad groupListingWhen, you can view and filter selectionmutuallymatchingofListing quantity. These additional information can helpsellernarrowListingBy expanding the scope, it is easier to build effective advertising groups.
7 Filter by store categoryListing
Sellers can now pressFiltering listings for 'eBay categories' and' Store categories' makes it easier to build ad groups by common categories. Combining similar listings together can use the same set of keywords and bids to locate them.