Yesterday afternoon, according to Amazon's official email,The inventory performance index (IPI) assessment in the first quarter of 2022 will be postponed to the middle of December.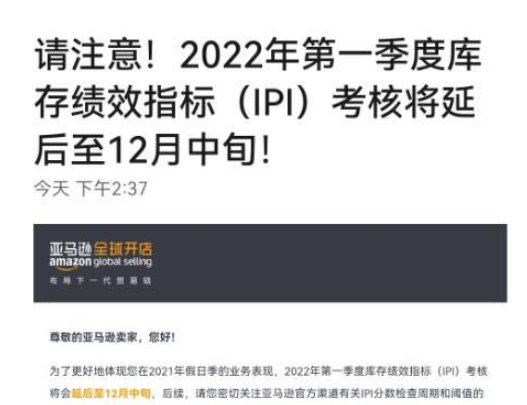 Amazon said that in order to better reflect the seller'sFor the business performance in the holiday season of 2021, the inventory performance index (IPI) assessment in the first quarter of 2022 will be postponed to the middle of December. In the future, please pay close attention to the notice about IPI score check cycle and threshold issued by Amazon's official channel.
In the email, Amazon reiterated itsIPI assessment requirements: Amazon will adjust the inventory and storage limit of the seller based on the seller's historical IPI score and the available operation center capacity. Each quarter includes two assessments, as long asOne of the appraisal nodesSeller'sIPI score meets the limit of Amazon's inventory performance index threshold, which means that you can enjoy unlimited storage capacity in the next quarter, otherwise, the seller will be subject to storage restrictions in the next quarter.
At present, Amazon suggests that the seller score the inventory performance indexKeep above the current threshold required by each site.At the same time, Amazon said that the seller must know the inventory performance indicator threshold of the site where the store is located, so as not to affect the storage capacity of the store.
About how to improve the storeAmazon official said that the seller can optimize the inventory structure by improving the sales rate, removing the unsold inventory, and repairing the [no information on sale] product information, so as to improve the store's IPI score.
But at present, in addition to the storage capacity volume limit, the maximum delivery quantity limit of the store has a greater impact on the seller. Many sellers reflect that even ifThe IPI score meets the requirements, but the maximum shipment quantity given by Amazon is small, soThe restrictions on replenishment remain high.
Therefore, before the arrival of the storage limit in the new quarter, each seller needs to plan the store's inventory structure in advance and allocate the corresponding inventory capacity according to the sales of each product. Products with poor performance need to be abandoned in a timely manner, or handled in a timely manner through promotion, Amazon official clearance and other channels to minimize losses.