Recently, five publishers filed a joint lawsuit in a US court,ComplaintsShopify failed to remove listings and stores that infringed on the publisher's trademark and copyright, and demanded compensation of over $500 million.
It is understood that the plaintiff's publishers areMacmillan Learning, Cenge Learning, Elsevier, McGraw Hill, and Pearson Education.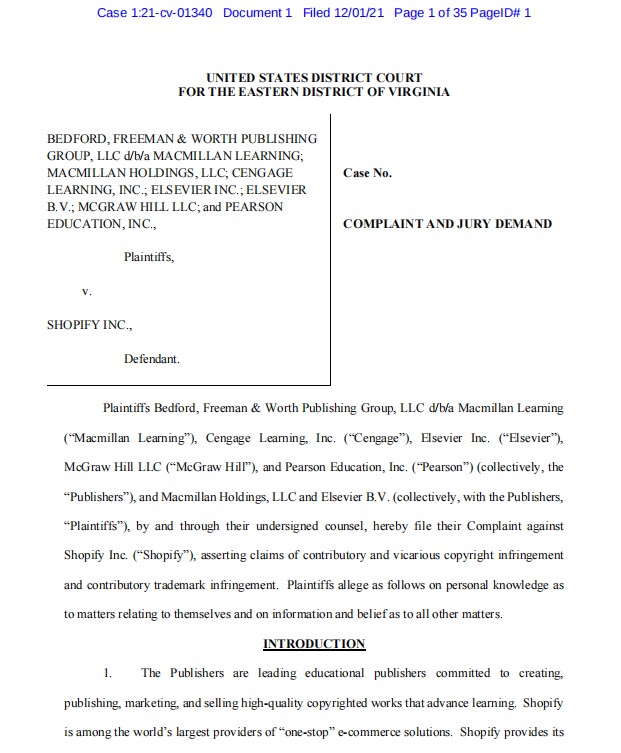 They claimed in the lawsuit that,Shopify assists platform sellers in selling infringing e-books and profits from them. Publishers have stated that since 2017, they have been providing Shopify with a list of infringing sellers. However, Shopify has not prevented these sellers from using the platform, but has continued to provide services such as storefront construction, network hosting, and payment processing to these people.
Publishers believe that,Shopify has always turned a blind eye to this large-scale infringement because it is very popular among Shopify users and has played an attractive role in attracting and retaining users who pay monthly subscription fees to Shopify. In addition, sellers who sell pirated copies also pay transaction fees, including those who infringe on sales commissions.
The publisher requires the court to provide the highest compensation for each copyright infringementThe compensation of 150000 US dollars and up to 2 million US dollars per counterfeit trademark are listed, along with more than 3400 suspected copyright infringements by the platform.
Shopify President Harley Finkelstein previously stated that if the company discovers that the storefront has infringed on copyright or trademark, it will be deleted. But the publisher pointed out that anyone looking at the storefront, including Shopify, can see their commitment to selling pirated textbooks.
Regarding this,A representative of Shopify stated that the company is working to eliminate copyright infringement and stated that it has multiple teams to address potential acceptable usage policy violations, including copyright and trademark infringement. It will not hesitate to take action against stores when violations are discovered. As of 2021, over 90% of copyright and trademark reports have been reviewed within one working day.
Not long ago,Wish was severely punished by France for lax product regulation and cannot be found in major search engines and mobile app storescoverFound. The French authorities emphasize that when Wish is informed that dangerous goods are sold on the platform, these products will be removed from the shelves within 24 hours. However, in most cases, these products are still provided under different names, sometimes even from the same seller.
This has sounded an alarm for everyone. If only a small number of sellers are affected by infringement or selling inferior products, only they themselves will be affected. However, if multiple sellers do this, there is a risk of the platform collapsing and affecting other innocent sellers. Everyone should understand the principle of cold lips and teeth, and compliance management is the best policy.