Yesterday, Amazon US released a new announcement that it would update Amazon's compliance reference tool.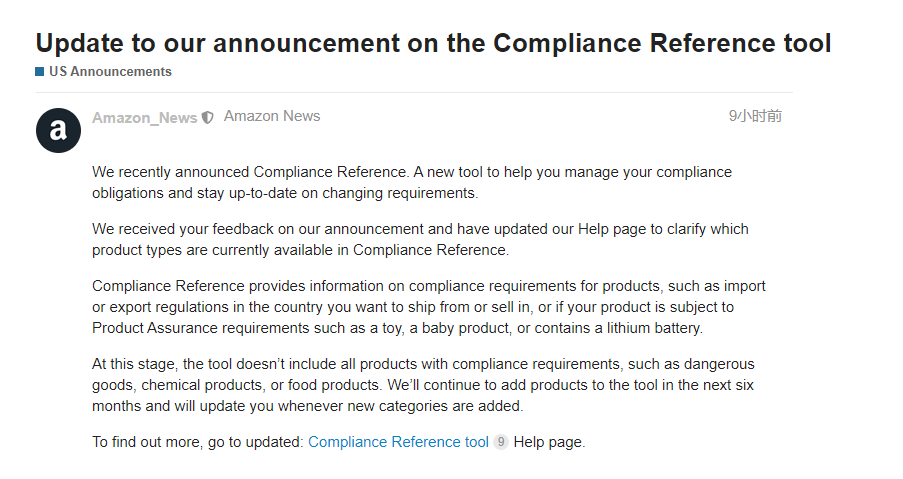 Amazon said it will launch a new tool in the near future——Compliance reference to help sellers manage compliance obligations and keep abreast of changing policy requirements. Recently, Amazon received feedback from some sellers on the announcement, so it also updated Amazon's help page to clarify the currently available product types in the compliance reference.
It is reported that,Compliance ReferencetakeProvide information about product compliance requirements, such assellerCountry to ship or sell/The import and export regulations of the Territory, orsellerWhether the products of are subject to product warranty requirements, such as toys, baby products, or lithium batteries.
at presentThe tool does not include all products that meet the compliance requirements, such as dangerous goods, chemical products or food.However, Amazon said that it would continue to add products to the tool in the next six months, and notify sellers of updates when adding new categories.
Subsequently, the sellers expressed their views on this new tool.
sellerA: This new tool will help sellers in their sales work. It will provide sellers with a comprehensive product database to prevent violations of rules and other errors in the process of selling products.
sellerB: The tool does not provide all product categories that meet the compliance requirements, which is an urgent task for Amazon. In addition, whether Amazon robots will realize that the compliance reference is incomplete at present. If Amazon AI misjudges in handling rule conflicts, it is still our sellers who suffer losses.
Earlier, on Amazon's forum, some sellers reported that the product was taken off the shelf or recalled after being sold because it failed to pass the specified requirements. Many sellers do not sell illegally, but do not know the countries/Specific sales rules of the region. Amazon's updated compliance reference tool is intended to help sellers avoid violating rules in sales activities, and also reduce the early workload of sellers. I believe that the tool will become a great help to sellers after improvement.