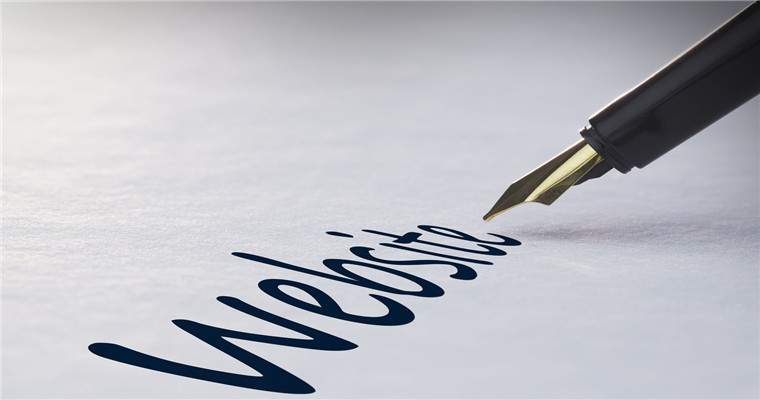 Vova accidentLater, another e-commerce platform was closed.
This is the American e-commerce platform Artfire, which mainly sells handicrafts, similar to Etsy.
Now the official website is just a single page website, which briefly introduces the past operation history, without any links, buttons or entrances.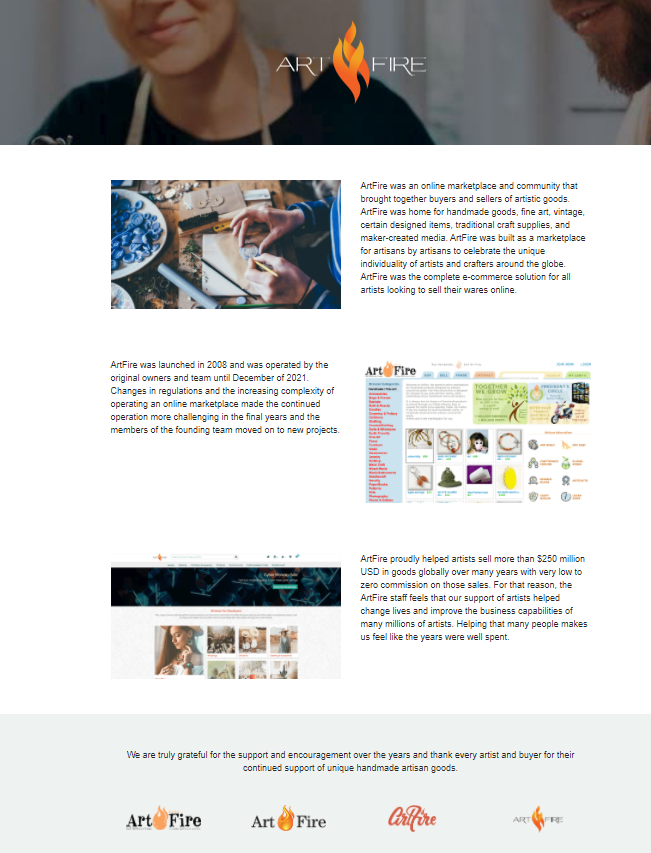 Artfire said that its platform was created in 2008 and operated until December 2021,The reason for closing the platform is that laws and regulations are changing all the time, and operating an e-commerce platform becomes more and more complexThe future operation will face greater challenges, so the founding team has decided to abandon Artfire and move to other projects.
Blueocean Yiguan has learned that Artfire actually released an announcement in December (2021) and will close the platform by the end of 2021.
However, according to the seller's feedback, the news that Artfire is closed is still shocking.
Some sellers said they were angry because Artfire did not specifically notify the sellers of this major change.
Some sellers hope to access their historical data on the Artfire platform and download the product listings information, but there seems to be no way at present.
Artfire went bankrupt because the competition between Etsy and Amazon Handmade failed?
Artfire is an online platform and community that connects art consumers and sellers, and also provides artists with such a platform to sell their works.
Lanhaiyiguan learned that before its closure, Artfire allowed sellers to sell handicrafts, retro products, fine arts, customized design products, digital art and traditional handicrafts.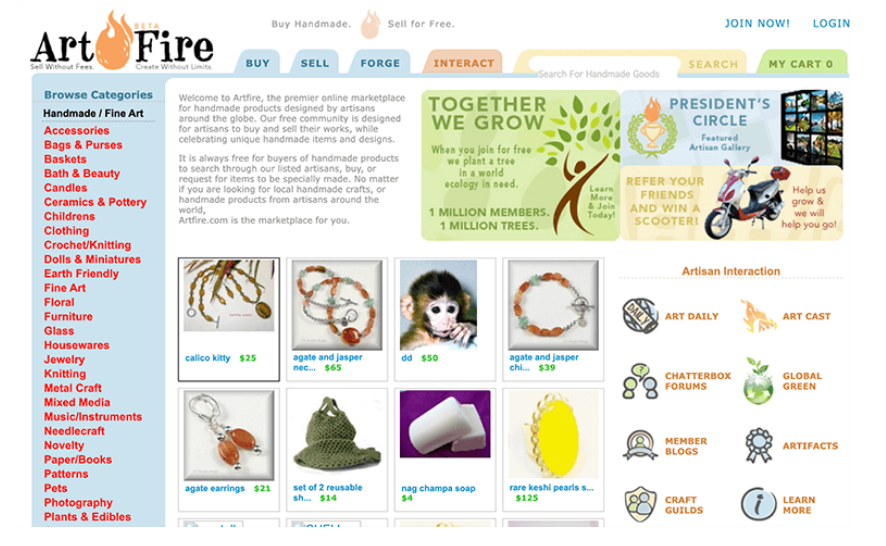 (The page before the Artfire platform is closed)
Since its inception, Artfire has successfully helped artists sell more than 250 million dollars of goods worldwide, and the commissions charged are very low, even zero. As a result, Artfire employees can feel that Artfire's support for artists has helped them change their lives and improve the commercial capabilities of millions of artists.
Artfire platform is similar to Etsy, butCompared with Etsy, Artfire is much smaller。
In addition, the transaction commission of Artfire platform is lower than that of Etsy, but the seller is charged a monthly subscription fee.
Although Artfire has provided a sales platform for artists and handicraft sellers with a 13 year history of operation, it is the same as other small platforms in the face of a big competitor like Etsy, but it can only choose to close.
Etsy platform was established in 2005. After more than ten years of trials and hardships, it has occupied more and more market shares. Now there are 7.5 million active sellers on the platform.
On the road of Etsy's continuous expansion, it also defeated many competitors, such as Zibbet, which sold to AC Moore, a handicraft retail chain, in 2017. Two years later, it was re launched as AC Moore Marketplace, but soon after that, it was closed due to the bankruptcy of AC Moore.
Some sellers said that if they choose a platform from Artfire and Etsy to settle in, they must choose Etsy, because Artfire cannot compete with Etsy. Artfire collects store rent from sellers, but it does not provide enough advertising support.
Of course, after Amazon entered the handicraft marketAmazon Handmade Platform and EtsyPositive competition.
(New media of cross-border e-commerce - Domainnews Riley Huang)Coupang, Wayfair, Wal Mart, Mercado Libre and other platforms settled, brand copywriting planning, whole network promotion, e-commerce training and incubationPlease contact us for other services. No unauthorizedRewriting, reprinting, copying, clipping and editingIn whole or in part.