Under the pandemic, the manufacturing industry in many parts of the world has stagnated, while the domestic supply chain is rapidly recovering. Multiple national brands are accelerating their overseas expansion through cross-border e-commerce and foreign trade channels.
In the cross-border e-commerce industry, most brands are still just oneThe 'trademark' has not truly gained consumer recognition. Recently, Anker became the world's number one digital charging brand, boosting industry confidence. What is the overall trust level of Chinese brands overseas? How to enhance the trust of global consumers in Chinese brands? On December 1st,Ipsos The answer has been revealed in the "Global Trust Index for Chinese Brands" released by Ipsos.
Anker has become the world's number one digital charging brand, but overseas consumers still have concerns about Chinese brands
In the cross-border e-commerce industry, blockbuster Anke Innovation is at the forefront. Its business started online and gradually launchedAnker, Soundcore, eufy, Nebula and other brands have performed well in the fields of AIoT, smart home, and smart acoustics, and have now become one of the largest global consumer electronics brand enterprises in China with revenue.
last yearIn August, Anke, which had been established for less than a decade, was listed on the A-share Growth Enterprise Board, with a market value of over 80 billion yuan. Last week, Anker announced that it has become the world's number one digital charging brand, which is an excellent example of the national brand going global.
Industry sellers are interested inAnker is no stranger. Since 2012, Anker has been monopolizing the "# 1 Best Seller" on major platforms dominated by Amazon, with sales ranking second only to Apple's official ranking on the Amazon platform in the United States; Ranked first in the sales volume of consumer electronics products on the Amazon platform in Japan.
Brand power is not achieved overnight. In the process of Chinese brands going overseas, similarAnker's examples are not common,Compared to it,Most overseas brands still face low trust in overseas markets and face numerous difficulties in market expansion.Previously, Amazon USA stood atThe "Seller Information" page displays the seller's company name and address, which has raised concerns among some sellers about consumers' informed shopping choices.
What is the overall trust level of Chinese brands globally? How can Chinese brands gain the trust of global consumers? How to adjust differentiated strategies in different markets? Through the latest releasedThe "China Brand Global Trust Index" can provide us with new directions.
Chinese Brand Global Trust Index Released, Enhancing the Favorability of Overseas Consumers
With the domestic market gradually becoming saturated and the demographic dividend decreasing, more and more Chinese companies are expanding overseas consumer markets and searching for new user growth points. How Chinese national enterprises with high reputation and popularity can gain the trust of overseas consumers and grow into global brands has also become a topic of concern for Chinese overseas enterprises.
Recently, in theOn the "Great Future - Ipsos 2021 China Brand Sailing Summit Forum", Ipsos Ipsos released the 2021 "Ipsos China Brand Global Trust Index (GTI) ®)》。 The report conducted a survey and research on 11000 respondents from 15 countries/regions, covering 5 key industries and multiple well-known brands. It conducted in-depth analysis and benchmarking on indicators such as cognition, trust, purchase intention, and brand competitiveness of Chinese key overseas brands.
Compare the "Ipsos China Brand Global Trust Index" released in two years(GTI ®)》,In 2021, the overall favorability of overseas consumers towards Chinese brands has slightly increased, with emerging markets showing a more positive trendMore than half, such as Thailand and Russia, have surpassed32%; Developed markets are improving faster, and the likes of Chinese brands in the UK, the United States, Germany, and Japan have all increased.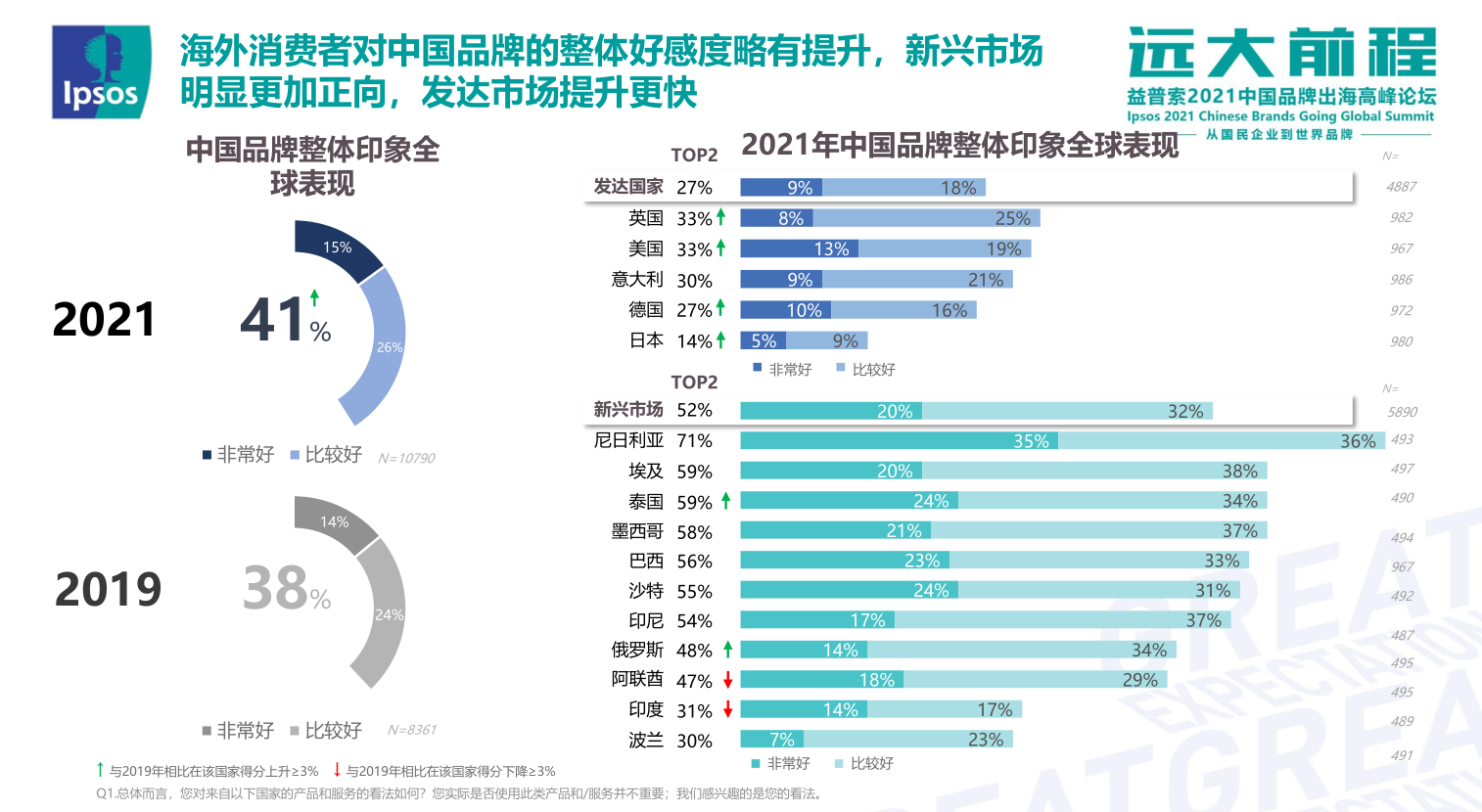 (Report screenshot)
In terms of brands from different countries, the global trust index of brands in the United States, India, and China has risen against the trend, with Chinese brands making significant progress.
Overall, consumers have the highest trust index in European, American, and Japanese brands, with Korean brands in the middle, and Chinese brands having the lowest trust index; AndCompared to 2019, the overall trust index did not differ significantly. Consumers' trust index in American, Japanese, Chinese, and Indian brands increased, while their trust index in German, British, and Korean brands decreased.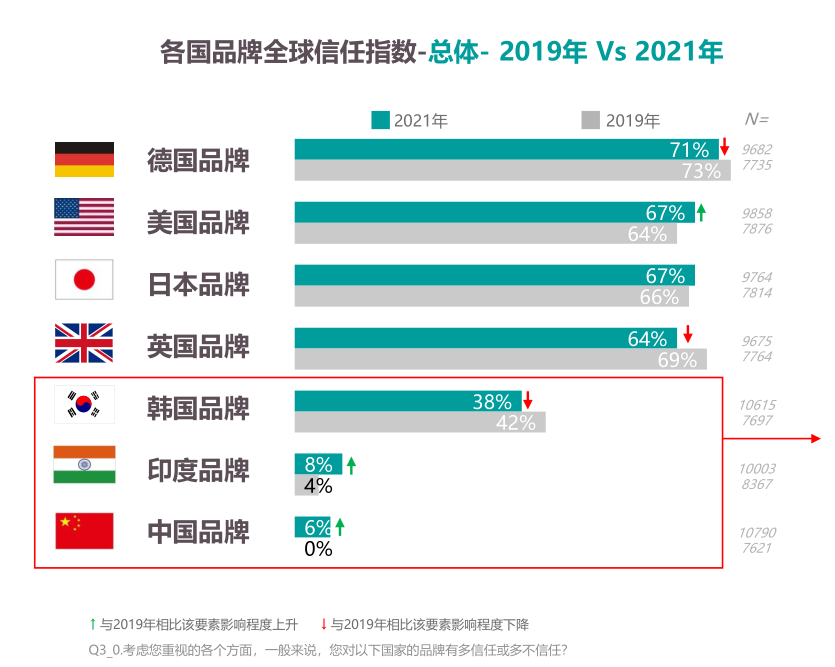 (Report screenshot)
Among them, Chinese brands have shown good trust in emerging markets and need to be greatly improved in developed markets. Specifically, Middle Eastern and Southeast Asian countries trust Chinese brands the most; In the Western market, although the level of trust in Chinese brands has improved, overall distrust still accounts for the majority; Japan has the lowest trust in Chinese brands, with a net trust level of approximately-55%, overall very distrustful of Chinese brands.
So, how can we enhance the trust of global consumers in Chinese brands?
Firstly, we need to continue to promote and educate more consumers about Chinese brands.
In the reputation pyramid, the developmental order of users' supportive behavior is: knowingFamiliarity, liking, and trust. In the process of building a Chinese brand image in overseas markets, it is first necessary to let more people know the brand, and then familiarize themselves with what products or services the brand sells, so as to make more people like or trust the brand and gradually move towards the top of the pyramid.
Trust is an important indicator, which is not only an affirmation of the brand's past and current practices, but also a prediction of future consumer and brand behavior.
Ipsos found in this survey that respondents are interested in Chinese brandsThe level of trust in the brand varies among those who have "some understanding", "quite understanding", and "very understanding". Overall, the more consumers understand and trust Chinese brands, the more willing they are to purchase Chinese products or services. To win trust, brands should develop strategies based on the trust needs of different markets, adhere to communication through appropriate paths, and constantly communicate with local consumers.
Secondly, it is necessary to understand the factors that can drive overseas consumers' trust in Chinese brands, in order to optimize various strategies such as product marketing.The driving factors for overseas consumers' trust in Chinese brands include providing high-quality products, conducting business fairly, respecting and protecting consumer privacy, being an attractive employer, being responsible for the environment, and assuming social responsibility15 indicators.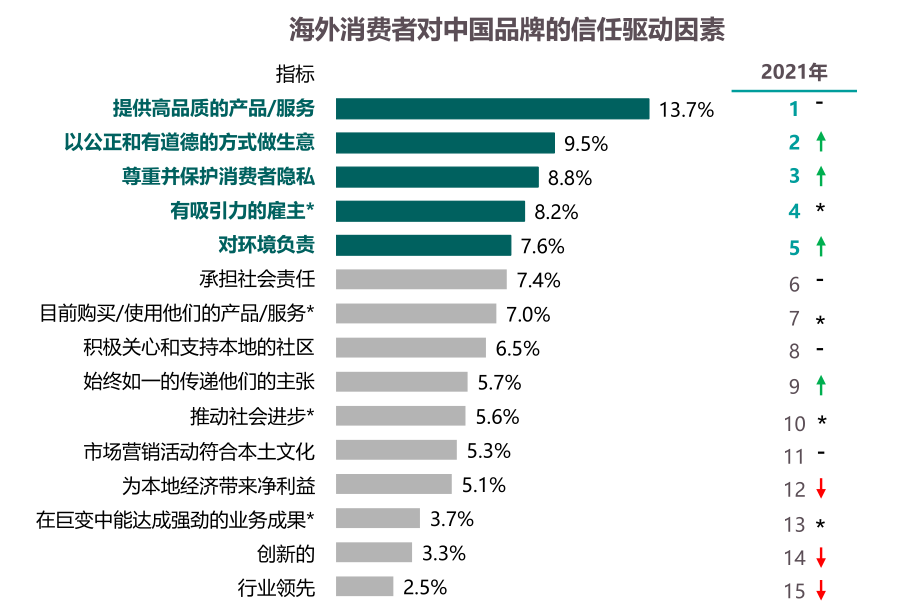 (Report screenshot)
At the same time, brands need to recognize the similarities and differences in winning the trust of consumers in emerging markets and developed countries, and focus on meeting local demands.
Among the main elements of trust, both developed and emerging country markets value high quality, privacy protection, and social responsibility. In addition, the former also places greater emphasis on environmental responsibility, attention to society and employees, and the integration of Chinese brands and local culture; The latter also values the fairness of their business approach, whether they are currently using the brand, and whether the brand carries out socially responsible business.
After understanding the differences in trust factors in different markets, brands can then determine effective communication strategies tailored to local conditions.
There are numerous internal connections between trust drivers. Taking developed markets as an example, brandsProviding high-quality products and services "is not only directly related to" attractive employers ", but also to" conducting business in a fair and ethical manner ". The brand needs to clarify the relationship between them, find more effective communication paths based on their positioning and needs, and thereby enhance the trust of overseas consumers in Chinese brands.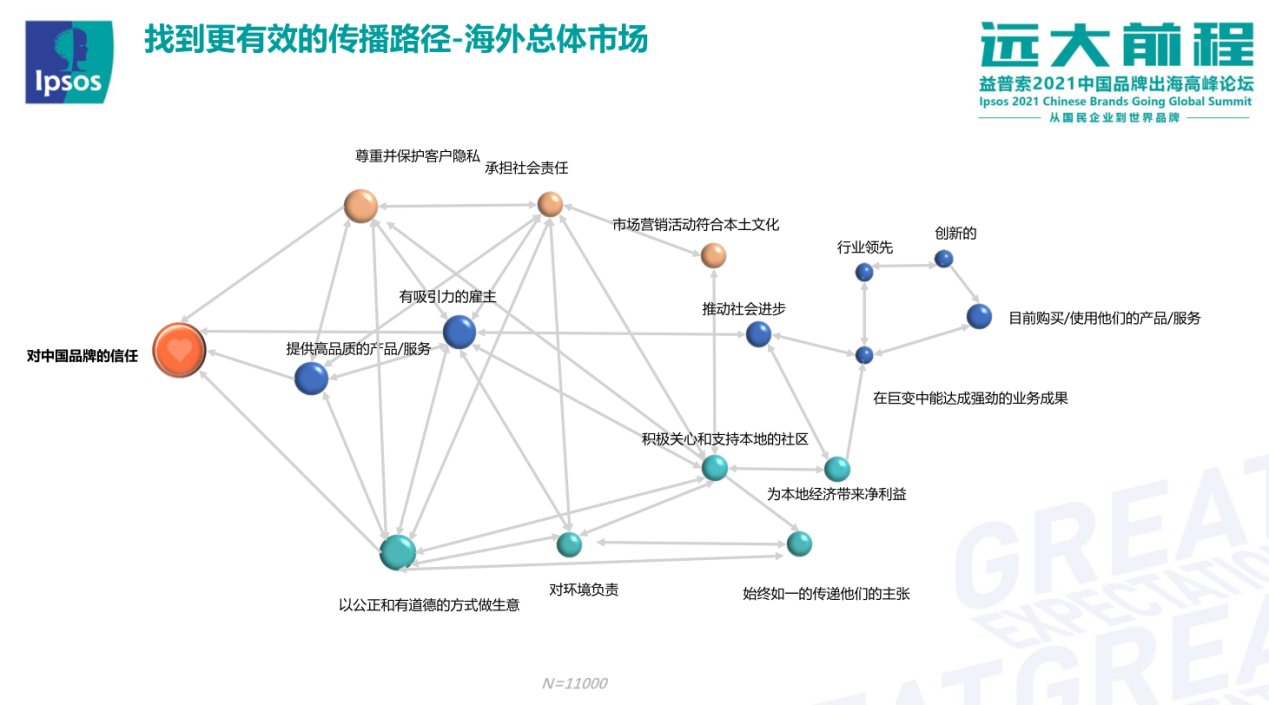 (Report screenshot)
compareIn 2019, the image of Chinese brands has greatly improved, but there is still a longer way to go to win more trust from overseas consumers.
In addition to the Global Trust Index for Chinese Brands, Ipsos also focuses on the five major industries of the Internet, smart devices, smart homes, new energy vehicles, and sportswear. Based on this, Ipsos will successively release trust indices for different industries, how to enhance overseas consumers' trust in Chinese brands in different industries, and a ranking list of individual Chinese brand overseas trust indices. Sellers can pay attention in advance.
Now click on"entrance"You can download the "Ipsos China Brand Global Trust Index (GTI) ®)》 report