According to data from research institutions, online spending by American consumers during the holiday shopping season will account for a significant portion of total spending25%. At the same time, the prices of multiple categories of products online have increased.
Online product prices hit historic highs
falseVarious festivals between datesdiscount,sendUnited StatesOnline in NovemberAverage of goodsThe price has decreased compared to last monthYes2%ButGo withyearCompared to the same period, prices still have an increase. thisAlreadyUnited Stateson linecommodity pricecontinuity18 months of year-on-year growth. according toAdobe Digital Economy Index(DEI)Data for November 2021, onlinecommoditypriceCompared to last year,rise3.5%, setting a new historical high.
Adobe analyzedOnline18commodityCategory and Exceeding100 million SKUs.Analysis shows that,twentyIn November 2021,Online18commodityThere are in the categoryPrice increases for 11 categories year-on-year. In addition,Data Analysis CompanyProfitro surveyed the prices of Amazon's 1600 most popular products in October 2020 and October 2021. Discovered during this period,The average of these productsThe price has increased7.5%.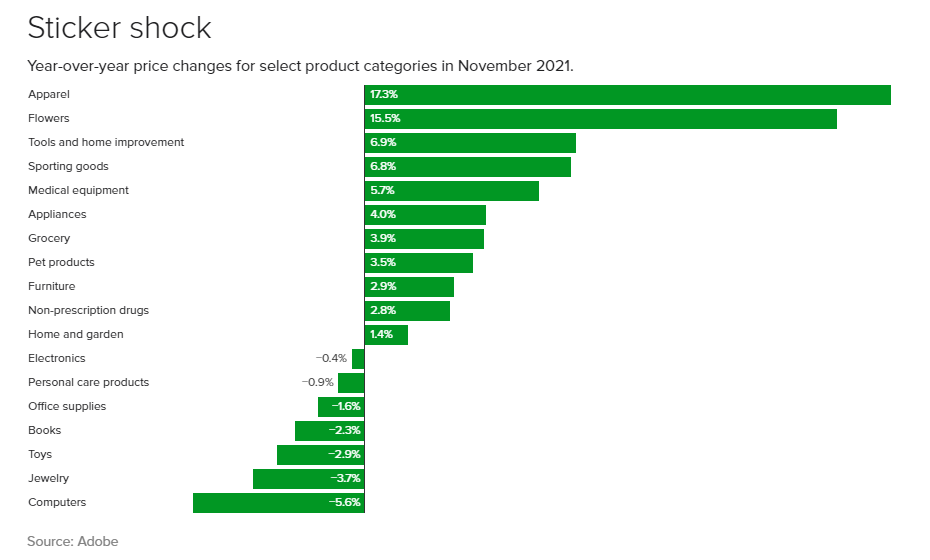 Image fromAdobe
The highest increase in clothing prices and the popularity of comfortable shoes
clothesPretend to beThe highest price increaseCategory, year-on-year increase17.3%, a decrease of only 0.4% month on month,Breaking previous records.staypreviouslyofEight monthsin,clothingThe online price of has increased by more than9%.Prices for home and decoration categoriesincrease6.93%; sporting goodsGrow6.75%; electrical equipmentThe growth rate is4%.
according toReported by Adobe, USAon lineShoppers areWe received 3 billion out of stock messages in November, up from 2 billion in October."Continuous supply chain constraints and consumer demandThe growth ofDue to the high inflation of e-commerce, clothing has seen a large amount of out of stock information compared to other categories."
According to the NPD report,Nearly one-third of clothing sales in the fourth quarter of the United States are expected to come from comfort categories such as sweatshirts, sweatpants, pajamas, and socks.Loose fitting styles in the women's denim and sports pants categoriesSales are increasing,The share of tight fitting styles has decreased.
Interestingly, in the American footwear industry, comfortable items have evolved from slippers and boots to include sandals, wooden soles, and even sneakers.Slippers, comfort, and indoor socksSales revenuetakefocusIn the fourth quarter,These categoriesPreviously, it had achieved triple digit growth.