the near future,U.S.ADewalts Dewei---headset(DeWalt )300000 were recalled due to quality and safety problems.
There are 61 reports showing that this earphone (DeWalt Jobsite Pro Wireless Earphones) is overheated during charging or use, which may cause burns and fire hazards.
More than 300000 (301800) wireless headphones sold nationwide in the United States have been recalled.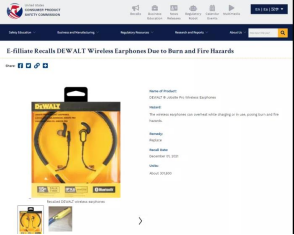 It is reported that Dewei is an American brand, but its products are processed in China.
According to the data of the Consumer Product Safety Commission (CPSC), there are 5 reports of product fires and 4 reports of minor burns caused by products.
The price of the headset is about US $60. From December 2019 to July 2021, it will be sold in Home Depot, Lloyd's and other stores and hardware stores across the country.
Consumers can also visit Cyberguys The product can be found on the website www. com. com, Amazon and other e-commerce platforms. From December 1, 2021, this headset will be recalled by CPSC with the recall code of 22-023.
The headphone category is popular because it caters to the lifestyle trend of sports, health and minimalism advocated by European and American people,thereforeVery profitable,thereforeA lot of big sellers。
Big sales of 1 billion, 2 billion, 5 billion and even 10 billion can be found everywhere.
In the cross-border e-commerce circle,haveShenzhen's "Four Less Developed Areas in South China City"It is called Aoji. As early astwo thousand and fifteenInLanding on the NEEQ and becoming the first stock of export e-commerce.
The average monthly sales of a single model earphone of a big seller on Amazon platform is 1855, with an average sales of $98021. The comprehensive score is 4.2 stars, which is very impressive.

Another super big sellerPatoson is a well-known Amazon seller company, known as the "Three Amazons", and has created 606 Best Seller (BSR) products。
In 2020, Patterson's revenue will be 4.94 billion yuan, a year-on-year increase of 43.88%, and its net profit will be 310 million yuan,The revenue of electronic products including earphones accounted for 28.37%.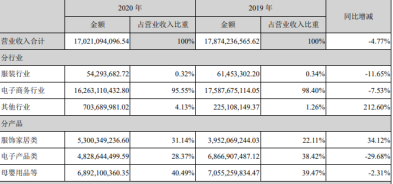 Data source: CNINFO
From the current development, Patoson has formed its product and brand matrix in multiple categories.
Mpow has become the top brand of Amazon's audio products in North America. Its positioning of high beauty and cost-effective has been recommended by overseas online celebrities for many times.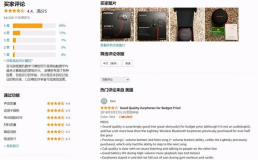 In 2019, Amazon ranked third in sales of big earhook sports earphones, accounting for about 26% of the global market share, about 20% in the U.S. market, and about 50% in the non-U.S. market.
On Amazon, Mpow's $18.9 Bluetooth headset has accumulated 60000+sales and received a four-and-a-half star rating.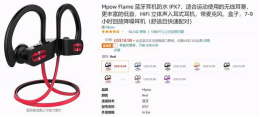 Among the thousands of comments below this product, there is a representative comment: Mpow for less than $20 is as effective as Bose for less than $250.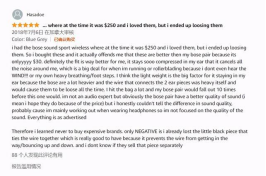 Sports and healthyHumboldt TechnologyThe company's two major brands, Letsfit and Letscom, have more than 10 million cumulative users worldwide, ranking first among the three categories of Amazon platform (smart wear, sports headphones, sports health accessories).
amongHumboldtLetscom real wireless earphones cost about $40, ranking first in the global sales of sports earphones.
Another super big seller, Anke, has achieved 48.56% in the field of overseas business revenue segmentation, including wireless audio for earphones.
Data source: Anke official website
The monthly sales volume of Anke Sound Core in Amazon is 2192, with an average sales volume of USD 190260, giving a score of 4.4 stars. The sales volume and price of single type earphones are at the same time. If you look at the sales volume of the whole type of earphones, you can't underestimate it.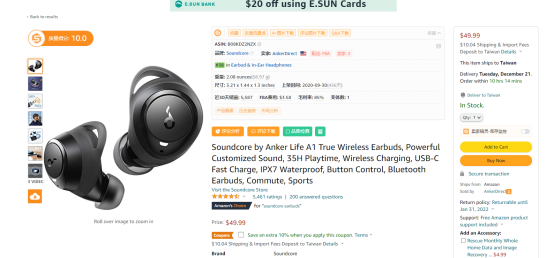 Under the guidance of a large number of sales, some small sellers also make good profits.
Mr. Li, from the cross-border e-commerce seller community, has operated the headset category for more than three years. He said that compared with other 3c products, Bluetooth headsets are still very profitable.
However, since this year, these headphone categories have been sold in succession.First, the Amazon account of Patoson's main brand Mpow was closed, the goods were taken off the shelves, and all funds were frozen; Later, a big seller, Aoji, was closed in Amazon's AUKEY store, and all products were taken off the shelves; Then, two products of Humboldt Technology letscom had accidents, and Zebao and Meidong Intelligent COWIN were not spared.

In fact, not only the big sellers have their headphone titles, but also small and medium-sized sellers have won,DongguanA familyBluetooth headset factory iscompetitorComplaint of infringement, resulting in the fund beingAmazonfrozen.Although the account was unfrozen after the appeal, the ban lasted more than two months and caused great losses to the seller.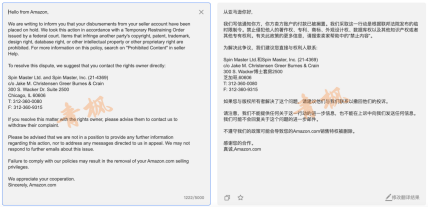 At the time of accidents in many popular earphones, one earphone came into everyone's attention with dazzling achievements.
Shenzhen Hi tech Co., LtdThe tozoT10 Bluetooth 5.0 wireless headset became the fourth most popular new star in Amazon's TOP100 in May.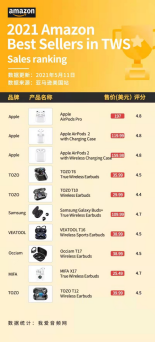 In February 2021, the favorable rating will reach 4.3Stars, 174791 comments.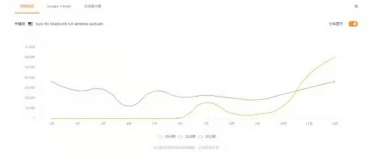 Therefore, there is a voice in the seller's community that after the sale of those earphones, Tozo will last for a long time.
Why are there frequent accidents in a category that makes a lot of money? What's the current situation? Can we continue?
1、 Severe involution
Current status of this category:
This is expensive? How to burn money?
The second bid is highly competitive:
How many sellers come in and burn to death?
The time distribution of this category of products on the market is relatively scattered, belonging to a new market segment, and constantly flooding into new sellers.
Amazon has a large market capacity. At the same time, the market segments of this category are seriously differentiated, mainly including well-known brands and cross-border e-commerce brands. 50% of the top 100 products are in the $10-30 price range, and 17.4% of earphones are in the $30-50 price range. The price competition is particularly fierce.
The fierce price competition will inevitably lead to the uneven quality of products, increasing the probability of accidents. For example, this time Dewal earphones were recalled due to quality and safety problems.
Third, the headphone category is an electronic consumer product, which makes a lot of money, so the sellers of this category are particularly aggressive.
"Most of the big sellers who were taken off the shelves this time started by swiping orders. Some companies once swiped 3000 comments in three months." Wang, a seller in Shenzhen who did not want to be identified, said so.
In the view of another operator surnamed Lu, the consumer electronics field of this explosion has always been a disaster area for comments.
"The most competitive category in all categories of Amazon's products is consumer electronics, and some sellers will use radical means such as scalping to improve their performance." He said.
After ordering Zebao RAVpower products, overseas consumers exposed the credit card in the package.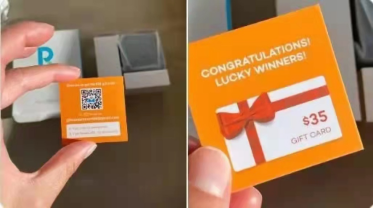 Another American buyer, after purchasing Mpow's earphones, was disgusted with the constant contact of after-sales customer service, and asked to change the Samsung comment into a four-star comment, so he put the relevant information into a document and published it on the Internet, which caused a heated discussion.
There are many big sales of earphones, but from a long-term perspective, it may not be a bad thing. A reminder to the big sellers in the storm and the small and medium-sized sellers that have not yet been involved: to obtain commercial benefits by relying on the platform, you need to abide by the rules of the platform and not be opportunistic.
In the past time, many businesses had mixed product quality, which triggered consumers' impulsive consumption by swiping the bill, and made a fortune and ran away. Such dividends are decreasing, and businesses need to improve product quality and functionality to return to the essence of business.
This also hints from the side that those sellers who simply rely on the Amazon platform to obtain traffic and sales should not put their eggs in one basket, but should plan for diversified and multi-channel development.
The increasingly strict platform management and control will only promote the gradual standardization of the operation strategy of domestic cross-border e-commerce.
4、 Can we still do the headphone category that always has problems?
The answer is yes, I can do it.
From the perspective of global market trends, the headphone category is in great demand.
In 2016-2019, the global TWS headset market size (by sales) increased from 1.61 billion dollars to 11.84 billion dollars, with a compound annual growth rate of 94.4%.
With the maturity of Bluetooth, chips, sensors and other technologies, as well as the growing demand for online office and online learning, the TWS headset industry will accelerate its development, which is likely to become the fastest growing field of intelligent wearable devices, expected to reach $42.09 billion in 2024.

The huge demand determines that the headphone category is still a blue ocean market.
There is also a trend that cannot be ignored:Apple、millet、SamsungThese three mobile phone brands, based on their respective ideas, will streamline the product packaging and no longer provide accessories such as wired headphones or audio conversion cables, which may drive a new wave of growth in the shipment of real wireless headphones, which is also the best opportunity in the headset category.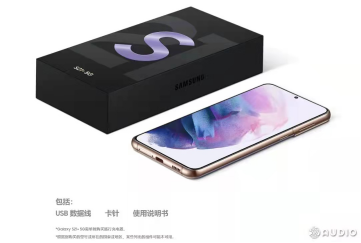 Now that the overall environment is in place, let's take a look at the product price, product reputation and user comments of the most popular TWS real wireless headset from Amazon to determine which types of headphones are more popular and have a better development prospect from the market perspective.
1. Product price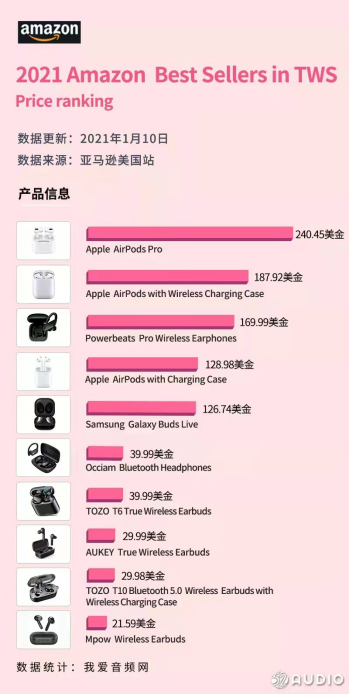 <span style="mso-spacer <footer>The content of the article is created by the author, and the author is responsible for the authenticity, accuracy and legality of the content. Overseadia advocates respecting and protecting intellectual property rights. Without the permission of the author and/or this website, the content of this website may not be copied, reproduced, or used in other ways. If you find that there are copyright issues in the articles on this site, please contact chuhaiyi@baidu.com, and we will verify and deal with them in time. Source of the article: egainnews, this article is the author's independent point of view, and does not represent the position of overseadia.</footer>