Today, Amazon released a new announcement, disclosing its counterfeit crime department in the past year(CCU).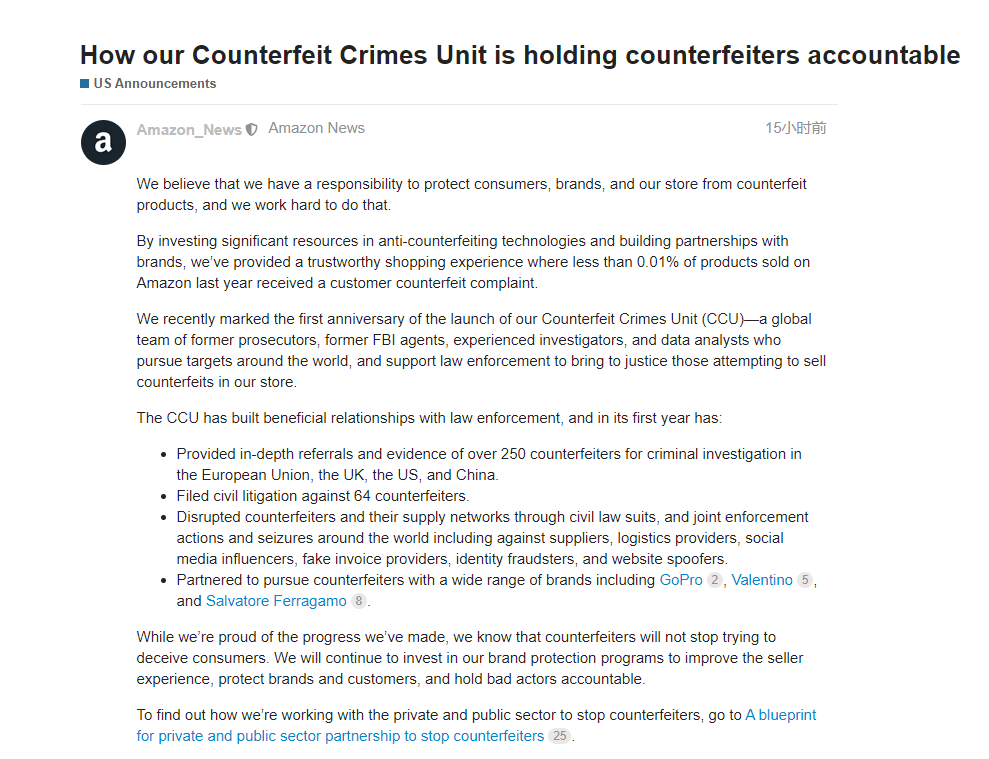 Amazon said that the platform has the responsibility to protect consumers, brands and stores from counterfeit products. The platform will provide a trustworthy shopping experience by investing a lot of resources in anti-counterfeiting technology and establishing a partnership with brands. According to the data, less than0.01% of products received counterfeit complaints from customers.
Currently, Amazon is celebrating its counterfeit crime department(CCU), which is a global team composed of former prosecutors, former FBI agents, experienced investigators and data analysts, who track down targets around the world and help law enforcement departments bring the counterfeit sellers on the platform to justice.
Later, Amazon announcedCCU's crackdown on counterfeit goods this year:
1. It has provided more thanIn depth recommendation and evidence from 250 counterfeiters
2. yes64 counterfeiters filed civil lawsuits 
3. Through civil litigation, as well as joint enforcement actions and seizures around the world, including against suppliers, logistics providers, social media influencers, fake invoice providers, identity fraudsters and website fraudsters, counterfeiters and their supply networks have been damaged.
4. And includeMany brands including GoPro, Valentino and Ferragamo cooperate to crack down on counterfeiters
Although Amazon believes that the platform has made significant progress in combating counterfeiting, the sellers do not buy it.
sellerA: Although we appreciate Amazon's efforts to solve bad actors from suppliers, the number of bad customers is still huge, which will greatly affect the viability and business of 3p suppliers. Many people may argue that fraud has gotten worse in the past year, but it has hardly eased.
sellerB: Amazon sells more fakes than other platforms. If Amazon really wants to, they can easily stop counterfeiting abuse. If Amazon is responsible for the damage caused by the counterfeit goods sold on its market, Amazon will eliminate the counterfeit goods within one day!
sellerC: In the competition with the automatic re pricing device, counterfeit products drive down the price of Amazon's real products. Counterfeit products keep the real price on Amazon at a low level. Amazon has made too much money on counterfeit sales to stop it.
In addition, many foreign sellers reported that Chinese sellers sold fake goods indiscriminately. Xiao Bian reminds us that sellers must abide by the rules of the platform and must not cause unpredictable losses due to temporary profits.